printer friendly version
Bosch Rexroth delivers customised training across Africa
First Quarter 2022
News & events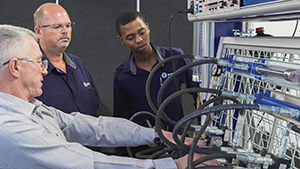 As Africa's largest hydraulics, pneumatics and automation company, Bosch Rexroth South Africa is committed to upskilling personnel with its training courses. These CPD Validation and MerSETA accredited training courses are available at the group's training facilities in Kempton Park, Johannesburg. Recognising that not all processes require the same type of training, the company also offers system-specific and plant-specific training at client premises throughout Africa.
This customer-specific training covers topics such as component functionality and working principles, routine maintenance, systematic and common fault finding and practical equipment training. Post-training, staff are equipped to safely carry out daily checks, planned maintenance, repairs and systematic fault finding and to troubleshoot systems.
"We often meet with customers prior to training to grasp their processes fully and meet their specific requirements, analyse drawings and possibly organise a site visit. When we dive into the specific requirements per plant, trained customer employees become comfortable and confident to safely deliver maintenance and repairs in their respective working environments," explains training facilitator, Arthur Sanderson. "For example, in 2019 we manufactured and installed a custom pneumatic training rig for Nairobi Bottlers, the Kenyan base for Coca-Cola East Africa. This was shortly followed by a three-module, plant-specific training course for Coca-Cola East Africa's technical personnel."
The Bosch Rexroth South Africa training department is highly equipped for this form of training, as it has achieved CPD verification from the South African Institute of Mechanical Engineering. The company is able to provide comprehensive training solutions onsite on request, across Africa.
For more information contact Arthur Sanderson, Bosch Rexroth South Africa, arthur.sanderson@boschrexroth.co.za, www.boschrexroth.africa
Further reading:
From the editor's desk: Making sense of the metaverse
Technews Publishing News & events
It wasn't so long ago that nobody had heard of IIoT. Then the hype began and now it's an integral part of the manufacturing environment. Recently I've been hearing more and more about the metaverse 
...
Read more...
---
Innovation for sustainable agriculture
News & events
Panasonic Industry has announced the Gold sponsorship of ETH Zurich's Robotic Weeding System (Rowesys) project and will assist the student team with engineering know-how, as well as components and products 
...
Read more...
---
New head office and warehouse for Fuchs Lubricants
News & events
The new head office and warehouse for Fuchs Lubricants South Africa is on track to be completed this month. The company is investing over R250 million in the expansion at its existing location in Isando, 
...
Read more...
---
Bosch Rexroth Africa Development appoints Tanzanian distributor
News & events
Bosch Rexroth Africa Development has appointed a Tanzanian company as its in-country distributor. Transec is a general mining equipment supplier with an established countrywide presence. In line with 
...
Read more...
---
YES to youth employment
News & events
Bosch Rexroth South Africa has participated in local government's 2021 Youth Employment Service (YES) Programme, which took place from 1 March 2021 to 28 February 2022. This experiential learning programme 
...
Read more...
---
Appointments
News & events
Read more...
---
Appointments
News & events
Read more...
---
Cummins offers a lifeline to the mining industry
News & events
With the bulk of its business in Africa driven by mining, Cummins has continued to support its major mining clients throughout the Covid-19 pandemic. From blasthole drills and front-end loaders to 360 
...
Read more...
---
WorldSkills Africa collaborates with Festo to host the 2022 competitions
News & events
WorldSkills is a global competition organisation that raises the profile of skilled individuals worldwide. This organisation also demonstrates how skills are essential in achieving economic growth. Their 
...
Read more...
---
Bosch Ulwazi's new accredited training programmes
News & events
Bosch Ulwazi has been endorsed by ECSA as its first Certified Training Academy. "This ECSA initiative was a direct response to stakeholders' concerns, to rectify the lack of support regarding development 
...
Read more...
---