printer friendly version
Individually configurable assembly line
First Quarter 2022
Electrical switching & drive systems & components
Austrian custom machine builder, TEUP, normally adapts its design work to specific customer requirements. The only exception to date is an extremely adaptable assembly line, which the engineers developed on their own initiative and which will be available in the future as an individually configurable standard solution. The assembly line has a modular design, uses PC-based control and is equipped with the highly flexible eXtended Transport System (XTS) from Beckhoff.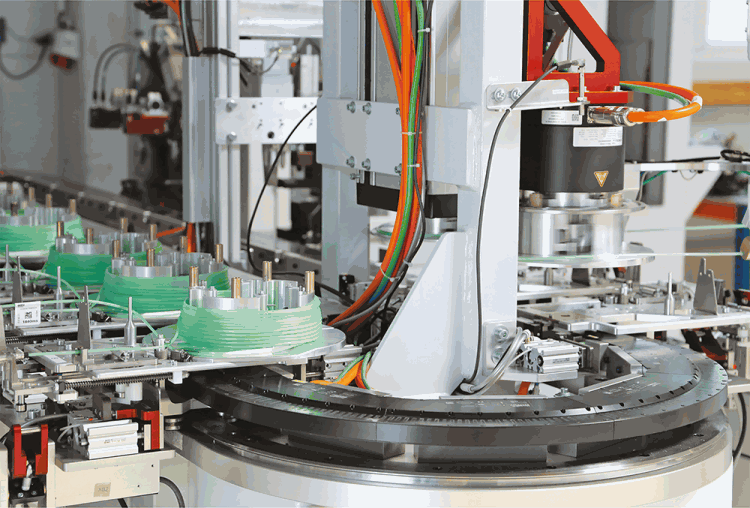 Individually designed, yet standard solution
TEUP had a clear motivation to provide a standard solution for the first time, as Markus Resch, head of Electric and Software explains: "When one of our customers withdrew from a very specialised business area, we decided to fill the gap. As a sub-supplier for many years, we know exactly what is most important when it comes to systems for this market niche." Design engineer, Alexander Imhof, adds: "Due to its modular design, the assembly line should be individually adaptable to the respective requirements."
The aim of the machine concept was therefore to establish maximum compactness and flexibility. Numerous processing stations needed to be integrated into the overall system – virtually as a modular system. Resch explains: "We are talking about an assembly line in which plastic hoses made of polyethylene are cut to the desired length, wound into bundles, fitted with various connectors and seals, labelled and subjected to a final check by laser measurement."
Intelligent transport system
TEUP employees are experts in deliberating on and evaluating various technologies. Imhof frequently also uses YouTube as a source of inspiration and that is how he discovered several Beckhoff videos about XTS while searching online for a suitable product transport solution: "We examined several alternatives in detail. However, the complete package offered by Beckhoff was the most convincing: global support, the easily scalable PC-based control architecture and the range of products available from a single source, including servo drives, servomotor terminals, controllers for third-party motors and servomotors, as well as a wide range of I/Os and TwinSAFE."
As a result, the new assembly line is equipped with numerous Beckhoff components, including the EL9227-5500 electronic overcurrent protection terminal, which displays large amounts of process data and saves any events to a shutdown history and the CU2508 real-time Ethernet port multiplier, which manages the multi-line EtherCAT communication between the central 'brain' of the assembly line, a C6930 control cabinet Industrial PC (IPC) and the XTS transport system. With XTS it was above all the flexible design options that appealed to Imhof: "We are not bound by any fixed distances, no stoppers are required and the individual processing stations can be arranged in the precise sequence required by the respective customer. It is also very important that subsequent changes to the original assembly line design can be implemented without any problems."
At present, the engineers are also considering adding an XPlanar system to optimise the infeed and outfeed of raw materials and finished products. An associated design concept has already been released for consultation with Beckhoff.
XTS enables more flexible and more compact machinery
The aim of higher machine flexibility was clearly established. According to Imhof: "In the past, customers were limited to a rigid production line of 30 metres in length. Now, with an assembly line footprint that is smaller by a quarter, it is possible to produce the same number of units of a product or even several product variants simultaneously. In addition, with 10 movers and an oval, 8 metre track length, up to four additional processing stations can still be integrated.
When changing formats, for example, for a conversion to other winding lengths, XTS and PC-based control technology eliminates mechanical adjustments and re-programming in the 6-axis machine responsible for feeding the material. These changes can be made simply with a mouse-click in TwinCAT software, which reduces setup times from 20 minutes to just 1 minute. Resch summarises: "The individual plastic hoses are now precisely wound to the specified final dimension to the millimetre. With the old line, there were always minor deviations. Our vision for the future is an assembly line that is so easy to move from A to B that it is suitable for final production in the immediate vicinity of the point of use of the product."
For more information contact Dane Potter, Beckhoff Automation, +27 79 493 2288, danep@beckhoff.com, www.beckhoff.co.za
Credit(s)
Further reading:
Ultra-compact robot-based cake production with PC control
Beckhoff Automation Editor's Choice
"Baking Baumkuchen requires advanced skills and experience from the confectioner," says Mr Matsumoto, managing director of Juchheim's central plant. "However, if the oven's parameters can be captured 
...
Read more...
---
New motors for servo drive system
Siemens South Africa Electrical switching & drive systems & components
The servo motor thus meets all hygienic conditions and can be used for mixing and stirring, dosing and filling, as well as conveying, packaging and storing a wide variety of end products.       The 
...
Read more...
---
Gear units assembled in Johannesburg
SEW-EURODRIVE Electrical switching & drive systems & components
"To cater for our growing customer base in markets across Africa, it has become necessary to increase local production capacities. Our new SEW-EURODRIVE building in Aeroton, Johannesburg, which will 
...
Read more...
---
Drive-based predictive maintenance solutions
Bearing Man Group T/A BMG Electrical switching & drive systems & components
BMG's NORD predictive maintenance solutions offer fast, efficient and comprehensive evaluation of analogue and digital data, to enhance the operational efficiency and safety of machines. The intelligent 
...
Read more...
---
The demand for higher efficiency motors
Electrical switching & drive systems & components
With electricity prices increasing rapidly, the justification for adopting more efficient motors is that much greater. To achieve this improved efficiency, such motors are designed to run cooler, which 
...
Read more...
---
Cummins rebuild centres
Electrical switching & drive systems & components
Cummins has a world-class customer service and support network to better serve its global customer base, including 21 Master Rebuild Centres (MRCs). In support of the Africa and Middle East region, the 
...
Read more...
---
Electromagnetic brakes for DC motors
Electrical switching & drive systems & components
Mini motor applications utilise DC motor technology because of compactness, low weight, and reliability. Stopping, slowing or holding the position and load of these motors is crucial for many applications, 
...
Read more...
---
Festo Process Automation solutions for all production levels
Festo South Africa Editor's Choice Electrical switching & drive systems & components
The first leg of the campaign creates an analogy between the human heart and its Process Automation solutions. The heart is at the centre of the vascular system, which is a network of blood vessels 
...
Read more...
---
Sweet success for Bosch Projects
Electrical switching & drive systems & components
Bosch Projects is a joint winner in the 2021 CESA Aon Engineering Excellence Awards, for the UCL 175 TCH Factory Expansion Project, in the category of projects valued between R50 and R250 million. Bosch 
...
Read more...
---
PC-based control for film and paper converting machines
Beckhoff Automation Electrical switching & drive systems & components
Machine builder Azco from Fairfield, New Jersey, has showed how it is possible to combine machine modules for feeding, cutting and placing flexible materials, thereby minimising engineering effort. An 
...
Read more...
---