printer friendly version
More parts for less cost
First Quarter 2022
Editor's Choice
In today's competitive market, hydraulic component manufacturers are constantly faced with the task of making parts better, faster and cheaper. Converting from carbon steel to continuous cast ductile iron can help accomplish this goal. Axiom Hydraulics can assist through the supply of continuous cast iron bar from world leader, Dura-Bar. This offers superior performance and significant cost savings.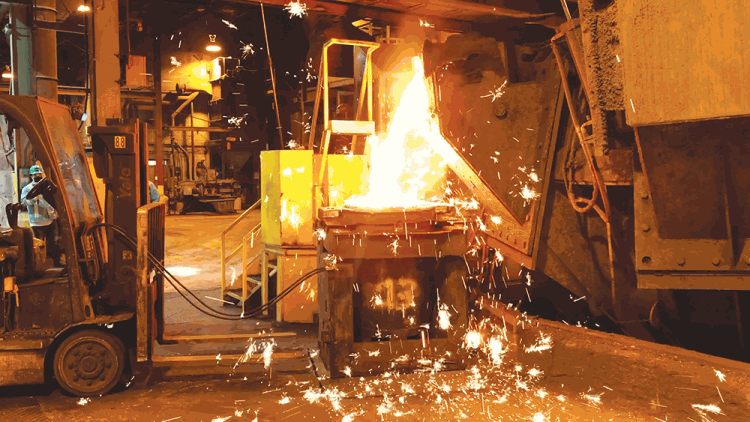 Dura-Bar's continuous cast ductile iron bar is a cost-saving alternative to low-medium carbon steels. It has similar strengths but with superior machinability and without the defects associated with sand castings or steel bar stock. Parts can be machined much faster than with free machining steels. Hydraulic part manufacturers can increase machine capacity dramatically − lowering machining costs and improving profitability. Those who have made the switch typically profit by:
• Reducing total part cost by up to 40%.
• Increasing machine capacity between 10% and 40%.
• Extending tool life up to two to three times that of steel and other iron products.
Using continuous cast ductile iron bar stock in lieu of free machining steels typically reduces cycle times by 25-50% while extending tool life. Dura-Bar's advantage over steel is particularly significant where sophisticated CNC equipment is used for parts requiring multiple operations.
Dura-Bar's enhanced noise and vibration damping, thermal conductivity and wear resistance are due to the graphite in the material, which cushions vibrations as they are transmitted through the part. This provides the same benefits as lead, without creating the machining and waste disposal problems. Graphite contained in the ferrous metal matrix acts as a chip-breaker, dissipating heat and reducing tool-wearing friction between the work piece and the insert. Therefore, gears and other components made from Dura-Bar ductile iron will be quieter than those made from steel, while maintaining the required dimensional tolerances and surface finishes.
Virtually every gear or other metal component in moving machinery makes some degree of noise. The vibration damping characteristics of Dura-Bar can be a real benefit in any application that involves moving parts. One customer used Dura-Bar for a balance shaft gear and achieved not only quieter operation, but also a lower cost to produce the gear. Other prime applications which take advantage of Dura-Bar's vibration damping include noisy equipment such as machine tools, printing presses and textile machinery.
Another hydraulic manufacturer that has benefited from using continuous cast ductile iron bar stock is Hydro/Power, located in Birmingham, Alabama. "The machinability is a real plus for us," says John Robertson, vice president of manufacturing. "We've been able to get our speeds and feeds up to a point where we're getting some dramatic improvements in cycle times. One of the glands that we manufacture requires a lot of profiling, grooving and threading. By using continuous cast ductile iron bar stock we've managed to reduce the cycle time for one part from 15 down to six minutes. This has resulted in some significant cost savings for both us and our customer."
Using continuous cast ductile iron bar stock has also helped eliminate the need for additional operations. "Because Dura-Bar wears so well, we can use it on pistons and glands without having to undercut and add wear rings or brass inserts," Robertson adds. "In essence, we're leaving out a machining step and that saves us even more money." In addition to superior machinability, another key advantage for Hydro/Power is the reliability of the product. "We've been using it for 20 years and we've never run into a single piece that was bad," Robertson adds. "Our scrap factor has been absolutely zero."
The ability to run continuous cast ductile iron bar stock materials at higher speeds is also confirmed by Sandvik Coromant, a leading manufacturer of machine tooling. "Where these materials replace steel components the advantage is increased speeds and feeds due to greatly improved machinability," says grade development specialist, Roger Grey. "We tell our customers to automatically increase the machining speeds specified in our catalogue by 20% when they're running continuous cast ductile iron bar stock compared to other irons."
He adds that even higher speeds can easily be achieved due to the excellent structural consistency of the material. "Also, Dura-Bar's excellent surface finish and lack of porosity make it especially well suited for hydraulic applications. The structural integrity is just so good that the normal data associated with machining comparative irons made by other casting processes just doesn't apply," he concludes.
Credit(s)
Further reading:
Ultra-compact robot-based cake production with PC control
Beckhoff Automation Editor's Choice
"Baking Baumkuchen requires advanced skills and experience from the confectioner," says Mr Matsumoto, managing director of Juchheim's central plant. "However, if the oven's parameters can be captured 
...
Read more...
---
The advantages of robotics and simulation for your business
Editor's Choice Robotics & Mechatronics
The more complex your business is, the more room there is for innovation. At the same time, innovation cannot come at the cost of efficiency, quality and output levels. According to Von Fintel, this is 
...
Read more...
---
Ball screws with nut cooling
Editor's Choice Shaft power components
The machine tool industry uses ball screws to convert the rotary motion of an electric motor into linear motion. Very often, the positioning accuracy, as well as the travel speed and acceleration, have 
...
Read more...
---
Concept to solution the short way
Axiom Hydraulics Editor's Choice Hydraulic systems & components
QuickDesign streamlines your custom design process, delivering complete designs in as little as ten minutes.
Read more...
---
Wireless communication and control of electro-pneumatic manifolds and IO
Editor's Choice
SMC analysed the control of manifolds-in-motion, where the physical removal of communications cables is desirable. Applications include manifolds mounted on robot gripper assemblies or rotating tables. 
...
Read more...
---
Pneumatics and digital transformation: overcome what's holding you back
Emerson Automation Solutions Editor's Choice Pneumatic systems & components
While IIoT offers the promise of a revolutionary impact on manufacturing, implementation of the technology has its challenges. What holds us back from a broader embrace of digital transformation, especially in pneumatics? And how do we move past the challenges to embrace the opportunity for real improvement in productivity and efficiency?
Read more...
---
The world's smallest electric subsea valve actuator
Editor's Choice
The actuator minimises energy consumption and is geared toward delicate ecosystems and installation and operating costs are reduced. When the SVA R2 is used in subsea factories at a depth of up to 4000 metres, 
...
Read more...
---
Reduced costs for packaging process
SICK Automation Southern Africa Editor's Choice Other technologies
To address Tetra Pak's requirements, SICK recommended the utilisation of its sHub sensors with EDS/EDM35 feedback system. This motor feedback system incorporates an acceleration sensor and enables comprehensive 
...
Read more...
---
Festo Process Automation solutions for all production levels
Festo South Africa Editor's Choice Electrical switching & drive systems & components
The first leg of the campaign creates an analogy between the human heart and its Process Automation solutions. The heart is at the centre of the vascular system, which is a network of blood vessels 
...
Read more...
---
Cobot boosts production by 15%
Omron Electronics Editor's Choice Robotics & Mechatronics
Topcustom is situated in central Italy and bases its success on the entrepreneurial tradition of the Le Marche region. Topcustom International was formed in 2018, in partnership with Nicos International 
...
Read more...
---