printer friendly version
Drive solution for animal feed producer
First Quarter 2022
Electrical switching & drive systems & components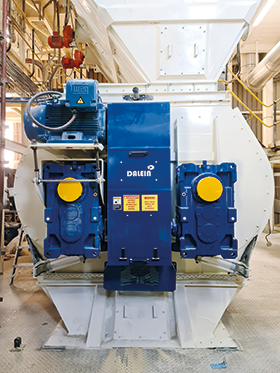 High capacity mixers for feed milling depend on drive technology that is sufficiently robust to provide reliable operation in demanding applications and challenging environments. SEW-EURODRIVE upgrades and supplies reliable gear units and drives for this industry.
When specialist feed-milling original equipment manufacturer, Dalein Agriplan, was tasked with designing a one-of-a-kind high speed, high capacity mixer for a leading South African animal feed producer, it knew where to turn for an experienced partner to help it deliver a unique precision engineered solution.
SEW-EURODRIVE South Africa was the obvious answer to its requirement for a custom designed 6 ton twin-shaft paddle mixer and drive system to replace the single-shaft paddle mixer system used in the original installation.
Because the client's requirement was for a 6000-capacity mixer and Dalein Agriplan had not previously delivered an installation larger than 5000, SEW-EURODRIVE and Dalein Agriplan collaborated to develop a bespoke solution – the prototype MPT6000H heavy duty twin-shaft paddle mixer.
Given that this was a prototype and it was not possible to rely on any previous data, the two companies worked hand-in-hand on the necessary calculations and specifications. The SEW-EURODRIVE team has many years of experience in applying a versatile and adaptable modular service concept to projects.
MAXOLUTIONÒ solution enables clients to achieve optimal implementation of their projects.
The aim was to design a mixer capable of producing the required level of torque, while running at optimum rotor speed for the effective product blending that was required by the client. Part of the challenge was to enable a 3-ton batch of feed product to be mixed in 90 seconds, whereas this previously took around three minutes with the original single-shaft mixer.
To meet these requirements for increased speed and mixing efficiency while processing a larger quantity of animal feed, SEW-EURODRIVE supplied two industrial gearboxes with XT configurations. The XT gearbox forms part of the robust industrial X-series gearbox manufactured by the company in Germany. It is a coaxial bevel-helical industrial gearbox, creating a unique gearing system with shaft positions that allow it to utilise a twin-shaft mixer instead of a single-shaft mixer.
For this project, the specific size of the gearboxes was calculated to deliver the required torque at the optimum speed. The two gearboxes are driven from a single motor using a dual-input coupling.
Following installation of the mixer at Dalein Agriplan's client – animal feed supplier De Heus South Africa's factory at Umlaas in KwaZulu-Natal – SEW-EURODRIVE inspected the on-site setup of the gearboxes on the mixer, while Dalein ensured successful startup and commissioning.
"Although the bespoke design and engineering requirements presented certain challenges, arguably the greater test was navigating the supply chain process between Germany and South Africa during the stricter levels of lockdown," says sales representative, Phillip Steyn. "But, with agriculture being an essential service and SEW-EURODRIVE being an accredited supplier of essential services, international shipments and local deliveries were completed on schedule."
Although the XT gearbox is sourced from Germany, spare parts are stockpiled locally and available at short notice to South African clients, along with the necessary technical support.
The successful collaboration on the De Heus project continues a long history of co-operation between Dalein Agriplan and SEW-EURODRIVE. The former has been incorporating SEW products into its plants and projects for many years. "Because of SEW's long-standing reputation – plus its local and global footprint, technical assistance and stock availability – many agri-plant suppliers specify only SEW-EURODRIVE geared solutions for their projects," says Steyn.
For more information contact Jana Klut, SEW-EURODRIVE, +27 11 248 7000, [email protected], www.sew-eurodrive.co.za
Credit(s)
Further reading:
New motors for servo drive system
Siemens South Africa Electrical switching & drive systems & components
The servo motor thus meets all hygienic conditions and can be used for mixing and stirring, dosing and filling, as well as conveying, packaging and storing a wide variety of end products.       The 
...
Read more...
---
Gear units assembled in Johannesburg
SEW-EURODRIVE Electrical switching & drive systems & components
"To cater for our growing customer base in markets across Africa, it has become necessary to increase local production capacities. Our new SEW-EURODRIVE building in Aeroton, Johannesburg, which will 
...
Read more...
---
Drive-based predictive maintenance solutions
Bearing Man Group T/A BMG Electrical switching & drive systems & components
BMG's NORD predictive maintenance solutions offer fast, efficient and comprehensive evaluation of analogue and digital data, to enhance the operational efficiency and safety of machines. The intelligent 
...
Read more...
---
The demand for higher efficiency motors
Electrical switching & drive systems & components
With electricity prices increasing rapidly, the justification for adopting more efficient motors is that much greater. To achieve this improved efficiency, such motors are designed to run cooler, which 
...
Read more...
---
Cummins rebuild centres
Electrical switching & drive systems & components
Cummins has a world-class customer service and support network to better serve its global customer base, including 21 Master Rebuild Centres (MRCs). In support of the Africa and Middle East region, the 
...
Read more...
---
Electromagnetic brakes for DC motors
Electrical switching & drive systems & components
Mini motor applications utilise DC motor technology because of compactness, low weight, and reliability. Stopping, slowing or holding the position and load of these motors is crucial for many applications, 
...
Read more...
---
Festo Process Automation solutions for all production levels
Festo South Africa Editor's Choice Electrical switching & drive systems & components
The first leg of the campaign creates an analogy between the human heart and its Process Automation solutions. The heart is at the centre of the vascular system, which is a network of blood vessels 
...
Read more...
---
Sweet success for Bosch Projects
Electrical switching & drive systems & components
Bosch Projects is a joint winner in the 2021 CESA Aon Engineering Excellence Awards, for the UCL 175 TCH Factory Expansion Project, in the category of projects valued between R50 and R250 million. Bosch 
...
Read more...
---
PC-based control for film and paper converting machines
Beckhoff Automation Electrical switching & drive systems & components
Machine builder Azco from Fairfield, New Jersey, has showed how it is possible to combine machine modules for feeding, cutting and placing flexible materials, thereby minimising engineering effort. An 
...
Read more...
---
Festo solenoid valves for everyday tasks
Festo South Africa Electrical switching & drive systems & components
In the automation industry, machine users are continually confronted with new challenges. The only way to achieve lasting success is by selecting the perfect components. Festo offers over 2200 Core Product 
...
Read more...
---