printer friendly version
Power transmission solutions for the sugar sector
First Quarter 2022
Shaft power components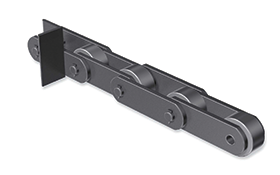 BMG plays a critical role in the sugar sector, not only during the operational period of sugar production, but also in off-crop seasons, when maintenance and refurbishment on sugar farms and at mills is essential. The BMG team works closely with sugar farmers and engineers at mills by providing engineering components and support services to enhance production efficiencies, minimise downtime and extend service life of equipment.
BMG's power transmission division supplies and supports a wide range of products. These components include carrier and diffuser chains, knife and shredder bearing housings, custom sprockets and gear couplings, as well as steam gaskets, heat exchangers and hydraulic tools. Diffuser and mill gearboxes, in addition to mill lubrication and hydraulic systems, form a critical part of this range. An important service to the sugar sector is BMG's chain refurbishment facility in Durban, where chains are stripped, inspected and re-assembled, using new components where necessary. Analysis of chain failures is also conducted at this facility. BMG specialists are able to advise customers on the expected remaining wear life of a chain and on what improvements need to be introduced to their systems.
Other specialist services in the sugar sector include bearing and gearbox inspection, bearing and chain refurbishment, large size bearing assembly, alignment and balancing, as well as customised product design. BMG also offers a troubleshooting and maintenance service, condition monitoring and training.
In addition, Tsubaki high performance chains – key components in BMG's power transmission division − are well-suited for harsh conditions in sugar processing and production, offering enhanced strength and reliability, a cleaner environment and extended operating life.
BMG specialists are able to provide solutions for any problems its customers face when using conveyor chain. "We can adapt the materials used and even the heat treatment of a chain's components, to match the specific application and operating environment – whether in the sugarcane field, or in the mill or refinery," explains Tsubaki product manager, Gavin Kirstein. "We also offer a range of chains with stainless steel components to protect against corrosion, which is especially problematic on bagasse carriers and elevators. Stainless steel components can be heat treated to provide wear and corrosion resistance, as well as additional strength."
BMG's Tsubaki products, which are suitable for the sugar industry, encompass cane harvester chains that are manufactured at an ISO-certified manufacturing facility, in line with Tsubaki's exacting specifications. All components are shot peened and the chain is also statically pre-loaded for enhanced wear life in the harsh conditions of cane fields.
Tsubaki also manufactures a wide range of mud conveyor chains, designed especially for damp conditions. These chains are fitted with stainless steel pins and bushes for protection against corrosion and wear.
BMG also supplies a wide range of robust cane carrier chain that provides excellent durability and wear resistance during operation in demanding conditions in sugar mills. Cane bagasse carrier chains with outboard rollers are also available. This chain is designed to maintain a thin layer of lubrication on the bearing surface, extending service life of the system. The convenient location of outboard rollers enables simplified maintenance and easy replacement of components, without having to dismantle the entire system, thus eliminating costly downtime.
Tsubaki RF Series intermediate carrier chains are manufactured from durable materials, with stainless steel grade for the pin and bush, to protect against corrosion and wear. The pin and bush areas are also lubricated with MoS2 grease during assembly and since the chain is not normally lubricated during operation, this grease is baked on in certain areas, to provide enhanced lubrication functions.
Tsubaki diffuser and cast dog-bone link type chains, with special design features to withstand operation in harsh conditions, also have stainless steel pins and bushes for enhanced protection against corrosion and wear.
The most critical chain application in sugar processing is the bagasse reclaimer, which powers the mill. Tsubaki has made a substantial investment in market research and field testing, to develop a robust bagasse reclaimer chain, with a grade of stainless steel that has the highest combined levels of corrosion resistance, strength and wear properties. In addition, induction-hardened pins offer extended service life. Pin and bushing areas are lubricated with MoS2 grease during assembly and have baked-on grease in critical areas. Attachments are robotically welded to the chain to ensure the strongest weld penetration.
For more information contact Carlo Beukes, BMG, +27 11 620 7558, carlob@bmgworld.net, www.bmgworld.net
Credit(s)
Further reading:
Drive-based predictive maintenance solutions
Bearing Man Group T/A BMG Electrical switching & drive systems & components
BMG's NORD predictive maintenance solutions offer fast, efficient and comprehensive evaluation of analogue and digital data, to enhance the operational efficiency and safety of machines. The intelligent 
...
Read more...
---
Ball screws with nut cooling
Editor's Choice Shaft power components
The machine tool industry uses ball screws to convert the rotary motion of an electric motor into linear motion. Very often, the positioning accuracy, as well as the travel speed and acceleration, have 
...
Read more...
---
Match and Tag for high accuracy in paired chain
Bearing Man Group T/A BMG Shaft power components
Modern machinery often requires chains of precisely the same length to be used in pairs or other multiples. For these applications, BMG specialists recommend Tsubaki Match & Tag chains, which guarantee 
...
Read more...
---
Draw-wire mechanisms for encoders
ifm - South Africa Shaft power components
Draw-wire mechanisms for encoders are the ideal choice when positions must be accurately determined over straight lines. Examples of their use range from short distances, for example with scissor lifts 
...
Read more...
---
New series of metric roller bearings
Bearing Man Group T/A BMG Shaft power components
BMG's bearings portfolio extends from precision miniature bearings used in machine tools and electronics applications to giant-size bearings that meet high demands in steel and mining. This range has 
...
Read more...
---
Coupling considerations for designers
Shaft power components
For designers, spending time selecting the perfect coupling may be low on the priority list. However, ensuring an efficient and reliable connection between two shafts is paramount for system reliability 
...
Read more...
---
Bearings drive cost-saving in food plants
Shaft power components
NSK's Life-Lube bearing units are proving increasingly popular in the food and beverage industry and with good reason. These advanced bearings combine the corrosion-resistant properties of Silver-Lube 
...
Read more...
---
High strength friction transmission belts
Bearing Man Group T/A BMG Shaft power components
BMG supplies a wide range of power transmission components designed to enhance efficiency and safety in the food and beverage sector. Included in this portfolio are Fenner high strength friction transmission 
...
Read more...
---
New optimised quick coupling series
Parker Hannifin - Sales Company South Africa Shaft power components
Parker Hannifin has launched the new optimised FEM Quick Coupling Series which offers an increased working pressure up to 350 bar and a decreased pressure drop for better flow properties. The revised 
...
Read more...
---
Spherical roller bearings for tough environments
Shaft power components
Unforeseen bearing failures in production-critical machines and equipment can prove extremely costly in replacement parts, labour and downtime. This problem becomes worse in contaminated environments 
...
Read more...
---