printer friendly version
WorldSkills Africa collaborates with Festo to host the 2022 competitions
First Quarter 2022
News & events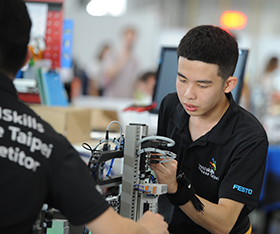 WorldSkills is a global competition organisation that raises the profile of skilled individuals worldwide. This organisation also demonstrates how skills are essential in achieving economic growth. Their competitions are a leading platform for international benchmarking in education. Festo, a leading supplier of Industrial Automation and technical education, has been a global industry partner of WorldSkills for over 30 years. They have been providing the competition organisation with state-of-the-art learning systems. The collaboration started in 1991 with a request for Festo to design and equip a new competition discipline titled Mechatronics. It has since expanded to many other disciplines, including Industrial Mechanics, Water Technology, Industrial Control, Renewable Energy and Industry 4.0.
Platinum sponsor virtual signing ceremony
Each year Festo enthusiastically supports this competition globally and locally: as an employer, training company, equipment provider and promoter of the dual apprenticeship system for vocational training. These two organisations recently had a virtual signing ceremony to officially declare Festo as a platinum sponsor for WorldSkills Africa. The prestigious ceremony was attended by San-Quei Lin, one of WorldSkills International's board members, Muvatera Ndjoze-Siririka, the acting CEO of the Namibia Training Authority and Brett Wallace, the managing director of Festo South Africa. Speaking in unison, all parties agreed that the upcoming competitions will help the world drive economic and social sustainability through skills.
Festo state-of-the-art equipment for WorldSkills 2022
The biannual WorldSkills International championships attracts over 1600 of the world's best young industry professionals. Before the global competition, national and regional contests are held to select the individuals that will be competing at the international level. Festo supports these competitions with equipment and skills. After the national competitions, 12 African countries will be selected to compete at WorldSkills Africa 2022 in Swakopmund 28 March-2 April. These countries are Ethiopia, Ghana, Kenya, DRC, Madagascar, Mauritius, Morocco, Namibia, Rwanda, South Africa, Tanzania, Zambia.
After the regional competitions, the goal is WorldSkills International in Shanghai, where the 46th competition will be held in October 2022 to celebrate the world champions.
Mechatronics
This multi-disciplinary skill is key to mastering the technologies of factory automation, troubleshooting and improving productivity. A typical example of mechatronics is the maintenance and programming of industrial robots in the automotive sector. Competitors use the Modular Production System for mechatronics from Festo to showcase their abilities in this category. It brings factory technology into classroom-sized learning systems, with real industrial components in software and hardware. Thus ensuring the step from the classroom to the factory floor is quick.
Water Technology
The impact of water scarcity on the environment and livelihoods is a growing concern worldwide. At the same time, technology is advancing rapidly in water and wastewater treatment plants. Thus, skills development and well-trained technologists are in global need. For this reason, Festo Didactic and WorldSkills introduced the Water Technology discipline in 2015. The discipline continues to grow and gain popularity worldwide.
Competitors use the Environmental Discovery System (EDS) for water management from Festo. It is a modular learning system that allows hands-on learning of the core processes in water and wastewater treatment plants with practical exercises and experiments that enable the precise, as well as detailed, analysis of individual processes in the water cycle.
Industry 4.0
The fourth industrial revolution is evident in the digitalisation of the workplace. It offers numerous new channels of information and communication, with topics such as remote diagnostics, digital twin, industrial Internet-of-Things and more. To assist the workforce in mastering these new skills and create the benchmarking needed to establish global education standards, Festo has introduced Industry 4.0 on the list of competition disciplines that they will be equipping with their state-of-the-art learning systems this year. Participants will use the Cyber-Physical Learning System known as the CP-Lab, including PLC, HMI programming and managing a Manufacturing Execution System, within a small smart factory.
The partnership between WorldSkills and Festo helps address the growing skills shortages in technical disciplines across Africa. It further develops modern, industry-relevant curricula for vocational colleges and universities that are key to employability. We look forward to seeing the top competitors in action at WorldSkills Africa Swakopmund 2022!
For more info contact marketing on 08600 FESTO (33786) or email marketing.za@festo.com
Further reading:
From the editor's desk: Making sense of the metaverse
Technews Publishing News & events
It wasn't so long ago that nobody had heard of IIoT. Then the hype began and now it's an integral part of the manufacturing environment. Recently I've been hearing more and more about the metaverse 
...
Read more...
---
Innovation for sustainable agriculture
News & events
Panasonic Industry has announced the Gold sponsorship of ETH Zurich's Robotic Weeding System (Rowesys) project and will assist the student team with engineering know-how, as well as components and products 
...
Read more...
---
New head office and warehouse for Fuchs Lubricants
News & events
The new head office and warehouse for Fuchs Lubricants South Africa is on track to be completed this month. The company is investing over R250 million in the expansion at its existing location in Isando, 
...
Read more...
---
Bosch Rexroth Africa Development appoints Tanzanian distributor
News & events
Bosch Rexroth Africa Development has appointed a Tanzanian company as its in-country distributor. Transec is a general mining equipment supplier with an established countrywide presence. In line with 
...
Read more...
---
YES to youth employment
News & events
Bosch Rexroth South Africa has participated in local government's 2021 Youth Employment Service (YES) Programme, which took place from 1 March 2021 to 28 February 2022. This experiential learning programme 
...
Read more...
---
Appointments
News & events
Read more...
---
Appointments
News & events
Read more...
---
Cummins offers a lifeline to the mining industry
News & events
With the bulk of its business in Africa driven by mining, Cummins has continued to support its major mining clients throughout the Covid-19 pandemic. From blasthole drills and front-end loaders to 360 
...
Read more...
---
Bosch Ulwazi's new accredited training programmes
News & events
Bosch Ulwazi has been endorsed by ECSA as its first Certified Training Academy. "This ECSA initiative was a direct response to stakeholders' concerns, to rectify the lack of support regarding development 
...
Read more...
---
Rand-Air's commitment to rural pre-school learners
News & events
Rand-Air's CSR team is involved with the upliftment of Ga-Mashupe Village in Limpopo Province. In recent years this has included supporting the community itself, as well as the local nursery school. 
...
Read more...
---