printer friendly version
Sweet success for Bosch Projects
First Quarter 2022
Electrical switching & drive systems & components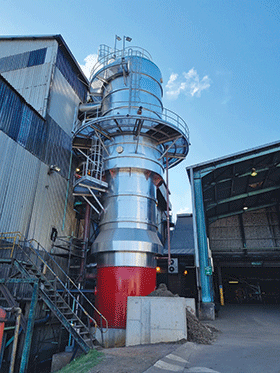 Bosch Projects is a joint winner in the 2021 CESA Aon Engineering Excellence Awards, for the UCL 175 TCH Factory Expansion Project, in the category of projects valued between R50 and R250 million. Bosch Projects was appointed by UCL Company in 2020 to undertake three major projects for the recent expansion at its sugar factory in Dalton, KwaZulu-Natal. These projects comprised engineering, procurement and construction management (EPCM) services for the raw house expansion, chainless diffuser widening and process equipment supply.
"This prestigious CESA Aon award is a great honour for the Bosch Projects team. This annual awards programme, which is the initiative of Consulting Engineers South Africa and Aon South Africa, celebrates innovation, quality, outstanding workmanship and professionalism in the industry," says Steven Roux, sugar and industrial divisional manager for Bosch Projects. "A major challenge of this project was to complete the work necessary at the factory for UCL to meet its 2021/22 season requirements, with sufficient capacity to process the increased sugar cane crop. In spite of tight time constraints during difficult Covid-19 conditions and the short two month plant maintenance shutdown period, Bosch Projects successfully implemented these three projects simultaneously, between July 2020 and April 2021."
Following a four month feasibility study undertaken by the Bosch Projects team to evaluate the potential increase in factory crush capacity from 150TCH to 175TCH, the company was commissioned to provide EPCM services to address the expansion project's technical, commercial and contractual requirements. Services undertaken by Bosch Projects during the project included project management, programming and scheduling, procurement and contract administration, construction management, commissioning, quality assurance and cost control. Detailed integration engineering and design encompassed full process, mechanical equipment, piping, civil, structural, electrical and control systems engineering, commissioning and close out.
Because of Covid-19 implications, coupled with the fast-paced nature and congested brownfield factory environment, the Bosch Projects team needed to be innovative and creative in its approach to detailed engineering solutions and the application of expertise. Effective solutions were achieved for the client by utilising cloud-based multi-user design collaborative tools, specifically designed for remote working. Advanced technology enabled frequent online 3D model reviews and provided state-of the-art technology for site data gathering and meaningful interaction with site staff. The utilisation of the latest technology – an advanced augmented reality 3D model tool – enabled the construction teams to visualise the new plant integration live on site.
In addition, the team was responsible for a world first widening of the Bosch Projects chainless diffuser, to increase cane throughput by approximately 25%. The team undertook the manufacture, supply, installation and commissioning of a 1 metre width extension to the factory's moving screen diffuser, to handle the increased crushed cane required to justify the back-end factory expansion. This chainless diffuser was initially designed and installed by Bosch Projects for UCL in 2006.
The widening of the chainless diffuser required redesigning and replacement of many structures and components, including stage juice spray pipes and process piping and a new dewatering drum and kicker. A new juice distribution system, comprising fully adjustable juice launders, allowed optimum process control. Pumps and piping were relocated to suit the updated design.
New 3CR12 troughs, side-walls and roof sections as well as a new structure on one side of the diffuser were installed and the existing rafters extended. The project also required additional lifting screws, hydraulic cylinders, pumps, piping and new hydraulic structures. New civils and foundation works and reconstructed walkways and access ways were also installed. This component of the project − comprising full process and mechanical design, project and construction management, fabrication, installation and new civil and foundation works − was executed in nine months.
As part of the expansion project, UCL also appointed Bosch Projects to design, fabricate, supervise installation and commission several critical process equipment items, to fast-track the procurement process and meet project timelines. The process equipment items supplied were a 45 m3 C Continuous Vacuum Pan (CVP), a 2500 m2 Long Tube Evaporator (LTE), two Strike Receivers (30 m3 and 50 m3 respectively), a 1,5 m3 condensate vessel and a 17 m2 rotary screen for draft juice screening.
The Bosch Projects equipment team was responsible for every aspect of these equipment supply projects – including design compliance − in accordance with project specific and regulatory pressure vessel standards and specifications, the fabrication and quality control of the fabrication, logistics, rigging and installation, as well the commissioning and hand-over under strict Covid-19 conditions.
For more information contact Melanie Elsworth, Bosch Holdings, +27 31 535 6192, [email protected], www.boschholdings.co.za
Further reading:
New motors for servo drive system
Siemens South Africa Electrical switching & drive systems & components
The servo motor thus meets all hygienic conditions and can be used for mixing and stirring, dosing and filling, as well as conveying, packaging and storing a wide variety of end products.       The 
...
Read more...
---
Gear units assembled in Johannesburg
SEW-EURODRIVE Electrical switching & drive systems & components
"To cater for our growing customer base in markets across Africa, it has become necessary to increase local production capacities. Our new SEW-EURODRIVE building in Aeroton, Johannesburg, which will 
...
Read more...
---
Drive-based predictive maintenance solutions
Bearing Man Group T/A BMG Electrical switching & drive systems & components
BMG's NORD predictive maintenance solutions offer fast, efficient and comprehensive evaluation of analogue and digital data, to enhance the operational efficiency and safety of machines. The intelligent 
...
Read more...
---
The demand for higher efficiency motors
Electrical switching & drive systems & components
With electricity prices increasing rapidly, the justification for adopting more efficient motors is that much greater. To achieve this improved efficiency, such motors are designed to run cooler, which 
...
Read more...
---
Cummins rebuild centres
Electrical switching & drive systems & components
Cummins has a world-class customer service and support network to better serve its global customer base, including 21 Master Rebuild Centres (MRCs). In support of the Africa and Middle East region, the 
...
Read more...
---
Electromagnetic brakes for DC motors
Electrical switching & drive systems & components
Mini motor applications utilise DC motor technology because of compactness, low weight, and reliability. Stopping, slowing or holding the position and load of these motors is crucial for many applications, 
...
Read more...
---
Festo Process Automation solutions for all production levels
Festo South Africa Editor's Choice Electrical switching & drive systems & components
The first leg of the campaign creates an analogy between the human heart and its Process Automation solutions. The heart is at the centre of the vascular system, which is a network of blood vessels 
...
Read more...
---
PC-based control for film and paper converting machines
Beckhoff Automation Electrical switching & drive systems & components
Machine builder Azco from Fairfield, New Jersey, has showed how it is possible to combine machine modules for feeding, cutting and placing flexible materials, thereby minimising engineering effort. An 
...
Read more...
---
Festo solenoid valves for everyday tasks
Festo South Africa Electrical switching & drive systems & components
In the automation industry, machine users are continually confronted with new challenges. The only way to achieve lasting success is by selecting the perfect components. Festo offers over 2200 Core Product 
...
Read more...
---
Brewing company innovates with Danfoss drives
Danfoss Electrical switching & drive systems & components
Which came first in the history of civilisation: bread-making or beer-brewing? Since the 1950s, scientists and scholars have been arguing about what really caused our early ancestors to start farming 
...
Read more...
---