printer friendly version
From the editor's desk: Making sense of the metaverse
Second Quarter 2022
News & events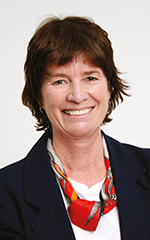 Kim Roberts, Editor
It wasn't so long ago that nobody had heard of IIoT. Then the hype began and now it's an integral part of the manufacturing environment. Recently I've been hearing more and more about the metaverse and how it is poised to become the successor to the web. I am wondering whether this is a flash in the pan, or the beginning of a dystopian future like in the sci-fi novel Snow Crash, or the opening of a whole new world of opportunity. I decided to investigate further.
The concept of the metaverse is that you can strap on a VR headset and enter a virtual world in parallel to your normal world. You would be able to create a digital representation of yourself called an avatar – I am thinking like an extension of your Facebook profile − which can interact with other people's avatars. People can shop, play, learn, go on a date, travel, go to a concert, do business (no more Zoom meetings in your pyjamas), exercise and just about anything you can think of. It merges the physical and virtual worlds.
Basically it's the internet in 3D and the predictions are that it will change how we learn, earn our living and connect to each another, just like the 2D internet did in 1995. It will give you the feeling of being present without actually being there. We will not just be on the internet but inside it. Nowadays we access the internet through our phones, tablets and laptops. We browse the web but we are not immersed in it. The metaverse will combine mobile devices, VR headsets and next generation 5G networks to create a "continuous immersive experience". According to Bloomberg Intelligence, its value is expected to reach $800 billion by the middle 2020s, climbing to $2,5 trillion by 2030.
There's also an industrial metaverse developing quietly behind the scenes and it has the potential to be the next big revolution in manufacturing. IIoT gathers data and stores it in the cloud. If this is combined with the 3D world of gaming technology and VR you can superimpose it on the physical factory world rather than just enhancing it like with AR and VR. Everything we now have in IIoT could be in a VR world.
The race is on to become the first company to create a metaverse, with Facebook (now Meta) and Microsoft at the front. Other top manufacturers are getting in on the bandwagon. Boeing plans to build its next plane in the metaverse before doing it for real. Using digital twins, it will sort out design problems before production. Boeing says that when the quality of the input materials is better, when building the airplane goes more smoothly, when you minimise the reworking, then the financial performance will follow. BMW has created a digital twin of its Regensburg production plant and ran a full production cycle in a virtual factory, testing changes without stopping production. It says the method is revolutionising its planning processes and is empowering way more people to design, invent and produce. AB InBev has created a full digital model of its breweries and supply chain. Hyundai is building a new road map and platform for a meta-factory that can be tested in the metaverse.
Meanwhile Meta is building a haptic glove to enable you to 'touch' objects. It will give the wearer sensations like pressure, texture and vibration to give the impression of feeling a virtual object with your hands. It uses hundreds of tiny actuators to trick the wearer into thinking they're touching something. To get thousands of these forces in different locations at different distances you need pneumatics, hydraulics or high density electroactive actuators. The Meta team is now looking into using electrical fields, pneumatic actuators and wireless connectivity to make you think your hand is feeling something.
All the benefits of IIoT that we hear about will be enhanced many times over. It looks like we are in for a 'factory of the future' on another level. I love new technology and this is all very exciting. But at the end of the day I think I would far rather look out of my door at a sunset over a real mountain than take a virtual trip to the Himalayas.
Credit(s)
Further reading:
Port and rail upgrades essential for SA
News & events
Bearings International (BI) has welcomed the assertion by President Cyril Ramaphosa in his State of the Nation address on 10 February that the economy cannot grow without efficient ports and railways. 
...
Read more...
---
Innovation for sustainable agriculture
News & events
Panasonic Industry has announced the Gold sponsorship of ETH Zurich's Robotic Weeding System (Rowesys) project and will assist the student team with engineering know-how, as well as components and products 
...
Read more...
---
New head office and warehouse for Fuchs Lubricants
News & events
The new head office and warehouse for Fuchs Lubricants South Africa is on track to be completed this month. The company is investing over R250 million in the expansion at its existing location in Isando, 
...
Read more...
---
Bosch Rexroth Africa Development appoints Tanzanian distributor
News & events
Bosch Rexroth Africa Development has appointed a Tanzanian company as its in-country distributor. Transec is a general mining equipment supplier with an established countrywide presence. In line with 
...
Read more...
---
YES to youth employment
News & events
Bosch Rexroth South Africa has participated in local government's 2021 Youth Employment Service (YES) Programme, which took place from 1 March 2021 to 28 February 2022. This experiential learning programme 
...
Read more...
---
Appointments
News & events
Read more...
---
Appointments
News & events
Read more...
---
Cummins offers a lifeline to the mining industry
News & events
With the bulk of its business in Africa driven by mining, Cummins has continued to support its major mining clients throughout the Covid-19 pandemic. From blasthole drills and front-end loaders to 360 
...
Read more...
---
WorldSkills Africa collaborates with Festo to host the 2022 competitions
News & events
WorldSkills is a global competition organisation that raises the profile of skilled individuals worldwide. This organisation also demonstrates how skills are essential in achieving economic growth. Their 
...
Read more...
---
From the editor's desk: Another dimension
Technews Publishing Editor's Choice
      It is with great sadness that I am communicating the news of the passing of my colleague Steven Meyer, who was the editor of our sister publication,
SA Instrumentation & Control
. It was a privilege 
...
Read more...
---