printer friendly version
Gear units assembled in Johannesburg
Second Quarter 2022
Electrical switching & drive systems & components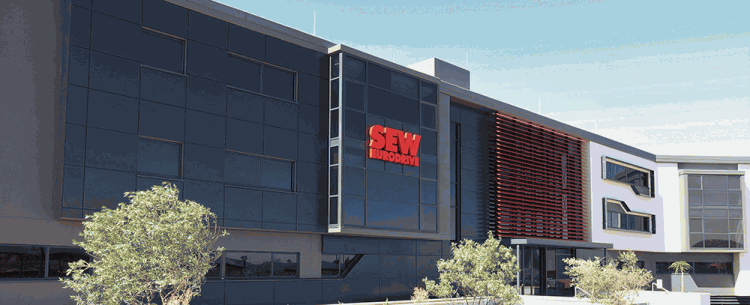 "To cater for our growing customer base in markets across Africa, it has become necessary to increase local production capacities. Our new SEW-EURODRIVE building in Aeroton, Johannesburg, which will house our head office as well as assembly, warehousing and repair facilities, is now complete and we are currently in the final stages of laying out the assembly lines for geared motors and industrial gearboxes," says national operations manager, Greg Perry.
Geared motors, industrial gears (IGs), VSDs, AGVs and servo motors will all be assembled in the new factory, with space to also conduct repairs. The assembly lines for geared motors are designed for 7000 units per month, and the company is planning to build up to 100 IG units per month, doubling its current capacity. New spray booths and automated oil filling stations are being installed to cater for these volumes.
All local assembly of gearboxes, VSDs and servo motors is conducted in accordance with the company's global quality standards, and SEW South Africa is already certified by Germany's quality department, as well as having ISO 9001 quality certification. The standardised assembly and logistics processes are now incorporated into its SAP system, which will give better traceability and visibility of all orders as they move through the assembly processes.
"We are starting to design the assembly flows for our X.e range, and we will be adding additional industrial gearboxes ranges as time goes by. Initially, we will be assembling the Generation X.e Series in sizes from 120 to size 250, in nominal torque classes from 12,8 to 175 kNm," Perry says.
The latest generation industrial gear units in the X.e series have been designed with a host of new improvements to be more robust, reliable, efficient and easier to maintain. This modular series is designed to be custom-built, based on the exact needs specified by clients, most notably by significantly increasing the number of possible torque/speed combinations and fine-size graduations. A large number of additional modular features and options, such as motor adapters, backstops and various sealing and shaft systems, also add to ease of use and reliability. Key applications across Africa include:
• Conveyor drives, which are often required to operate in extremely dusty and very hot or cold conditions. Due to new thermally optimised housings, along with the contact-free Taconite sealing system design, these drives offer excellent reliability under these conditions.
• Hoists, which often feature the rope drum and the motor on the same side of a parallel-shaft unit. The X.e hoist series offers an optimised choice of gear unit sizes, reduced gear unit weight and sufficient centre distances.
• Bucket elevators, which are required to lift bulk materials. The drive needs to be operated at low speed during maintenance. X.e series bucket elevator drives are equipped with a directly mounted auxiliary drive to perform this function while the main motor is switched off.
• Agitator and aerator drives. X.e agitator gear units in the 22 to 90 kNm size range have extended bearing distances to absorb high radial and axial forces. In addition, due to their thermally optimised housings, these units can be used without external cooling, even in high-performance agitation applications.
Other key improvements include:
• Contactless sealing systems, which reduce shaft and seal wear.
• Thermally improved oil levels, which reduce oil use, extend oil change intervals and improve the thermal performance of the units.
• Optimised bearing preload, which gives users a choice between greater operating reliability in critical drive conditions or a longer bearing service life in moderate conditions.
• Improved bevel pinion housing, which increases the service life of the sealing systems and improves cold starting behaviour.
• Optimised tooth flank topology, to enable the operating torques and external forces to be transferred more accurately and reliably.
The DriveRadar suite of condition monitoring solutions for vibration, temperature and other key parameters can be seamlessly incorporated for early detection of damage to bearings or gears, providing instant notification to equipment operators about potential problems.
"We expect our delivery times to be significantly reduced. We will also be in a better than ever position to deliver complete drive systems to industry, including system components such as couplings, brakes and sensors, all of which can be pre-mounted on a baseplate, along with VSDs, soft starters, sensors and all the connectivity needed to link to a customer's control interface," he concludes.
Credit(s)
Further reading:
New motors for servo drive system
Siemens South Africa Electrical switching & drive systems & components
The servo motor thus meets all hygienic conditions and can be used for mixing and stirring, dosing and filling, as well as conveying, packaging and storing a wide variety of end products.       The 
...
Read more...
---
Drive-based predictive maintenance solutions
Bearing Man Group T/A BMG Electrical switching & drive systems & components
BMG's NORD predictive maintenance solutions offer fast, efficient and comprehensive evaluation of analogue and digital data, to enhance the operational efficiency and safety of machines. The intelligent 
...
Read more...
---
The demand for higher efficiency motors
Electrical switching & drive systems & components
With electricity prices increasing rapidly, the justification for adopting more efficient motors is that much greater. To achieve this improved efficiency, such motors are designed to run cooler, which 
...
Read more...
---
Cummins rebuild centres
Electrical switching & drive systems & components
Cummins has a world-class customer service and support network to better serve its global customer base, including 21 Master Rebuild Centres (MRCs). In support of the Africa and Middle East region, the 
...
Read more...
---
Electromagnetic brakes for DC motors
Electrical switching & drive systems & components
Mini motor applications utilise DC motor technology because of compactness, low weight, and reliability. Stopping, slowing or holding the position and load of these motors is crucial for many applications, 
...
Read more...
---
Festo Process Automation solutions for all production levels
Festo South Africa Editor's Choice Electrical switching & drive systems & components
The first leg of the campaign creates an analogy between the human heart and its Process Automation solutions. The heart is at the centre of the vascular system, which is a network of blood vessels 
...
Read more...
---
Sweet success for Bosch Projects
Electrical switching & drive systems & components
Bosch Projects is a joint winner in the 2021 CESA Aon Engineering Excellence Awards, for the UCL 175 TCH Factory Expansion Project, in the category of projects valued between R50 and R250 million. Bosch 
...
Read more...
---
PC-based control for film and paper converting machines
Beckhoff Automation Electrical switching & drive systems & components
Machine builder Azco from Fairfield, New Jersey, has showed how it is possible to combine machine modules for feeding, cutting and placing flexible materials, thereby minimising engineering effort. An 
...
Read more...
---
Festo solenoid valves for everyday tasks
Festo South Africa Electrical switching & drive systems & components
In the automation industry, machine users are continually confronted with new challenges. The only way to achieve lasting success is by selecting the perfect components. Festo offers over 2200 Core Product 
...
Read more...
---
Brewing company innovates with Danfoss drives
Danfoss Electrical switching & drive systems & components
Which came first in the history of civilisation: bread-making or beer-brewing? Since the 1950s, scientists and scholars have been arguing about what really caused our early ancestors to start farming 
...
Read more...
---