printer friendly version
Match and Tag for high accuracy in paired chain
Second Quarter 2022
Shaft power components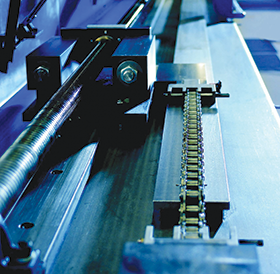 Modern machinery often requires chains of precisely the same length to be used in pairs or other multiples. For these applications, BMG specialists recommend Tsubaki Match & Tag chains, which guarantee a maximum chain length difference of 0,50 mm, independent of the total chain length. Advanced Tsubaki chain length measurement technology ensures smooth, accurate and reliable machine actuation. Although industry standards relating to the manufacture of chain components set a tolerance for the accuracy of length, regulations do not cover the assembly of components into complete chains. This means there is a possibility that a significant error will accumulate if a chain length includes several links that are only just within tolerance.
"To alleviate these problems, Tsubaki pre-stretched chains are supplied by BMG in matched-length pairs, that are tagged for easy identification and accurate installation. The Match & Tag service guarantees that paired chains are the same length to within a tolerance of 0,50 mm, by measuring and matching each individual component of the chain. For high accuracy, Tsubaki sets tight tolerances on the physical dimensions of each chain part. After assembly of a complete chain length, the Match & Tag process begins by accurately checking the length. Subsequently, the chain lengths are matched and tagged together into pairs − or larger groups if required. As a result, these chains offer higher productivity, smoother operation, a cleaner manufacturing environment, minimal downtime and extended service life. Typical applications for Match & Tag chains include packaging machines and lifting functions.
For more information contact Gavin Kirstein, BMG, +27 11 620 7547, [email protected], www.bmgworld.net
Credit(s)
Further reading:
Are counterfeit bearings a growing concern in South Africa?
Bearing Man Group T/A BMG Shaft power components
The incidence of counterfeit bearings is definitely on the increase in South Africa. In fact, the Hawks team recently discovered a large quantity of fake bearings valued at over R5 million stored in a 
...
Read more...
---
Drive-based predictive maintenance solutions
Bearing Man Group T/A BMG Electrical switching & drive systems & components
BMG's NORD predictive maintenance solutions offer fast, efficient and comprehensive evaluation of analogue and digital data, to enhance the operational efficiency and safety of machines. The intelligent 
...
Read more...
---
Ball screws with nut cooling
Editor's Choice Shaft power components
The machine tool industry uses ball screws to convert the rotary motion of an electric motor into linear motion. Very often, the positioning accuracy, as well as the travel speed and acceleration, have 
...
Read more...
---
Draw-wire mechanisms for encoders
ifm - South Africa Shaft power components
Draw-wire mechanisms for encoders are the ideal choice when positions must be accurately determined over straight lines. Examples of their use range from short distances, for example with scissor lifts 
...
Read more...
---
New series of metric roller bearings
Bearing Man Group T/A BMG Shaft power components
BMG's bearings portfolio extends from precision miniature bearings used in machine tools and electronics applications to giant-size bearings that meet high demands in steel and mining. This range has 
...
Read more...
---
Coupling considerations for designers
Shaft power components
For designers, spending time selecting the perfect coupling may be low on the priority list. However, ensuring an efficient and reliable connection between two shafts is paramount for system reliability 
...
Read more...
---
Bearings drive cost-saving in food plants
Shaft power components
NSK's Life-Lube bearing units are proving increasingly popular in the food and beverage industry and with good reason. These advanced bearings combine the corrosion-resistant properties of Silver-Lube 
...
Read more...
---
High strength friction transmission belts
Bearing Man Group T/A BMG Shaft power components
BMG supplies a wide range of power transmission components designed to enhance efficiency and safety in the food and beverage sector. Included in this portfolio are Fenner high strength friction transmission 
...
Read more...
---
Power transmission solutions for the sugar sector
Bearing Man Group T/A BMG Shaft power components
BMG plays a critical role in the sugar sector, not only during the operational period of sugar production, but also in off-crop seasons, when maintenance and refurbishment on sugar farms and at mills 
...
Read more...
---
New optimised quick coupling series
Parker Hannifin - Sales Company South Africa Shaft power components
Parker Hannifin has launched the new optimised FEM Quick Coupling Series which offers an increased working pressure up to 350 bar and a decreased pressure drop for better flow properties. The revised 
...
Read more...
---