printer friendly version
Wind turbines with smart sensors
Third Quarter 2023
Shaft power components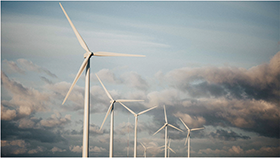 The wind's usable kinetic energy increases with the wind speed. Wind turbines, therefore, use kinetic energy to generate torque and then rotational movement. The rotor, consisting of three rotor blades, creates the kinetic energy and passes it on to the generator, which in turn produces an electric current.
Most wind turbines use adjustable gearboxes which match the wind-dependent speed of the rotor to the constant speed of the generator within a housing called a nacelle. While the rotor only turns slowly at very a high torque, the torque of the quickly rotating generator is low.
The necessary transmission ratio between both torques determines the overall size of the gearbox. The efficiency of the gearbox in a wind turbine is very high. Because the transferred power output is extremely high, there are also great energy losses.
This mostly concerns loss through heat, which is why the gearbox must be cooled. A sophisticated lubrication technology in the gearbox achieves this. Oil pressure and temperature measurements are necessary for this process. The oil pressure is constantly monitored by sensors. Keller was able to provide these pressure transmitters from the 21Y series to a client who supplies gearboxes for wind turbines.
Keller's 21Y piezoresistive pressure sensor is welded, fully insulated, and encapsulated with no internal seals. Its robust stainless steel housing and compact design are perfect for space-critical industrial applications, heat pumps, aircon technology, and in the food industry. The 21Y's direct analogue signal path, with high bandwidth, guarantees high, long-term stability.
For more information contact Instrotech, +21 10 595 1831, sales@instrotech.co.za, www.instrotech.co.za
Credit(s)
Further reading:
Tsubaki sealed chains for harsh environments
Shaft power components
BMG's extensive range of Tsubaki high-performance chains comprises engineering-class SJ3 sealed joint chains with improved sealing technology, designed to improve the reliability of many mechanical components exposed to harsh environments.
Read more...
---
Bearing technologies for agriculture
Shaft power components
With its innovative bearing solutions. NSK is addressing a trio of hot topics impacting the agriculture sector: sustainable tillage, chemical-free weed control, and the use of robotics.
Read more...
---
User friendly alignment tool for belt and chain drives
Shaft power components
The accurate alignment of belt and chain drives can make a considerable contribution to a plant's overall production levels, and subsequent profitability. SKF's TKBA series of belt alignment tools can align pulleys and sprockets accurately, and allow for corrections for various types of misalignment.
Read more...
---
Rocket science by ARCA
Shaft power components
Control valves from ARCA, a specialist in industrial process control, are playing a key role in the European Space Agency's generation 6 ARIANE rocket launchers at its launch pad located near Kourou in French Guiana. They also feature in the SpaceX launch site, Starbase in South Texas.
Read more...
---
Anti-surge valves
Valve & Automation Shaft power components
Anti-surge valves meet the most stringent requirements, and in the event of a disturbance must open lightning fast, with precise positioning and absolute reliability. One of the world's leading compressor manufacturers selected Arca anti-surge valves for its compressor stations at a steel mill in Taiwan.
Read more...
---
Lubricators sustain five years without breakdown
Shaft power components
After a food manufacturing plant suffered frequent breakdowns of its electrical motors, Lubrication Engineers (LE) recommended the use of automated single-point lubricators. Five years later the client 
...
Read more...
---
Fasteners and tools for machine tools sector
Bearing Man Group T/A BMG Shaft power components
BMG's extensive portfolio of fasteners, tools, and related equipment has been carefully selected for dependable operation, flexibility, enhanced safety, and extended service life in diverse sectors, including 
...
Read more...
---
Bearings with lowest possible carbon emissions
SKF South Africa Shaft power components
SKF has signed a letter of intent with CAKE, the Swedish maker of premium, lightweight, electric motorcycles, to explore how it can incorporate bearings produced with the lowest possible carbon emissions.
Read more...
---
Bearings prevent failures at can manufacturer
Shaft power components
When the world's largest beverage can manufacturer was experiencing regular, unexpected production stoppages due to the premature failure of spray-head bearings in its coating machines, the company turned 
...
Read more...
---
Pre-assembled bearings save time and money
Shaft power components
By switching to NSK pre-assembled, fully integrated bearings, a vibrating screen manufacturer is witnessing annual cost savings of €117 000. The company was previously experiencing difficulties with the 
...
Read more...
---