printer friendly version
Fasteners and tools for machine tools sector
Third Quarter 2023
Shaft power components
BMG's extensive portfolio of fasteners, tools, and related equipment has been carefully selected for dependable operation, flexibility, enhanced safety, and extended service life in diverse sectors, including light, medium, and demanding applications.
The company's range of products for the machine tools sector encompasses Nord-Lock bolt securing systems that have been designed to ensure the structural security of bolted joints exposed to strong vibrations and high dynamic loads. "BMG's commitment to customers is to assist in optimising inventory investment and to reduce production and maintenance costs, at the same time minimising downtime in every operation," says national product manager, Wean Marais.
The two reasons why bolted joints normally fail are spontaneous bolt loosening and slackening. Bolted joints in heavy industries are constantly subjected to external forces, which results in spontaneous loosening, due to vibration and dynamic loads. Advances in polymers and sandwich composite technology have the advantage of strength to weight ratio and corrosion-resistant properties that make applications lighter, without losing strength; but these materials are softer than metal materials previously used, and make slackening an additional challenge.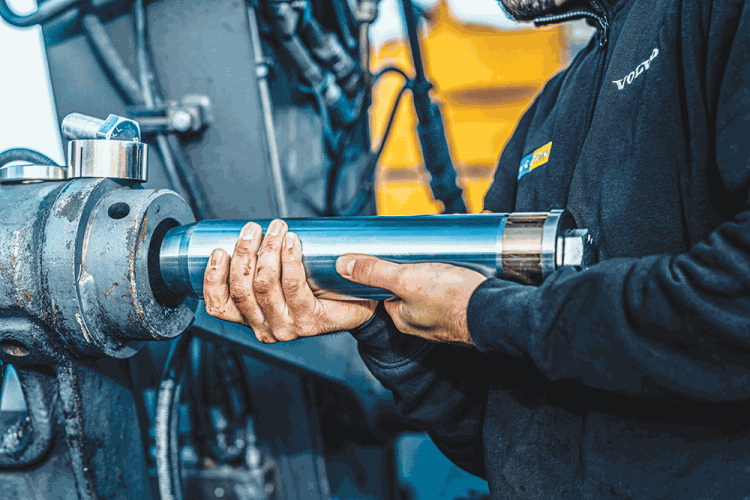 The multifunctional wedge-locking concept of the Nord-Lock range combats these problems. BMG's Nord-Lock products have been specifically adapted to suit exact requirements through the use of specific materials, hardening treatments, surface coatings, and the correct tolerance for each application.
Nord-Lock wedge-locking technology ensures optimum bolt security. These products include Superbolt multi-jackbolt tensioners, which are designed for applications requiring a high clamping force and for tasks with limited space for tightening bolts. This quick and efficient bolting method is based on a design which splits one big torque into a number of smaller ones.
BMG's multi-jackbolt tensioners, which replace or retrofit nuts and bolts, ensure joints can be tightened with high accuracy, without the need for specialist skills or heavy tooling. Tightening in pure tension allows higher preloads on the same size bolt than conventional tightening methods.
Generating a preload high enough above the separating forces means bolting will not vibrate loose on properly designed joints, and the added elasticity will not increase fatigue life of the bolted joint, which eliminates costly downtime. Only small hand tools are required for installation. This means there are no safety hazards from immense hydraulic pressures, no pinching hazards, no lifting of large tools, and no risk of sockets breaking under high pressure.
Multi-jackbolt tensioners are easy to install, even in confined spaces, and although there are multiple jackpoints to tighten by using hand or air tools, installation times are faster than other bolting methods. A conventional bolting system like the sledgehammer gives little control, is inconsistent, and can cause injuries. Thermal tightening, crane and hydraulic wrenching and hydraulic tensioning are often costly, inaccurate, time consuming, and unsafe. The high preload capacity and accuracy of this system has resulted in the design of smaller bolt sizes. Compact dimensions and decreased tooling sizes allow for a reduction in the size of machinery, reducing material and machining costs.
The X-series washers, which are quick and easy to install and remove with standard tools, have a wedge-effect design that prevents spontaneous bolt loosening. An integrated spring effect of the system compensates for the loss of preload due to slackening. Each washer pair has cams on one side and radial teeth on the opposite side, to secure the bolted joint with tension rather than friction. The conical shape of these washers creates an elastic reserve in the bolted joint to compensate for the loss of preload and prevents slackening.
Surface treatments, which are common for corrosion protection, can also lead to slackening as the bolt sinks into the treated surface after tightening. Even a thin millimetre surface would normally put bolts at risk, but with the compensating spring of X-series, slackening is prevented. The combined tension and spring action of X-series washers combats the effects of surface treatments, thermal cycling, and vibration.
BMG's portfolio of Nord-Lock bolt securing products includes robust wheel nuts, designed to safely secure wheel joints on both on-road and heavy-duty vehicles, even under severe conditions. The Nord-Lock wheel nut, which uses tension instead of friction to secure bolted joints, offers a reliable solution to wheel nut loosening. This system does not rotate loose, and safely secures the wheel joints when on roads and in harsh off-road operating conditions.
Conventional wheel nuts lack a locking function, and can therefore rotate loose, especially on poor road conditions, and also as result of high vehicle speed. Wheel detachment is also caused by inadequate tightening techniques and joint relaxation, as well as thermal expansion and contraction of wheel bolts. Nord-Lock wheel nuts, which are manufactured from high-quality steel, are pre-lubricated to ensure uniform friction and accurate pre-load during tightening. Lubrication also prevents corrosion and therefore extends the service life of wheel studs.
BMG's Nord-Lock Expander System pivot pin components offer dependable solutions that combat the challenges of lug wear to maximise uptime, enhance safety on site and minimise maintenance costs in many applications. The Expander System is quick and easy to install and remove and can be combined with Nord-Lock wedge-locking washers for enhanced efficiency.
The sleeves of the Expander System simply expand to conform with the wear pattern and lock the system in place, without the need for time-consuming and costly welding and line boring. Once retorqued, the system locks from both sides, significantly increasing stability.
There are many other benefits, which include a permanent solution to lug wear, quick and easy installation and removal, increased service life of bushings, bearings, and seals, and greater safety. A key advantage of this system over conventional pivot pins is pressure distribution. A conventional system only distributes the load onto a very small area, whereas the Expander System distributes pressure over the whole contact area in the direction of the force.
A typical application of this system is in manufacturing and processing. For example, in cutters, sludge filters, centre rollers and jack-screws in paper mills, and balers, intake and trimmers used in saw mills. In energy plants, these pivot pins are used in roasters, stoker feeders and grapples, and in steel mills, in cooling beds, tensioning arms, oscillator and segment machines, side roller guides, and side tensioner frames.
BMG offers a technical advisory service to determine the dimensions and load conditions of existing or required bolted joints. Current tightening methods are evaluated and bolt preloads, for absolute reliability and durability, are calculated by the highly skilled team.
For more information contact Wean Marais, BMG, +27 11 620 7410, weanm@bmgworld.net, www.bmgworld.net
Credit(s)
Further reading:
Industrial gear units for lifting drives in mining
Bearing Man Group T/A BMG Electrical switching & drive systems & components
BMG has launched a new range of Nord industrial gear units, designed to enhance the efficiency of lifting gear used in many industries, including the mining sector. Lifting applications place great demands 
...
Read more...
---
High-efficiency motors for mining
Bearing Man Group T/A BMG Electrical switching & drive systems & components
The electric motor is known as the workhorse in the mining industry, and plays a critical role in ensuring optimum productivity at every plant; but a major problem is that they are mostly not optimised for maximum efficiency.
Read more...
---
Tsubaki sealed chains for harsh environments
Shaft power components
BMG's extensive range of Tsubaki high-performance chains comprises engineering-class SJ3 sealed joint chains with improved sealing technology, designed to improve the reliability of many mechanical components exposed to harsh environments.
Read more...
---
Bearing technologies for agriculture
Shaft power components
With its innovative bearing solutions. NSK is addressing a trio of hot topics impacting the agriculture sector: sustainable tillage, chemical-free weed control, and the use of robotics.
Read more...
---
User friendly alignment tool for belt and chain drives
Shaft power components
The accurate alignment of belt and chain drives can make a considerable contribution to a plant's overall production levels, and subsequent profitability. SKF's TKBA series of belt alignment tools can align pulleys and sprockets accurately, and allow for corrections for various types of misalignment.
Read more...
---
Rocket science by ARCA
Shaft power components
Control valves from ARCA, a specialist in industrial process control, are playing a key role in the European Space Agency's generation 6 ARIANE rocket launchers at its launch pad located near Kourou in French Guiana. They also feature in the SpaceX launch site, Starbase in South Texas.
Read more...
---
Anti-surge valves
Valve & Automation Shaft power components
Anti-surge valves meet the most stringent requirements, and in the event of a disturbance must open lightning fast, with precise positioning and absolute reliability. One of the world's leading compressor manufacturers selected Arca anti-surge valves for its compressor stations at a steel mill in Taiwan.
Read more...
---
Lubricators sustain five years without breakdown
Shaft power components
After a food manufacturing plant suffered frequent breakdowns of its electrical motors, Lubrication Engineers (LE) recommended the use of automated single-point lubricators. Five years later the client 
...
Read more...
---
Wind turbines with smart sensors
Instrotech Shaft power components
The wind's usable kinetic energy increases with the wind speed. Wind turbines, therefore, use kinetic energy to generate torque and then rotational movement. The rotor, consisting of three rotor blades, 
...
Read more...
---
Hydraulic bolt tensioning
Bearing Man Group T/A BMG Hydraulic systems & components
BMG's Nord-Lock bolting solutions include Boltight hydraulic bolt tensioning tools, which can be used to tighten bolts simultaneously, ensuring even preload in industrial applications and extreme environments, 
...
Read more...
---