printer friendly version
The future of surgery belongs to robots
1st Quarter 2016
Electrical switching & drive systems & components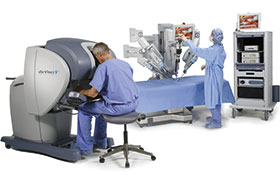 South Africa's first robotic surgery system was recently launched at The Urology Hospital in Pretoria. The R20 million Da Vinci Robotic Surgical System is set to take surgery to the next level as it is ideal for both complex and delicate surgeries.
In a theatre at the hospital, urologist, Dr Lance Coetzee, sits about two metres away from a patient under the machine, his face firmly planted into a control panel and his hands working controls in what looks like a virtual reality video game arcade cabinet from the future. The robot's four arms are equipped with instruments such as forceps and miniature scissors, as well as a camera. The instruments are inserted into the patient's abdomen through small cuts. A small movement from his hand on a control is translated into a movement for one of the robot's arms, including the snipping of a tiny scissor at the end of one of the arms.
The precision of the system is no coincidence. DC motors from maxon ensure accurate transmission of the operator's movements to the instruments. The Da Vinci robot has a total of 39 drives. These include RE 40 motors, RE 13 motors with maxon planetary gearheads and encoders, as well as RE-max 29 motors.
A special feature of this application is that the motors process both input and output signals. Some drives are in the control console, where they forward operator movements as signals to the computer. From there, these signals are forwarded to the motors in the manipulators, which then move the arms. Because of their ironless windings, the maxon motors have no cogging torque. As a result, they feature outstanding positional accuracy. Another advantage is the excellent dynamics, which make these drives perfect for the surgical robot.
There are many benefits:
• The instrument heads at the end of each robotic arm can be rotated 540° degrees and reach into any corner. Any hand jitter is compensated for electronically.
• The control movements are reduced by the transmission. If the operator moves the joystick by 15 mm, this translates to a motion of only 5 mm.
• 3D imaging with tenfold magnification gives the operator a perfect overview.
The real-time diagnostic imaging capabilities can assist surgeons on many levels. "For example, if surgeons need an image such as an MRI scan while operating, they can plug an information source into the consul which can aid them in real time," explains Dr Coetzee. "Technically, one could use the controls on the other side of the country or in another country."
MD of the Urology Hospital, Sarel van der Walt says the technology will result in less blood loss, less pain, a shorter hospital stay and a quicker return to normal daily activities.
Dr Coetzee has currently done over 200 urological robotic surgeries, while the hospital itself has nearly 400 on the machine. The countrywide figure for urology related robotic surgeries is around 600. He says that robotic surgery technology has grown to such an extent across the globe that in the US, around 83% of prostate surgery is now undertaken with this technology. In the UK, there are 36 such surgical robots.
US company, Intuitive Surgical, introduced the da Vinci robot to the market 14 years ago. Since then it has been used in more than 1,5 million operations. The trend is clearly upwards. The da Vinci robot is not only used in urology but also in gynaecology, and increasingly in ear, nose and throat surgery. It has even been used in cardiovascular bypass surgery. "This is a highly specialised skill but state-of-the-art technology has made it routine. The possible applications of this system are almost endless", says Dr Coetzee. "There is no stopping the trend towards robot-supported surgery."
For more information contact Hans Burri, DNH Tradeserve, +27 (0)11 468 2722, hans.burri@dnhtrade.co.za, www.dnhtrade.co.za
Credit(s)
Further reading:
maxon is flying to the sun
First Quarter 2020, DNH Tradeserve , Editor's Choice
The European Space Agency (ESA) wants to study the sun up close. Next month the agency will be launching the Solar Orbiter space probe. Scientists hope that the mission will provide them with new insights 
...
Read more...
---
Integrated drive technology for optimised machine design
Second Quarter 2020, Beckhoff Automation , Editor's Choice, Electrical switching & drive systems & components
In this way, the power electronics are relocated to the machine, reducing space requirements in control cabinets to just a single coupling module. In addition, decentralised distribution modules and the 
...
Read more...
---
More intelligent drive systems
Second Quarter 2020, Siemens Digital Industries , Electrical switching & drive systems & components
Siemens has developed a concept study that demonstrates the integration of a Sinamics drive system to the Siemens Industrial Edge platform. In future, it will be possible to perform high frequency data 
...
Read more...
---
Meeting the needs of the mining industry
Second Quarter 2020, Varispeed (Div. of Hudaco Trading) , Electrical switching & drive systems & components
Both above and below ground, Varispeed keeps the interests of its customers top of mind, all the time. The company was recently approached by a platinum mine to assist with a robust application. Three 
...
Read more...
---
ZEST Weg to offer geared motors
Second Quarter 2020, Zest WEG Group Africa , Electrical switching & drive systems & components
A new range of WEG geared motors will soon be available to customers in South Africa and the rest of the continent from Zest WEG. The WEG WG20 range is a natural extension of the company's offering in 
...
Read more...
---
Decentralised electric drives from Festo
Second Quarter 2020, Festo , Electrical switching & drive systems & components
The Festo Simplified Motion electric drive series combines the simplicity of pneumatics with the advantages of electric automation to ensure that your machines are faster and better connected. It includes 
...
Read more...
---
Electrohydrostatic pump unit
Second Quarter 2020, MOOG , Electrical switching & drive systems & components
MOOG has launched a new generation electrohydrostatic pump Unit (EPU) that helps machine builders and end-users derive the combined benefits of both hydraulic and electric actuation. The EPU is at the 
...
Read more...
---
Gearmotors for electrified monorail system
Second Quarter 2020, SEW-Eurodrive , Editor's Choice, Electrical switching & drive systems & components
A leading systems integrator for the automotive industry has adapted a Maxolution electrified monorail system (EMS) and 23 HK Series gear units for overhead trolley systems from SEW-Eurodrive for a major 
...
Read more...
---
Electromechanical motion products for today's machines
Second Quarter 2020, Parker Hannifin - Sales Company South Africa , Electrical switching & drive systems & components
Stroke capacity
Among the fundamental questions to ask is: Does the actuator offer various stroke lengths as standard? A product using a ball or leadscrew drive is commonly restricted to stroke lengths 
...
Read more...
---
Save energy costs with VFDs
Second Quarter 2020, ElectroMechanica , Electrical switching & drive systems & components
Customers can realise significant savings on their total energy costs by replacing older motor starters with energy-efficient Delta variable frequency drives (VFDs), distributed locally by ElectroMechanica 
...
Read more...
---