printer friendly version
High-performance chain
3rd Quarter 2018
Shaft power components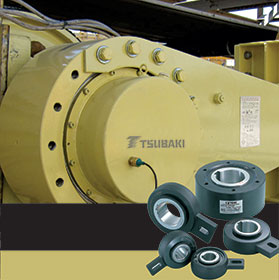 BMG's extensive range of Tsubaki high-performance chain, which offers enhanced strength and reliability, a cleaner environment and extended operating life, includes the robust Workhorse elevator series. "Workhorse elevator chains, manufactured for greater strength and durability, are designed to resist the abrasive and demanding forces of aggregate elevators. This chain is particularly well suited for use in aggressive bulk material handling environments with harsh fine particulates like cement, lime, gypsum, coal, fertiliser, grain and sugar," says, power transmission manager Carlo Beukes. "Carefully selected high strength steels, advanced manufacturing processes and refined heat treatments, ensure maximum fatigue strength and protection against failure, even when these chains are used in the most severe applications."
The Workhorse 5800 and 5900 series, with average tensile strength ratings (ATS) between 65 909 kg and 129 545 kg, can be upgraded with various plated pins, bushings and joint seals – individually or in combination – to ensure dependability and enhanced wear resistance in specific applications. An important feature of this series is that extended bushing barrier seals prevent abrasive materials from entering and attacking chain joints. The chain bushings are extended beyond the inside sidebars to minimise the clearance between the outside bars and the bushings. This in turn creates a solid barrier that inhibits abrasive material from entering the pin/bushing joint.
The wide face seal, which is manufactured from a high temperature engineered polymer, encircles the extended bushing and provides an additional particulate resistant barrier to help protect the joint, thus minimising contamination. A patented stainless steel internal ring seal holds tight onto the pin and rotates within a groove in the bushing to create a labyrinth to prevent debris from getting into the pin/bushing area. Tsubaki standard backstops – designed for safety in normal low speed conveyor applications – offer a simple and cost-effective means to protect capital equipment, including inclined conveyors and bucket elevators.
These uniquely-designed backstop cam clutches prevent reverse rotation of, for instance, the head pulley of an incline conveyor, thus acting as critical safety equipment, as well as avoiding damage to machinery and expensive equipment.
The BS135 (135 mm shaft size) and smaller units are greased for life, with no maintenance required. Bigger units only require lubrication once every 4000 to 8000 hours, depending on environment. Old grease can be flushed out and changed, while the unit is in operation – there is no need to remove the backstop from the shaft. BMG carries a complete range of up to 250 mm shaft size in stock, which is available in short lead times.
BMG's technical team advises on the selection of the correct cam clutch for each application and the appropriate installation and usage for optimum performance and improved safety standards. For extended service life, correct lubrication methods and dust prevention care are also critical.
For long overland conveyors, Tsubaki's BS-HS high-speed capacity backstop cam clutch series has many critical features not found in conventional models. This range has an upgraded cam cage and bearing supported design, which provides much higher torque/speed capacity than other cam clutches. Other advantages include the use of a smaller clutch, which provides cost-savings and high-quality clutch component parts made from heat treated alloy steel that provide wear resistance and extended life performance. These backstop cam clutches also have an anti-rollover cam design that ensures durability against heavy shock load in back stopping. The dust proof construction of this series – with the combination of a double lip oil seal and dust protective plate – keeps grease in and dust out.
Another important feature of the BS-HS series is reduced maintenance. Because special heat-resistant grease with no EP additives is packed into the unit as standard, only minimal maintenance for the lubricant is required. This makes maintenance easier and significantly reduces operational costs.
Tsubaki's complete range of cam clutches is available from BMG in different capacities and styles, designed to provide the best functional characteristics for three basic modes of operation – overrunning, indexing and backstopping. The outer and inner races of these cam clutches are manufactured from high quality alloy steel, with high surface hardness and core toughness, to be able to withstand operation in arduous conditions. These races are precision ground, providing excellent concentricity and a special surface finish to obtain accurate cam rotation. Cams are manufactured from special selected high alloy steel, with a hardness option up to 2500 Hv.
For more information contact Lauren Holloway, BMG, +27 11 620 7597, laurenhy@bmgworld.net, www.bmgworld.net
Credit(s)
Further reading:
Turning up the heat with a portable bearing heating solution
First Quarter 2020, SKF South Africa , Shaft power components
The new portable induction heater TWIM 15 from SKF uses medium-frequency technology to heat up roller bearings as well as other ring-shaped, metallic components. This innovative device heats the bearing 
...
Read more...
---
Focusing on bearings
First Quarter 2020, Bearing Man Group T/A BMG , Shaft power components
BMG's comprehensive range of bearings extends from precision miniature bearings used in machine tools and electronics applications, to giant size bearings that meet the demands of steel and mining industries. "To 
...
Read more...
---
Bearings have savings for steelworks
First Quarter 2020 , Shaft power components
NSK's expertise in solving issues for the steel industry worldwide is helping achieve savings of €372 555 per annum on a continuous annealing line, thanks to the elimination of unplanned downtime resulting 
...
Read more...
---
Cam clutches for bulk handling
First Quarter 2020, Bearing Man Group T/A BMG , Electrical switching & drive systems & components
New to BMG's extensive range of Tsubaki cam clutches is the BS-F series, designed for high speed inclined and long overland belt conveyors and bucket elevators used in the mining and bulk handling sectors. 
...
Read more...
---
Butterfly valves for demanding applications
First Quarter 2020 , Shaft power components
Compact butterfly valves, with good flow characteristics and low maintenance requirements, are extremely versatile and ensure dependable operation, even in the toughest environments.
Read more...
---
Food grade belts for pristine hygiene applications
First Quarter 2020, Bearing Man Group T/A BMG , Shaft power components
Ammeraal Beltech's Rapplon folder gluer belts, which meet FDA and EC standards for contact with dry foodstuffs, form part of BMG's extensive range of food grade belts for pristine hygiene applications. 
...
Read more...
---
Chain for bakery ovens and provers
First Quarter 2020 , Shaft power components
Bearings International (BI) offers KOBO prover chain for specific applications such as bakery ovens and provers. In South Africa, standard prover chain is a 100 mm pitch chain with custom-dimensioned 
...
Read more...
---
Bearing speeds up product development
First Quarter 2020, SKF South Africa , Shaft power components
SKF has released the world's first commercial load sensing bearing based on its proprietary fibre optic sensing technology. This streamlines the creation of rotating products such as pumps, using angular 
...
Read more...
---
Bearings result in huge savings
First Quarter 2020 , Shaft power components
After experiencing ongoing problems with the bearings on a vital milling machine at a steel plant, the management team turned to NSK for a solution. This decision proved to be extremely beneficial, with 
...
Read more...
---
Root cause analysis of bearing damage in wind turbines
Fourth Quarter 2019 , Shaft power components
The causes have long remained unknown, but now, new findings are being made available by bearing specialist NSK, the results of which have led to the development of a new bearing material that offers 
...
Read more...
---