printer friendly version
Konecranes and Demag become one company
1st Quarter 2019
News & events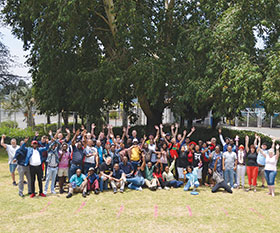 As of January 1st 2019, Konecranes and Demag in South Africa will become one legal entity under the new name of Konecranes and Demag. This is in line with a legal entity consolidation of both companies which sees the brands, skills, knowledge and operations coming together as one.
Following Konecranes' acquisition of Demag worldwide just over two years ago, South Africa was at the forefront of this change by merging the head offices as well as the 11 branches around the country.
The merger of the two global crane giants brings together considerable technical expertise and a wealth of experience going back centuries. Demag was established 200 years ago in Germany, whilst Konecranes came into being 108 years ago in Finland.
"We have been working locally on simplifying the corporate structures of both businesses in an effort to align our brands and product labelling, as well as streamline our efforts and operations," said Emil Berning, MD of Konecranes and Demag. MHPS, under which Demag operated, will cease to exist. However, all existing contracts will be honoured under the new company. The Konecranes and Demag head office is situated at 60 Atlas Road, Anderbolt in Boksburg.
For more information contact Konecranes and Demag, +27 11 898 3500, infoza@konecranes.co.za, www.konecranes.co.za
Further reading:
From the editor's desk: The reality of augmented reality
Third Quarter 2019, Technews Publishing , News & events
Augmented reality (AR) in various forms has been around for a while, think Pokemon, but its application on the factory floor is only now starting to take off. At the Electra Mining Expo I had a chance 
...
Read more...
---
A Digital Enterprise journey
Third Quarter 2019, Siemens Digital Industries , News & events
Siemens recently demonstrated its Digital Enterprise portfolio at the Africa Automation Fair (AAF), showcasing its current and future digital automation technologies.
Read more...
---
South Africa wins international student cluster competition
Third Quarter 2019 , News & events
A team of six South African undergraduate students recently took first prize against 13 teams at the International Supercomputing Conference (ISC) in Germany. This spectacular success followed four days 
...
Read more...
---
SKF's Meet The World initiative
Third Quarter 2019, SKF South Africa , News & events
Gothia Cup is the world's largest youth football tournament. Each year, around 1700 teams from 80 nations travel to Gothenburg to take part and play 4500 games on 110 fields. Wiith its headquarters in 
...
Read more...
---
Bosch Rexroth hosts customers at the Bosch Rexroth HUBB
Third Quarter 2019 , News & events
The Bosch Rexroth South Africa Group of Companies recently held its first customer day at the Rexroth HUBB in Kempton Park. In a celebration of the Group's relationships with its customers and business 
...
Read more...
---
Engineering is shaping the future
Third Quarter 2019, ESTEQ, Siemens Digital Industries , News & events
This year's highly successful Engineering Community Conference hosted by technology specialist, ESTEQ at the CSIR International Conference Centre focused on how to future-proof your businesses, ideas, 
...
Read more...
---
Festo inspires with smart digital solutions
Third Quarter 2019, Festo , News & events
Festo recently hosted its second highly successful series of Automation Expo seminars and exhibitions that focused on higher productivity through digitalisation in automation. They were held at venues 
...
Read more...
---
A pioneer and role model
Third Quarter 2019 , News & events
There is a serious shortage of women in engineering. Globally it is a male dominated field. According to ECSA, only 11% of the total number of engineers registered are female and only 4% of these are 
...
Read more...
---
Celebrating 100 years of the spherical roller bearing
Third Quarter 2019, SKF South Africa , News & events
The spherical roller bearing (SRB), that helps engineers accommodate heavy radial and axial loads in applications prone to misalignment or shaft deflections, celebrates its 100th birthday this year thanks 
...
Read more...
---
Double win for Schneider Electric
Third Quarter 2019, Schneider Electric South Africa , News & events
Schneider Electric has once again gained recognition for its efforts in sustainable development, being awarded both first and second place at the annual Steel and Engineering Industry Federation of South 
...
Read more...
---