printer friendly version
Tectra upgrades flight simulator software
1st Quarter 2019
Electrical switching & drive systems & components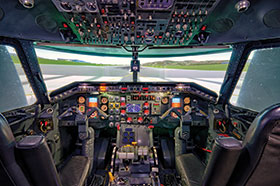 Simex, a South African company specialising in the fabrication and upgrading of flight training devices like flight simulators, contracted Tectra Automation to upgrade software, supply new hardware and adjust and convert a portion of the motion logic control across three flight simulators. The conversions, implemented for software compatibility purposes, pertain to the controls directing inflight aircraft angles (side-slip and shade), the aircraft roll (side-to-side inflight movement) and pitch (altitude increase/decrease).
The simulators benefitting from the upgrades are the Embraer 120 and the King Air 200, 350 and 1900, located at Lanseria airport in Gauteng and a generic twin-piston simulator, based on a Piper Seneca V, at Port Alfred airport in the Eastern Cape. All force-feel and control-loading equipment and componentry used for the simulator upgrades are Bosch Rexroth engineered.
The Embraer 120, an FNPTII (Flight Navigation and Procedures Trainer) MCC fixed-base simulator, which is used for imitation training and proficiency checks, experienced compatibility issues with its motor program and its motion logic controller (MLC) device. As the components are Bosch Rexroth, Simex approached Tectra Automation in Johannesburg for assistance. The fault lay in under-resourced componentry (known as CML) for a program contained within the MLC, which Tectra Automation resolved by replacing the existing CML25 with a CML45 and adjusting the software programming.
Electric drives and controls manager, Wiets Pretorius, verified the fault, provided and installed the correct hardware and adjusted the software to ensure compatibility. Commissioning was conducted jointly by Simex and Tectra Automation, and subsequently reconstructed and approved by the South African Civil Aviation Authority (SACAA), the aviation industry regulator in South Africa. "All of this was completed within standard industry time expectations and to our exact requirements," commented Leon Postma, simulation engineer at Simex.
Based on the successful conclusion of the Embraer 120 project, Simex again contracted Tectra Automation, this time for the other two simulator projects, both of which are ongoing. The Port Alfred-based generic twin-piston simulator had been upgraded with new motors and required higher grade firmware and the King Air three-way simulator (200, 350 and 1900) involved work on its control loading.
The firmware upgrade for the twin-piston simulator, however, proved to be incompatible with the PLC leading to a PLC firmware upgrade. This entailed motor parameter checking and adaption to the motor programming to correct an inverted analog signal – both of which were conducted remotely.
Tectra Automation also supplied all required Bosch Rexroth equipment and components for the control loading of the King Air 200, 350 and 1900 simulator. This aircraft simulator can be adapted to exactly duplicate the aeroplane cockpits of any of the three aircraft types through the use of interchangeable panels.
All Bosch Rexroth hardware has been delivered to site and Tectra Automation is on standby to assist with commissioning once Simex has completed the installation. "For all projects, which first began in 2017 when we conducted upgrades to the Embraer 120, until now with the work undertaken on our two ongoing projects, we have not experienced any unsolvable challenges subsequent to Tectra Automation's involvement," said Postma. "The service we have received from Tectra Automation exceeds even the exceptional high quality of the Bosch Rexroth equipment they represent, if one could draw a quality comparison," he concluded.
The standard one year Bosch Rexroth warranty on all products and equipment applies, and Tectra Automation provides a 24 hour call out offering as part of its aftersales service.
For more information contact Wiets Pretorius, Tectra Automation, +27 11 971 9400, wiets.pretorius@tectra.co.za, www.hytecgroup.co.za
Credit(s)
Further reading:
Motors that let you know when it's time for a service
Third Quarter 2019, ABB South Africa, Robotics and Motion , This Week's Editor's Pick, Electrical switching & drive systems & components
A new smart sensing solution from ABB can reduce downtimes of low voltage motors by up to 70% and extend their lifetime by up to 30%.
Read more...
---
Suction cup for sheet metal handling
Third Quarter 2019, Tectra Automation , Pneumatic systems & components
Tectra Automation has introduced the new SAX bell-shaped suction cup from Schmalz to its range of vacuum components. This is a single-piece suction cup with a vulcanised connection nipple made of reinforced 
...
Read more...
---
Cost-efficient production with 18 synchronous NC axes
Third Quarter 2019, Beckhoff Automation , This Week's Editor's Pick, Electrical switching & drive systems & components
Swedish equipment manufacturer, Ecmec has developed a high-tech machine for a supplier to the automobile industry that can complete several process steps simultaneously without having to remount the part 
...
Read more...
---
Contactless energy transfer system for automotive assembly line
Third Quarter 2019, SEW-Eurodrive , This Week's Editor's Pick, Electrical switching & drive systems & components
The Movitrans contactless energy transfer system from SEW-Eurodrive, in conjunction with its Movipro SDC decentralised drive, position and application controller, has played a critical role in an assembly 
...
Read more...
---
Expanded power ranges and capabilities for drives
Third Quarter 2019, Rockwell Automation , Electrical switching & drive systems & components
Rockwell Automation has expanded the power ranges and capabilities of TotalFORCE technology for its Allen-Bradley PowerFlex 755T AC drives. The drives now offer an expanded power range, helping engineers 
...
Read more...
---
Automated post-print processing on 3D printed parts
Third Quarter 2019, Beckhoff Automation , Electrical switching & drive systems & components
Additive manufacturing processes can produce parts with the most complex geometries in a single operation. However, post-processing these 3D printed parts is time consuming and costly. In order to remove 
...
Read more...
---
Drives for sewage treatment applications
Third Quarter 2019, Bearing Man Group T/A BMG , Electrical switching & drive systems & components
BMG supplies a range of drives designed specially for optimum efficiency in sewage treatment applications. "Nord drives, which consist of Unicase helical shaft mount geared motors, have special features 
...
Read more...
---
How to stablilise South Africa's power supply
Third Quarter 2019, Zest WEG Group Africa , Electrical switching & drive systems & components
South Africa could go a long way to cutting the risk of future load-shedding by adopting a minimum efficiency performance standard (MEPS) for electric motors. According to Fanie Steyn, manager of rotating 
...
Read more...
---
Cost-effective DC motor solutions
Third Quarter 2019 , Electrical switching & drive systems & components
Vert Energy's Leroy-Somer LSK direct current DC motors provide cost-effective solutions for variable speed applications. The major advantage of direct current motors is the ease of effecting accurate 
...
Read more...
---
What is going on in the Milky Way?
Third Quarter 2019 , This Week's Editor's Pick, Electrical switching & drive systems & components
One of the regions we know very little about is the dense part in the centre of the galaxy, where countless stars and gas clouds cluster around a presumed black hole. But a major astronomy project is 
...
Read more...
---