printer friendly version
A new era of automation control
2nd Quarter 2019
Electrical switching & drive systems & components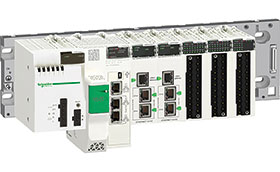 Schneider Electric's new high end Modicon M580 Ethernet programmable automation controller (ePAC) features redundant processors, native Ethernet, and cybersecurity embedded into its very core. It combines native Ethernet capabilities, high performance, high availability for processors and networks, improved industrial cybersecurity, greater flexibility in design and improved agility for operations.
The Industrial Internet of Things (IIoT) refers to the billions of industrial devices, ranging from machines in a factory to the systems running oil pipelines that are filled with sensors, connected to wireless networks, and gathering and sharing data. The introduction of inexpensive sensors and high bandwidth wireless networks means that even the tiniest devices can be connected up and provide the intelligence that enables them to be monitored and tracked, sharing data and communicating with other devices. This mountain of data can then be collected and analysed, and acted on in real time to make better decisions and to improve processes. As advances in technology make it more cost-effective to deploy IIoT, industries will need to acquire a strategic approach to integrating new sensor data with pre-existing data environments.
The competitive advantage this data can bring means that today, more than ever, industrial organisations are looking for ways to integrate controls, automation, and data analytics visualisation software to reap the benefits of IIoT and gain operational and competitive benefits for their business.
With this in mind, Schneider Electric has spent decades developing solutions to help manufacturing organisations reap the benefits from their systems and harness the true power of the Internet. Firstly, the company's ExoStructure empowers end-user customers to implement scalable and converged IT/OT solutions to deliver innovation at every level. This architecture and interoperable technology platform unites energy automation and software, ensuring that end-users enjoy enhanced value around safety, reliability, efficiency, sustainability and connectivity.
The company's commitment to innovation in digitalisation over the last 20 years has also inspired the development of IIoT solutions for edge control. The Modicon M580 is its flagship controller with Ethernet at its core.
A platform that optimises open networks, the M580 ePAC, provides industrial plant operators with the power to design, implement and run a process that actively employs the benefits of open networking, helping customers to access consistent and accurate data for timely decisions, and reduce downtime with detailed insight into alarms and events. In addition, it enables customers to quickly diagnose and identify the root causes of issues, as well as make informed decisions about plant operations and energy management.
The M580 with Achilles Level 2 Certification was built with security, performance, and sustainable evolution in mind, and is the most advanced PAC ever designed by Schneider Electric in terms of industrial cybersecurity. It is tested according to Ethernet services and protocols such as ARP, ICMP, TCP and IP, and firmware integrity is checked at every startup and is compiled and stored in memory, preventing its decompilation by an outsider.
Mark Williams, director of the Plant Solutions Competency Centre at Schneider Electric, says: "The M580 ePAC is leading the next generation of PACs that leverage open and fast Ethernet communications. Powerful performance is a core feature of the M580 ePAC, and the PAC delivers an incredibly high level of computing power through a multicore processor, allowing high speed connectivity to network devices, while enhancing resistance to cybersecurity threats.
In addition, upgrading to the M580 ePAC requires no additional investment in wiring, software development, or training."
The M580 ePAC is also compatible with the xBus communications of the Modicon M340 and Premium PLC. Users can easily switch between the different controller sizes in the Modicon range without changing their I/O racks and cabling. Modicon M580 ePAC has been built for PlantStruxure, a collaborative and integrated automation architecture developed by the manufacturing giant. PlantStruxure brings together the telemetry, PLC/scada, and DCS offerings with complete lifecycle services to help make operations more efficient and seamless. From initial design to modernisation, PlantStruxure transparently connects the control, operation and enterprise levels of the business.
For more information contact Silindelokuhle Dumakude, Schneider Electric South Africa, +27 11 254 6400, sli.dumakude@se.com, www.schneider-electric.co.za
Credit(s)
Further reading:
M&C rewinds compressor motor stator
Fourth Quarter 2019 , Electrical switching & drive systems & components
Marthinusen & Coutts (M&C) recently provided a solution to an irregularity that occurred in the stator of a large 36 MW compressor motor deployed at Sasol's Secunda plant.The results of final tests, conducted 
...
Read more...
---
Control for additive manufacturing
Fourth Quarter 2019, Beckhoff Automation , Editor's Choice, Electrical switching & drive systems & components
Colossus plans to manufacture large functional or decorative objects such as outdoor furniture and ornaments with a new 3D printer that processes recycled plastics, and this creates further special 
...
Read more...
---
Varispeed VSDs now available from Bearings International
Fourth Quarter 2019 , Electrical switching & drive systems & components
Being part of the broader Hudaco Group allows BI to leverage synergies across a broad range of companies, meaning it can offer a complete product basket at its extensive branch network countrywide. One 
...
Read more...
---
On the way towards fully electrified mining machines
Fourth Quarter 2019, Parker Hannifin - Sales Company South Africa , Editor's Choice, Electrical switching & drive systems & components
The more time humans spend working in mining conditions, and near mining vehicles, the more likely they are to be injured, contract illnesses or die in accidents. According to the UN's International 
...
Read more...
---
Future-proof chair lift system
Fourth Quarter 2019, Siemens Digital Industries , Editor's Choice, Electrical switching & drive systems & components
At Snow Space, a winter sports resort near Salzburg, Bergbahnen Wagrain operates the Sonntagskogelbahn 2, a chair lift for taking skiing enthusiasts to the piste. New innovative drive technology guarantees 
...
Read more...
---
New series of industrial gear units
Fourth Quarter 2019, SEW-Eurodrive , Electrical switching & drive systems & components
The latest technology unveiled by German drive engineering specialist SEW-Eurodrive at Hannover Messe 2019 has finally made its way to South African shores. Raymond Obermeyer, MD of SEW-Eurodrive, personally 
...
Read more...
---
IE3 compliant motor control
Fourth Quarter 2019, Zest WEG Group Africa , Electrical switching & drive systems & components
The increased move towards the use of IE3 electric motors has made it increasingly important that the most appropriate starting method be selected to ensure optimum performance. With this move it is essential 
...
Read more...
---
Cummins engines power expansion projects in Ghana
Fourth Quarter 2019 , Electrical switching & drive systems & components
A pair of Cummins QSK95 engines is helping power expansion projects at the Ghana Ports and Harbours Authority (GPHA). GPHA is the national port authority of Ghana, responsible for the governance, maintenance 
...
Read more...
---
Motors, drives, alternators and ATEX induction motors
Fourth Quarter 2019 , Electrical switching & drive systems & components
Vert Energy is the sole distributors for Leroy-Somer in southern Africa and supplies and supports the entire LS range, which includes standard and adapted AC and DC motors, geared and brake motors, variable 
...
Read more...
---
Mechatronic drive system for improved bakery industry efficiency
Fourth Quarter 2019, SEW-Eurodrive , Electrical switching & drive systems & components
SEW-Eurodrive is assisting the bakery industry in improving efficiencies and reducing its energy consumption by means of the introduction of its Movigear mechatronic drive system. The drive specialist 
...
Read more...
---