printer friendly version
Creating tomorrow's marine braking solutions
2nd Quarter 2019 Editor's Choice Electrical switching & drive systems & components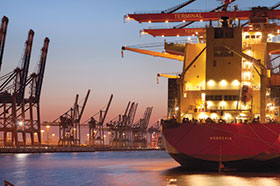 Modern vessels are equipped with dozens of ancillary items, such as winches and loading cranes, which must all incorporate braking systems to ensure their operation is reliable and effectively controlled. Stromag, part of Altra Industrial Motion, has designed and manufactured marine braking systems for decades, and the company's products are installed on vessels operating across the globe. That experience has given Stromag unparalleled insight into the demands placed on equipment that operates at sea, and of the evolving needs of vessel owners.
Increasing productivity
"In marine applications, time is money," explains product specialist, Michael Frank. "The faster vessels can complete loading and unloading operations, the sooner they can be on their way." He adds that pressure for increased productivity has led to a continual increase in the capacity and speed of ancillary equipment. That in turn has significant implications for braking systems. As cranes and hoists run faster and move larger loads, the amount of kinetic energy in the system increases, and the braking system needs to be able to manage that energy to keep the equipment under control. Over time, Stromag engineers have continually adapted and upgraded their existing range of marine brakes to handle increased loads, but the company recognised that these incremental improvements were reaching their limit. It was time for a new approach.
Increased power handling
A team was established to create an entirely new series of brakes, designed to meet the requirements of current and future generations of fast, high powered marine equipment. Braking systems for marine equipment face a number of significant constraints. They have to fit into a limited space envelope, offer standard mechanical and electrical interfaces for shafts and control systems, and withstand all the rigors of the wet, corrosive marine environment.
"The key to better brake performance is improved thermal characteristics," explains Frank. "It is the braking system's ability to dissipate heat that determines the power available." The thermal behaviour of a braking system is a complex design process, determined by the interaction between multiple components. To get the performance it was looking for, the Stromag team had to apply its in-depth experience of advanced friction system design, to make extensive use of computer-aided simulation and optimisation tools, and to test multiple prototypes on rigs and in the field.
Optimised performance
The outcome of all that work was the most highly optimised friction package the company has ever produced for a dry electromagnetic brake. For customers, that means a significant step change in performance. The improvement can be seen most clearly in the speed ratings of the brakes in the new High Performance Brake (HPB) range.
A 100 Nm HPB brake, one of the smaller units in the range, is rated for operation at 6500 rpm, while its predecessor had a maximum rated speed of 3000 rpm. The difference becomes even more significant as the brakes get larger. The 4000 Nm variant of the HPB is rated to 3250 rpm, while its predecessor was deigned to operate at 1000 rpm.
But what about the cost issue? Frank points out that the new design also provides significant benefits here. "The higher power rating of the new brakes means that customers can often select a unit one or two frame sizes smaller for a given application," he says. "In addition, every part of the new braking system is designed to be simple, robust and easy to assemble."
Streamlined designs
The overall part count has been reduced, for example, by replacing separate covers with a part integrated into the body of the brake. The HPB series also uses a modular design that shares components between different models, to simplify the manufacturing supply chain. Those changes don't just mean lower production costs, they also help to streamline maintenance and support activities. In addition, the internal components of the range are all designed to resist corrosion and offer enhanced durability under exposure to salt water or other contaminants.
The HPB series is available in two-face or four-face configurations and with a brake torque range of 80 to 5000 Nm. While the new range of brakes was inspired by the demands of marine customers, the range is also suitable for use in industrial environments where long-term reliability and resistance to harsh environments are a priority.
For more information contact Patricia Ullrich, Stromag, +49 2303 102239, patricia.ullrich@stromag.com, www.stromag.com
Further reading:
Addressing evolving hydraulics challenges
Fourth Quarter 2019 , Editor's Choice, Hydraulic systems & components
Using materials science and design technologies, Gates' engineers come up with innovative hydraulic hose solutions for ever-changing needs and challenges.
Read more...
---
Control for additive manufacturing
Fourth Quarter 2019, Beckhoff Automation , Editor's Choice, Electrical switching & drive systems & components
Colossus plans to manufacture large functional or decorative objects such as outdoor furniture and ornaments with a new 3D printer that processes recycled plastics, and this creates further special 
...
Read more...
---
Varispeed VSDs now available from Bearings International
Fourth Quarter 2019 , Electrical switching & drive systems & components
Being part of the broader Hudaco Group allows BI to leverage synergies across a broad range of companies, meaning it can offer a complete product basket at its extensive branch network countrywide. One 
...
Read more...
---
On the way towards fully electrified mining machines
Fourth Quarter 2019, Parker Hannifin - Sales Company South Africa , Editor's Choice, Electrical switching & drive systems & components
The more time humans spend working in mining conditions, and near mining vehicles, the more likely they are to be injured, contract illnesses or die in accidents. According to the UN's International 
...
Read more...
---
The Bloodhound
Fourth Quarter 2019 , Editor's Choice, News & events
The Bloodhound project is back on track. The British team developing a car capable of reaching 1600 kmph is in South Africa for several weeks of high-speed testing on the dry desert track at Hakskeenpan 
...
Read more...
---
Robot with air-water actuators has fluid motion
Fourth Quarter 2019 , Editor's Choice, Robotics & Mechatronics
Hydraulics and pneumatics are widely used for power transmission: hydraulics for moving heavy loads with highly controlled motion, and pneumatics for lighter loads and rapid, repetitive motions. Many 
...
Read more...
---
Future-proof chair lift system
Fourth Quarter 2019, Siemens Digital Industries , Editor's Choice, Electrical switching & drive systems & components
At Snow Space, a winter sports resort near Salzburg, Bergbahnen Wagrain operates the Sonntagskogelbahn 2, a chair lift for taking skiing enthusiasts to the piste. New innovative drive technology guarantees 
...
Read more...
---
Rescue from the sky
Fourth Quarter 2019, Siemens Digital Industries , Editor's Choice, Other technologies
Zipline International designs and builds autonomous flying drones that transport medical supplies in hard to reach regions. The company uses design solutions from Siemens PLM Software. This enables the 
...
Read more...
---
Does edge computing have the edge?
Third Quarter 2019, Omron Electronics , Editor's Choice, Other technologies
Implementing artificial intelligence in industrial manufacturing.
Read more...
---
Underwater robot with a unique fin
Third Quarter 2019, Festo , Editor's Choice, Robotics & Mechatronics
Swimming like the natural model
The longitudinal fins of the polyclad and the cuttlefish extend from the head to the tail along their backs, their undersides or the two sides of their torsos. To 
...
Read more...
---