printer friendly version
V-lock system and co-operative robots
2nd Quarter 2019
Robotics & Mechatronics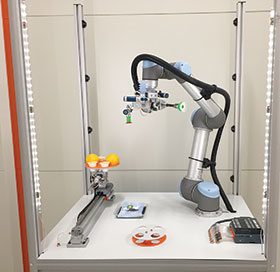 Metal Work has developed applications for the automation of the assembly process together with producers of co-operative robots. These are robots of the very latest generation, designed to interact with humans in total security. They integrate perfectly with the handling products of Metal Work's V-Lock series, marked by the fact that they can very easily be assembled, disassembled and reconfigured.
The V-Lock system is a complete system for manipulation. All components are equipped with a standardised dovetail interface, which makes the assembly, design, configuring and reconfiguring processes easier and faster when building kinematic assemblies. Each component is connected to the other by means of V-Lock brackets that adhere to the dovetail profile; the locking of the brackets occurs through the clamping of two easily accessible lateral screws using a common Allen wrench.
This intuitive system equipped with V-Lock allows the user to make the most of the potential of a co-operative robot and enables the operator to change diverse collet sets, rotary and linear actuators in a fast and simple way. Moreover, through the utilisation of universal adaptors called V-Lock Transformers, it is possible to add components coming from other producers, such as suction cups and gripping systems.
Among the applications developed so far, there is a recent and very interesting one, concerning the assembly of components for industrial automation. In this case, a two-arm Cartesian SCARA type robot carries out the assembly of two different components. Each component is picked from a departure stand by means of a Metal Work P4K type gripper belonging to the V-Lock series, together with a mechanical compensator which can counteract eventual mismatches with the stands.
What specifically characterises this application is the fact that the two arms, besides obviously being synchronised, can interact with humans without constituting any source of danger. The robot is equipped with sensors that immediately stop it in case of collision. The cycle time is minimised thanks to the optimisation of the motion trajectories.
For more information contact Johan Bester, Metal Work Pneumatic South Africa, +27 31 569 1584, johanb@metalworkpneumatic.co.za, www.metalworkpneumatic.co.za
Credit(s)
Further reading:
Moving into 2020 with Festo digitalised products
First Quarter 2020, Festo , Robotics & Mechatronics
Industry 4.0 is rapidly automating the modern working world and helping the machine and system building sector reach new heights.
Read more...
---
Factory harmony
First Quarter 2020, Omron Electronics , Robotics & Mechatronics
A promising model for the new harmony on the factory floor is based on intelligent, integrated and interactive design of tomorrow's manufacturing processes.
Read more...
---
Robot with air-water actuators has fluid motion
Fourth Quarter 2019 , Editor's Choice, Robotics & Mechatronics
Hydraulics and pneumatics are widely used for power transmission: hydraulics for moving heavy loads with highly controlled motion, and pneumatics for lighter loads and rapid, repetitive motions. Many 
...
Read more...
---
Underwater robot with a unique fin
Third Quarter 2019, Festo , Editor's Choice, Robotics & Mechatronics
Swimming like the natural model
The longitudinal fins of the polyclad and the cuttlefish extend from the head to the tail along their backs, their undersides or the two sides of their torsos. To 
...
Read more...
---
Valve island for end of arm tooling
Third Quarter 2019, Metal Work Pneumatic South Africa , Pneumatic systems & components
The Metal Work EB80 BOXI Valve Island, now also available with IO-Link, is a suitable candidate for end of arm tooling (EOAT).This is an integral part of robotic technology. It refers to the equipment 
...
Read more...
---
Manoeuvring agricultural robots with 2D laser scanners
Third Quarter 2019, SICK Automation Southern Africa , Robotics & Mechatronics
How can we harness modern technology in a way that will allow people to collaborate with business even more intelligently, efficiently and sustainably in the future? The solution is 2D laser scanners 
...
Read more...
---
The future of collaborative robots
Third Quarter 2019, Omron Electronics , Robotics & Mechatronics
Factories worldwide are dealing with the challenges of manufacturing a wide variety of low volume products to meet customer demands, as well as shorter product life cycles and labour shortage issues. 
...
Read more...
---
Industry 5.0 – the best of both worlds
2nd Quarter 2019, Cobots , Editor's Choice, Robotics & Mechatronics
The convergence of robot capabilities and human skills.
Read more...
---
Pneumatic robotics meets artificial intelligence
2nd Quarter 2019, Festo , Editor's Choice, Robotics & Mechatronics
Festo's pneumatic robot hand BionicSoftHand, combined with the BionicSoftArm, a pneumatic lightweight robot, shows that future concepts are suitable for human-robot collaboration.
Read more...
---
A bionic flying fox
1st Quarter 2019, Festo , Editor's Choice, Robotics & Mechatronics
Festo has for years been developing research platforms where the basic technical principles are derived from nature.
Read more...
---