printer friendly version
Bosch Rexroth hosts customers at the Bosch Rexroth HUBB
Third Quarter 2019
News & events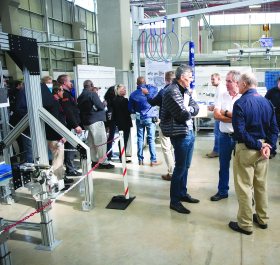 The Bosch Rexroth South Africa Group of Companies recently held its first customer day at the Rexroth HUBB in Kempton Park. In a celebration of the Group's relationships with its customers and business partners, customers were treated to a tour around the 16 000 m2 facility, showcasing the numerous modern engineering and production facilities.
Working demonstrations of the various technologies and systems offered by the Group, in addition to a large collection of products and components from across the 30+ international brands it represents in Africa, were on show in the assembly areas. Facilities such as the Group's hydraulics and pneumatics test rigs and training rooms, and solutions such as Hytec Services Africa's containerised mobile hose workshops for mines were also open to customers.
"Bosch Rexroth South Africa is an integral part of the entire Rexroth Group," said Group executive president and chief financial officer, Dr Markus Forschner. "Our commitment to quality, innovation and customer focus is clearly demonstrated today. The building, the production environment, but most importantly everyone in this organisation, reflects our motto: We Move, You Win."
Over 250 of the Group's valued customers attended, and were joined by regional president for Africa and Group CEO, Tillmann Olsen, Forschner, as well as general managers and staff from the Group. Customers were able to discuss their application challenges with the Group's specialists across its hydraulics, pneumatics, assembly, linear motion and automation offerings to identify potential avenues of performance and process optimisation.
For more information contact Willem Gijzelaar, Bosch Rexroth South Africa, +27 11 979 4630, info@hytec.co.za, www.hytecgroup.co.za
Further reading:
BMG provides critical engineering support
First Quarter 2020, Bearing Man Group T/A BMG , News & events
BMG has been authorised to provide engineering components and support services to essential service providers during the country's COVID-19 lockdown period. Apart from the supply of necessary engineering 
...
Read more...
---
In memoriam: Vivienne Caroline Dorrington - 19 June 1958 – 21 April 2020
First Quarter 2020, Technews Publishing , News & events
It is with great sadness that we announce the death of our CEO, Vivienne Dorrington, after a long and brave battle with cancer. Like her father, Ray Beaumont, who founded Technews Publishing in 1985, 
...
Read more...
---
BI leverages synergies across Hudaco Group
First Quarter 2020 , News & events
Being part of the broader Hudaco Group allows Bearings International (BI) to leverage synergies across a broad range of companies, meaning it can offer a complete product basket at its extensive branch 
...
Read more...
---
IIoT, Industrie 4.0 or 4IR?
First Quarter 2020, Technews Publishing , News & events
We always overestimate the change that will occur in the next two years and underestimate the change that will occur in the next ten: Bill Gates
Read more...
---
Nidec extends warranty on Commander drives
First Quarter 2020, Nidec Industrial Automation Southern Africa , News & events
Control Techniques has launched a free, five-year warranty for its Commander range of general-purpose drives. Anyone who purchases a drive from the Commander range will now be able to register to extend 
...
Read more...
---
Stone-Stamcor boosts Cape Town operation
First Quarter 2020, Stone Stamcor , News & events
In order to enhance its service to its Western and Eastern Cape customers, Stone-Stamcor has embarked on a business improvement project for its Cape Town branch. The new location of the branch will make 
...
Read more...
---
Local finishing for switchgear
First Quarter 2020, Schneider Electric South Africa , News & events
Schneider Electric South Africa has announced that its PIX Easy Air Insulated Switchgear, previously 100% manufactured internationally, will now have a 68% local finishing process, reducing the customer 
...
Read more...
---
Training rigs for Coca-Cola bottler
First Quarter 2020 , News & events
The first on-site Bosch Rexroth pneumatic training rigs have been installed in Africa. The rigs were supplied to Nairobi Bottlers, the base for Coca-Cola Beverages Africa Kenya, by Bosch Rexroth Kenya, 
...
Read more...
---
Lubrication Engineers partners with Umuzi Engineers
First Quarter 2020 , News & events
Lubrication Engineers (LE) has partnered with Umuzi Engineers to tap the potential in new markets. Colin Ford, managing director at LE South Africa, says that Umuzi Engineers will operate as an independent 
...
Read more...
---
Sasol award for Actom Turbo Machines
First Quarter 2020 , News & events
Petrochemical giant Sasol has recognised Actom Turbo Machines with one of its top 2019 awards for exceptional service in repair, refurbishment and ongoing maintenance. Actom Turbo Machines is the only 
...
Read more...
---