printer friendly version
The future of collaborative robots
Third Quarter 2019
Robotics & Mechatronics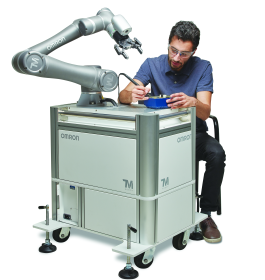 Factories worldwide are dealing with the challenges of manufacturing a wide variety of low volume products to meet customer demands, as well as shorter product life cycles and labour shortage issues. Collaborative robots that can work safely in the same environment with people have an important role in enabling flexible manufacturing and creating a competitive advantage. A new generation of collaborative robots (cobots) is emerging in response to the needs of Industry 4.0. In applications where flexibility is key, as opposed to maximum production speed. Cobots are now filling the gap in the robotics market with their user-friendly software tools and integrated sensory functions, which now include machine vision systems, location capabilities and integration with warehouse systems.
Cobots do heavy lifting
Cobots are gaining strength. Although lightweight, the Omron Techman TM14M for example can lift goods up to 14 kg. While compliant with the ISO 10218 safety standard, which describes the interaction of robots and humans, cobots are now becoming actual team members in production and logistics environments thanks to their lifting capabilities.
Cobots can be deployed in a wide range of applications, such as production, testing, quality control, packaging and palletising, as well as intralogistics. For example, it is possible to support people in assembly processes at those stages where precision and repeatability are key. These robots can apply adhesives and seals with simultaneous quality control. Thanks to repeatability, they are also perfectly suited for automating complex quality tests. Being able to do heavy lifting, they can also be used as palletisers.
Cobots are on the move
The new generation of cobots can be easily integrated with mobile robots. This cooperation is made possible by the low weight of the latest robots, as well as the possibility of building mobile platforms on mobile robots, such as the Omron LD autonomous intelligent vehicle. Cobots can now be a natural part of a flexible, constantly evolving production environment. Cobots installed on mobile robots can become elements of innovative logistic solutions and provide complete sub-assemblies and semi-finished products for assembly stations and finished products to be placed in stock or quality control stations. They can effectively complement and augment people's work in many discrete manufacturing processes.
Cobots are becoming smart
Cobots are just beginning to enable innovation and competitiveness. Undisputed advantages of cobots are the high versatility and a wide range of possibilities, including the ability to carry out tasks performed so far by standard robots, all easily configurable by local engineering staff. With a much easier implementation resulting from the reduced need to provide security measures, and incomparably greater flexibility of operation, the return on such investment can be very positive.
Adding the capabilities of machine vision combined with artificial intelligence into the mix results in limitless possibilities. A cobot can have a built-in intelligent vision system which provides totem pairing, object position, bar code identification, colour differentiation, and other vision functions. You can use gestures to guide the robot and the task by hand, as well as change the degree of freedom of the hand-guide function freely according to different conditions.
Omron's interactive tennis table robot, Forpheus demonstrates the possibilities of artificial intelligence (AI) combined with cobots. Forpheus combines vision with robotics and artificial intelligence on the machine level. It can play an interactive game and identify ping-pong balls in a 3D space in an identical way to the human visual system, as well as evaluate players and judge their ability level, while a high-speed robotic arm moves in response to its AI controller, for example predicting smashes. Combining artificial intelligence on the machine level to vision systems and mobile cobots opens up even more exciting possibilities for new industrial applications in the future.
What does the future hold for Omron?
Omron and Techman Robot recently signed an agreement to form a strategic alliance in the area of cobots. They will provide cobots that can be used for a wide variety of applications such as electronics assembly, product testing and inspection. These robots will enable flexible manufacturing and increase the productivity and quality of production lines for customers in the automotive and electronic industries, as well as various material handling operations within a broad range of manufacturing industries, to realise an innovative manufacturing environment where humans and machines work in harmony.
For more information contact Omron Electronics, +27 11 579 2600, info.sa@eu.omron.com, www.industrial.omron.co.za
Credit(s)
Further reading:
Moving into 2020 with Festo digitalised products
First Quarter 2020, Festo , Robotics & Mechatronics
Industry 4.0 is rapidly automating the modern working world and helping the machine and system building sector reach new heights.
Read more...
---
Factory harmony
First Quarter 2020, Omron Electronics , Robotics & Mechatronics
A promising model for the new harmony on the factory floor is based on intelligent, integrated and interactive design of tomorrow's manufacturing processes.
Read more...
---
Robot with air-water actuators has fluid motion
Fourth Quarter 2019 , Editor's Choice, Robotics & Mechatronics
Hydraulics and pneumatics are widely used for power transmission: hydraulics for moving heavy loads with highly controlled motion, and pneumatics for lighter loads and rapid, repetitive motions. Many 
...
Read more...
---
Does edge computing have the edge?
Third Quarter 2019, Omron Electronics , Editor's Choice, Other technologies
Implementing artificial intelligence in industrial manufacturing.
Read more...
---
Underwater robot with a unique fin
Third Quarter 2019, Festo , Editor's Choice, Robotics & Mechatronics
Swimming like the natural model
The longitudinal fins of the polyclad and the cuttlefish extend from the head to the tail along their backs, their undersides or the two sides of their torsos. To 
...
Read more...
---
Manoeuvring agricultural robots with 2D laser scanners
Third Quarter 2019, SICK Automation Southern Africa , Robotics & Mechatronics
How can we harness modern technology in a way that will allow people to collaborate with business even more intelligently, efficiently and sustainably in the future? The solution is 2D laser scanners 
...
Read more...
---
Industry 5.0 – the best of both worlds
2nd Quarter 2019, Cobots , Editor's Choice, Robotics & Mechatronics
The convergence of robot capabilities and human skills.
Read more...
---
Innovation and intelligence for the smart factory
2nd Quarter 2019, Omron Electronics , Editor's Choice, Electrical switching & drive systems & components
Thanks to increased processing power and the availability of increasing volumes of data (sensitisation of the industry), the discussion about artificial intelligence (AI) in the mechanical engineering sector is gaining momentum.
Read more...
---
Pneumatic robotics meets artificial intelligence
2nd Quarter 2019, Festo , Editor's Choice, Robotics & Mechatronics
Festo's pneumatic robot hand BionicSoftHand, combined with the BionicSoftArm, a pneumatic lightweight robot, shows that future concepts are suitable for human-robot collaboration.
Read more...
---
V-lock system and co-operative robots
2nd Quarter 2019, Metal Work Pneumatic South Africa , Robotics & Mechatronics
Metal Work has developed applications for the automation of the assembly process together with producers of co-operative robots.
Read more...
---