printer friendly version
New docking system for space rendezvous
Third Quarter 2019 Editor's Choice Electrical switching & drive systems & components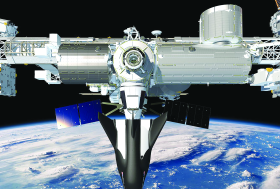 The European Space Agency (ESA) is working on a new system to enable easy docking between two spacecraft. maxon motor developed two special drive systems for this purpose. Even though it has been done many times before, the docking manoeuvre between two objects in space is always a delicate and potentially dangerous procedure. The speed is extremely high, about 28 000 km/h in the case of the International Space Station (ISS), and correc-tions are difficult. For example, when the two objects are about to meet, manoeuvring thrusters can no longer be used, since their exhaust plumes can cause damage. To prevent harm, cargo transporters are caught by a robotic arm installed in the ISS and berthed manually. Manned spacecraft on the other hand dock directly in a computer-controlled process.
This type of docking manoeuvre is going to become easier and safer in the future, so the European Space Agency (ESA) has commissioned its industry partners to design a new docking system called International Berthing and Docking Mechanism (IBDM). The mechanism's first missions will be with the Dream Chaser, a craft that will soon perform cargo flights to the ISS.
Docking energy is absorbed
The IBDM is an androgynous coupling system. This means that the connector is identical on both sides. It consists of a hard inner ring (Hard Capture System) and a soft outer ring (Soft Capture System) that has six degrees of freedom and force sensors. The outer ring first absorbs the docking energy. Then the final airtight connection is made and secured by mechanical hooks which pull the two spacecraft tightly together.
SENER is in charge of developing and installing the Hard Capture System. The company is currently working on the qualification model, which is due for testing in 2020. "The IBDM needs to be used as quickly as possible on a supply flight for the ISS," says SENER's Gabriel Ybarra. "One of the next steps would be to use it in NASA's Lunar Space Station, which is planned to go into orbit around the moon and could serve as a launch point for manned missions to Mars in the future."
Dual systems for maximum safety
This is a challenging project for the engineers at SENER: "We first needed to fully understand all the requirements set by ESA and NASA, especially with regard to safety, because the docking mechanism can also cope with manned flights," continues Ybarra. "As well as being lightweight and delivering the required torque, the electrical drives that are used must also be extremely
reliable. This is why SENER has been working with drive specialist maxon for several years."
For the hard capture system maxon developed an EC 32 flat motor with two windings and a GPX 22 UP planetary gearhead. There are twelve maxon drive systems powering the locking hooks. Each consists of two brushless EC-4pole 30 motors and a GPX 42 UP gearhead. maxon's engineers have developed two drives that can be used to execute a huge variety of functions. This first drive consists of two brushless EC-4pole motors and a GPX UP gearhead. Twelve of these actuators power the locking hooks in the IBDM docking mechanism. The second drive combines a flat motor with a planetary gearhead. It is used in eleven places to manage the plug-in connections and the retaining eyes, as well as other ancillary functions. As the IBDM docking mechanism is a flight-critical application, redundant drive systems are required. The backup must function even if the primary drive fails. This is often solved by means of a backup motor that can take over in an emergency. This is the approach used for the locking hook actuator. For the other drive system however, the maxon engineers found a different, unconventional solution: an additionalstator is used instead of an extra motor. The flat motor therefore has two stators and hence two windings, each of which is capable of independently driving the rotor – an ingenuous solution, which guarantees safety while saving space.
Ybarra praises the collaboration with maxon: "The team understands our requirements and is very quick with design modifications. Moreover, both partners have a passion for mechatronic systems. It feels great to be involved in the entire cycle, from design to production and testing. This makes it extremely interesting. And when the system moves for the first time, it's like watching your children take their first steps."
For more information contact Hans Burri, DNH Tradeserve, +27 11 468 2722, hans.burri@dnhtrade.co.za, www.dnhtrade.co.za
Credit(s)
Further reading:
Moving into 2020 with Festo digitalised products
Second Quarter 2020, Festo South Africa , Editor's Choice
HoloLens, mobile phones, 3D printing and smart glasses – the gadgets that captured the public imagination in the blockbuster movie 'Back to the Future' over 30 years ago have now become a reality, all 
...
Read more...
---
Simplified access to HIV tests
Second Quarter 2020 , Editor's Choice
Roche has developed the Cobas Plasma Separation Card (PSC), a new technology that simplifies and improves the examination and monitoring of HIV patients, particularly in remote areas. For the first time, 
...
Read more...
---
Three lubrication myths that need busting
Second Quarter 2020 , Editor's Choice
As specialists in lubrication reliability solutions, the team at Lubrication Engineers (LE) South Africa frequently comes up against myths relating to lubricants. "People believe things or are taught 
...
Read more...
---
E-Motion on the bike
Second Quarter 2020, Horne Technologies , Editor's Choice
The bicycle is a part of locomotion culture in Germany. Over 97% of people in Germany can ride a bike. They use bicycles not only for bike tours in their free time but also on a daily basis for shopping 
...
Read more...
---
Enabling the smart factory
Second Quarter 2020 , Editor's Choice
Smart manufacturing practices making use of connected technology hold the power to improve efficiency and optimise factory operations. However the increased use of IIoT comes with the threat of a cyber 
...
Read more...
---
Versatile energy saving drives
Second Quarter 2020, Bearing Man Group T/A BMG , Editor's Choice
BMG's Vacon 100 AC drives have been designed to save energy, optimise process control and improve productivity in many sectors, including processing, mining and minerals, industrial HVAC, marine and water, 
...
Read more...
---
Developing custom lubrication solutions
Second Quarter 2020 , Editor's Choice
The right lubricant, consistently applied at the right interval, goes a long way in extending plant life, minimising downtime and maximising the usefulness of machinery. This is why Lubrication Engineers 
...
Read more...
---
Robots in the medical arena
Second Quarter 2020 , Editor's Choice
The Coronavirus outbreak has highlighted use cases for mobile robotics to successfully disinfect, monitor, surveil and handle and deliver materials. These proven use cases will propel the overall mobile 
...
Read more...
---
Critical support for essential service providers
Second Quarter 2020 , Editor's Choice
BMG has been authorised to provide engineering components and support services to businesses approved as essential service providers, during the country's COVID-19 lockdown period. "As a customer-driven 
...
Read more...
---
Mobile robots for quiet locations
Second Quarter 2020 , Editor's Choice
NSK has developed an innovative direct-drive wheel unit aimed at OEMs looking to add mobility to their autonomous or collaborative robots. Specifically designed for use in quiet environments such as hospitals, 
...
Read more...
---