printer friendly version
Robot with air-water actuators has fluid motion
Fourth Quarter 2019 Editor's Choice Robotics & Mechatronics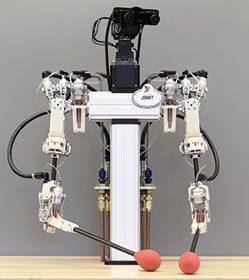 Hydraulics and pneumatics are widely used for power transmission: hydraulics for moving heavy loads with highly controlled motion, and pneumatics for lighter loads and rapid, repetitive motions. Many machines use hydraulic and pneumatic systems with electromechanics, and pneumatic or pneumatic systems integrated with electromechanical drives are now common. But it is very rare to see hydraulic and pneumatic systems working in an integrated system.
In a complete break from tradition, a Disney Research team at Northeastern University's College of Mechanical and Industrial Engineering in Boston has come up with a beautifully engineered hybrid hydraulic-pneumatic system that can create amazingly lifelike motions without losing precise force control. In its latest development, Disney Research built a human-safe, humanoid robot called Jimmy, consisting of an upper torso with two arms and a head carrying stereo cameras. Each arm has four degrees of motion.
Very fluid motion
The system has a series of rolling-diaphragm cylinders that use hydraulic power to move in one direction and compressed air to move in the other. Two single-acting cylinders are paired to form a single rotary actuator. The actuator weighs only 120 grams, and can deliver up to 4,5 Nm of continuous torque with a 135° angle of motion. Essentially, force from the air cylinder creates a preload against the hydraulic cylinder. The compressed air in the one cylinder provides the return force that would otherwise be provided by a spring. Each cylinder then requires only one hydraulic line and one pneumatic line.
The result is a system that the team describes as light, fast, and dexterous, with low friction and no backlash. Assistant professor, John Whitney says the device has greater torque density than highly geared servos or brushless motors coupled with harmonic drives. It is also compliant and backdrivable, making it intrinsically safe, and thus ideal for human-robot interaction applications. Another advantage of this kind of actuation system is that, unlike motors or servos, you don't have to place the entire system inside your robot's limbs, so you can make them smaller and lighter.
While humanoid robots can be painfully slow, Jimmy moves with lifelike speed and grace and is capable of waving at people, doing a little dance and drumming on a table. Jimmy can also safely operate in contact with people and can play patty-cake with a kid and even pat her cheeks, something you don't see very often in human-robot interaction experiments. Whitney says that when people meet Jimmy for the first time, most feel a strong emotional connection with the robot.
Mimicking human movement
An operator manipulates the arms of a remote controller, and the robot follows the moves precisely in real time using a virtual-reality headset for visual input from the robot's stereo cameras. To make Jimmy's arms move, the operator uses a replica of the robot as a controller. The replica is coupled to the actual robot through a series of air and water transmission lines, which transfer forces from one side to the other. Not only can the operator move Jimmy's arms but it is also possible to haptically feel when the robot's arms touch things or get pushed.
The stereo camera on Jimmy's head streams video to the head-mounted display worn by the operator, who can then see through the robot's eyes, and dual-axis motion of its head follows the movements of the operator's head via electric servos. Eventually, a control system and a set of motors could be used to make Jimmy's movements fully autonomous.
This low-impedance hydraulic system can give haptic feedback for precise control in delicate tasks such as picking up a raw egg or even threading a needle. It consistently transmits contact forces to the operator while generating a high-fidelity remote sense of touch using haptic feedback.
Whitney says the transmission provides Jimmy with incredibly smooth and fast motion, while also allowing life-like interaction with people and the handling of delicate objects. Although for now, the robot is remotely controlled by a human operator, the team expects the same level of mechanical performance once the motions are automated.
"There is huge potential in the personal robots space. The haptic benefits to a human operator are equally valuable for autonomous control," Whitney says. "Also, the backdrivable and lightweight properties of the transmission are great features to have when you adopt manipulation and ambulation strategies that leverage rather than avoid contact with the environment."
Further reading:
How to embrace the benefits of smart pneumatics
Third Quarter 2021, Emerson Automation Solutions , Editor's Choice, Pneumatic systems & components
Understand how this challenge creates opportunities
It is important to consider how insights from data can help end-users react to real-time events or even predict the future. For example, the Emerson 
...
Read more...
---
PC-based control runs the stage machinery for Rigoletto
Third Quarter 2021, Beckhoff Automation , Editor's Choice, Electrical switching & drive systems & components
In the production, the court jester Rigoletto becomes a clown. Only the head, encircled by a wide collar, and the hands of the gigantic clown protrude from the lake. Eventually the clown becomes the victim 
...
Read more...
---
Robotics and the potential for the lights-out factory
Third Quarter 2021, Omron Electronics , Editor's Choice, Other technologies
However the 100% automated, fully lights-out factory is not a realistic goal for a large proportion of manufacturing businesses currently operating. A key reason is that manufacturing needs people. Human 
...
Read more...
---
Energy from the power of the moon
Third Quarter 2021, SKF South Africa , Editor's Choice, Shaft power components
It is intended to help reduce climate-damaging CO
2
emissions, slow down global warming and thus build a more sustainable future for generations to come. With the help of modern technology from SKF, 
...
Read more...
---
Electric motors without magnets
Third Quarter 2021 , Editor's Choice, Electrical switching & drive systems & components
Permanent magnets, though, come with their own baggage. 97% of the world's rare earth metal supply comes out of China and state control over such a crucial resource across a number of high-tech industries 
...
Read more...
---
A very smart material
Second Quarter 2021 , Editor's Choice, Electrical switching & drive systems & components
Shape memory materials (SMMs) are strong, lightweight materials that have the ability to recover their original shape after being deformed if a stimulus is applied. They can be programmed to remember 
...
Read more...
---
The benefits of collaborative robots
Second Quarter 2021, SMC Corporation South Africa , Editor's Choice, Robotics & Mechatronics
While robotics led the way for the rapid growth of automation, cobots are the democratisation of robotics technology. They eliminate the cost and complex programming that robots usually require while providing much greater flexibility.
Read more...
---
Fast, safe transport on the factory floor
Second Quarter 2021, Omron Electronics , Editor's Choice
The Philips site in Klagenfurt produces over 23 million linear cutting elements for hair and beard trimmers each year. These beard trimmers use lift-and-trim technology: the beard hair is first lifted 
...
Read more...
---
SKF bearings help Mars Rover collect rock
Second Quarter 2021, SKF South Africa , Editor's Choice, Shaft power components
Enabling the Mars Rover's core operations in the harsh environment on Mars are Kaydon RealiSlim thin-section ball bearings, designed and manufactured by SKF at the company's global thin-section bearing 
...
Read more...
---
Hacking for a difference
Second Quarter 2021, RS Components SA , Editor's Choice, News & events
The annual Geekulcha Hackathon recently saw more than 100 coders, developers and programmers challenge each other in an online contest.The event has become a highlight in the African developer world. 
...
Read more...
---