printer friendly version
Robot with air-water actuators has fluid motion
Fourth Quarter 2019 Editor's Choice Robotics & Mechatronics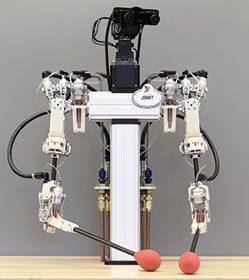 Hydraulics and pneumatics are widely used for power transmission: hydraulics for moving heavy loads with highly controlled motion, and pneumatics for lighter loads and rapid, repetitive motions. Many machines use hydraulic and pneumatic systems with electromechanics, and pneumatic or pneumatic systems integrated with electromechanical drives are now common. But it is very rare to see hydraulic and pneumatic systems working in an integrated system.
In a complete break from tradition, a Disney Research team at Northeastern University's College of Mechanical and Industrial Engineering in Boston has come up with a beautifully engineered hybrid hydraulic-pneumatic system that can create amazingly lifelike motions without losing precise force control. In its latest development, Disney Research built a human-safe, humanoid robot called Jimmy, consisting of an upper torso with two arms and a head carrying stereo cameras. Each arm has four degrees of motion.
Very fluid motion
The system has a series of rolling-diaphragm cylinders that use hydraulic power to move in one direction and compressed air to move in the other. Two single-acting cylinders are paired to form a single rotary actuator. The actuator weighs only 120 grams, and can deliver up to 4,5 Nm of continuous torque with a 135° angle of motion. Essentially, force from the air cylinder creates a preload against the hydraulic cylinder. The compressed air in the one cylinder provides the return force that would otherwise be provided by a spring. Each cylinder then requires only one hydraulic line and one pneumatic line.
The result is a system that the team describes as light, fast, and dexterous, with low friction and no backlash. Assistant professor, John Whitney says the device has greater torque density than highly geared servos or brushless motors coupled with harmonic drives. It is also compliant and backdrivable, making it intrinsically safe, and thus ideal for human-robot interaction applications. Another advantage of this kind of actuation system is that, unlike motors or servos, you don't have to place the entire system inside your robot's limbs, so you can make them smaller and lighter.
While humanoid robots can be painfully slow, Jimmy moves with lifelike speed and grace and is capable of waving at people, doing a little dance and drumming on a table. Jimmy can also safely operate in contact with people and can play patty-cake with a kid and even pat her cheeks, something you don't see very often in human-robot interaction experiments. Whitney says that when people meet Jimmy for the first time, most feel a strong emotional connection with the robot.
Mimicking human movement
An operator manipulates the arms of a remote controller, and the robot follows the moves precisely in real time using a virtual-reality headset for visual input from the robot's stereo cameras. To make Jimmy's arms move, the operator uses a replica of the robot as a controller. The replica is coupled to the actual robot through a series of air and water transmission lines, which transfer forces from one side to the other. Not only can the operator move Jimmy's arms but it is also possible to haptically feel when the robot's arms touch things or get pushed.
The stereo camera on Jimmy's head streams video to the head-mounted display worn by the operator, who can then see through the robot's eyes, and dual-axis motion of its head follows the movements of the operator's head via electric servos. Eventually, a control system and a set of motors could be used to make Jimmy's movements fully autonomous.
This low-impedance hydraulic system can give haptic feedback for precise control in delicate tasks such as picking up a raw egg or even threading a needle. It consistently transmits contact forces to the operator while generating a high-fidelity remote sense of touch using haptic feedback.
Whitney says the transmission provides Jimmy with incredibly smooth and fast motion, while also allowing life-like interaction with people and the handling of delicate objects. Although for now, the robot is remotely controlled by a human operator, the team expects the same level of mechanical performance once the motions are automated.
"There is huge potential in the personal robots space. The haptic benefits to a human operator are equally valuable for autonomous control," Whitney says. "Also, the backdrivable and lightweight properties of the transmission are great features to have when you adopt manipulation and ambulation strategies that leverage rather than avoid contact with the environment."
For more information visit https://tinyurl.com/y5rpkrxt
Further reading:
Addressing evolving hydraulics challenges
Fourth Quarter 2019 , Editor's Choice, Hydraulic systems & components
Using materials science and design technologies, Gates' engineers come up with innovative hydraulic hose solutions for ever-changing needs and challenges.
Read more...
---
Control for additive manufacturing
Fourth Quarter 2019, Beckhoff Automation , Editor's Choice, Electrical switching & drive systems & components
Colossus plans to manufacture large functional or decorative objects such as outdoor furniture and ornaments with a new 3D printer that processes recycled plastics, and this creates further special 
...
Read more...
---
On the way towards fully electrified mining machines
Fourth Quarter 2019, Parker Hannifin - Sales Company South Africa , Editor's Choice, Electrical switching & drive systems & components
The more time humans spend working in mining conditions, and near mining vehicles, the more likely they are to be injured, contract illnesses or die in accidents. According to the UN's International 
...
Read more...
---
The Bloodhound
Fourth Quarter 2019, Bloodhound Technologies , Editor's Choice, News & events
The Bloodhound project is back on track. The British team developing a car capable of reaching 1600 kmph is in South Africa for several weeks of high-speed testing on the dry desert track at Hakskeenpan 
...
Read more...
---
Future-proof chair lift system
Fourth Quarter 2019, Siemens Digital Industries , Editor's Choice, Electrical switching & drive systems & components
At Snow Space, a winter sports resort near Salzburg, Bergbahnen Wagrain operates the Sonntagskogelbahn 2, a chair lift for taking skiing enthusiasts to the piste. New innovative drive technology guarantees 
...
Read more...
---
Rescue from the sky
Fourth Quarter 2019, Siemens Digital Industries , Editor's Choice, Other technologies
Zipline International designs and builds autonomous flying drones that transport medical supplies in hard to reach regions. The company uses design solutions from Siemens PLM Software. This enables the 
...
Read more...
---
Does edge computing have the edge?
Third Quarter 2019, Omron Electronics , Editor's Choice, Other technologies
Implementing artificial intelligence in industrial manufacturing.
Read more...
---
Underwater robot with a unique fin
Third Quarter 2019, Festo , Editor's Choice, Robotics & Mechatronics
Swimming like the natural model
The longitudinal fins of the polyclad and the cuttlefish extend from the head to the tail along their backs, their undersides or the two sides of their torsos. To 
...
Read more...
---
Motors that let you know when it's time for a service
Third Quarter 2019, ABB South Africa, Robotics and Motion , Editor's Choice, Electrical switching & drive systems & components
A new smart sensing solution from ABB can reduce downtimes of low voltage motors by up to 70% and extend their lifetime by up to 30%.
Read more...
---
Cost-efficient production with 18 synchronous NC axes
Third Quarter 2019, Beckhoff Automation , Editor's Choice, Electrical switching & drive systems & components
Swedish equipment manufacturer, Ecmec has developed a high-tech machine for a supplier to the automobile industry that can complete several process steps simultaneously without having to remount the part 
...
Read more...
---