printer friendly version
Garlock seals and sealing systems
Fourth Quarter 2019
Shaft power components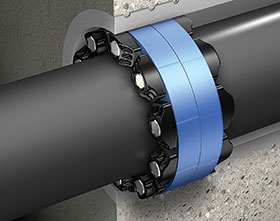 BMG supplies and supports the full range of Garlock seals and sealing systems, including specialist fluid sealing products for the oil and gas industry. "BMG's Garlock seals and sealing systems, which meet stringent safety and emission compliance standards in the hydrocarbon processing sector, are enhanced by customised solutions for efficient plant operation and maintenance. Sealing services extend from simple solutions to critical applications, ensuring safe, sustainable and dependable sealing integrity in every application," explains Marc Gravett, BMG's business unit manager, Seals and Gaskets division. "BMG's Garlock products and technical expertise – including on-site maintenance, emission monitoring and repair programmes – ensures reduced operational costs, improved efficiency, minimal downtime and uninterrupted production."
Garlock products, which have been developed especially for the oil and gas industry, include Klozure oil seals, Gylon and Gylon Epix gaskets, pipeline isolation products and Link-Seal modular seals. Garlock expansion joints and Klozure oil seals ensure that fluids run smoothly, making the transition of loading or offloading of gas and liquid safe and efficient in offshore buoy applications.
Garlock Klozure oil seals and bearing isolators are designed to retain lubricants, but exclude contaminants like moisture, dust and dirt from penetrating the primary seal or bearing houses. These components play an important role in protecting bearings, preventing downtime and extending the service life of the system, even in arduous operating conditions. Klozure oil seals are available from BMG in numerous shaft sizes, materials and designs, including solid and split configurations.
Seals with a reverse bevel lip allow installation in either direction without rollover and stainless steel garter and finger spring configurations provide tension to create an effective seal against the shaft. Klozure oil seals with a Gylon lip material offer reduced creep and cold flow, compared with the standard PTFE material. Gylon sealing products are used for many applications in hydrocarbon refineries, including flanged connections and tube and shell heat exchanger flanges. Gylon gaskets are suitable for media like hydrocarbons, acids, caustics and solvents.
Newly-developed Gylon Epix gaskets are manufactured from the same PTFE material as standard Gylon products, but with one universal thickness of 2,4 mm. The consolidation of two thicknesses into one product reduces the need for users to stock gaskets with multiple thicknesses. These colour-coded gaskets, which have been designed for increased compressibility and conformability, improve performance in misaligned flanges and are suitable for a broader range of applications than conventional PTFE gaskets used in worn and pitted flanges.
This range features a hexagonal surface profile that combines the torque retention and blowout of a thin gasket and the conformability of a thicker gasket, for optimum sealing performance. The patented profile surface design reduces the contact area during initial compression to concentrate the compressive force of the flange for improved sealability. Various high-performance sheet materials in this range are suitable for use in different applications, including acids, steam, chlorine, water, solvents, gases, refrigerants and hydrocarbons.
Garlock pipeline isolation products include new ElectroStop fittings that complement PSI/Pikotek isolation joints, to ensure the security of flange connections by providing electrical isolation, extreme temperature electrical isolation and high integrity sealing. ElectroStop monolithic isolation fittings provide a positive leak-proof, long-lasting block against the flow of electric current in all piping systems. They eliminate short circuits and provide a maintenance-free welded in-line isolation joint in below-ground pipe systems.
Many applications involve connections where the pipe is penetrating a wall, floor or ceiling, and sealability is required between the pipe and the penetrated surface. In these through-wall piping applications, BMG recommends the use of Link-Seal modular seals. Link-Seal – suitable for ductile iron, pre-stressed concrete and metal or plastic pipe, conduit and cables – effects a hydrostatic seal capable of holding 40 kPa between the pipe and the penetration cylinder through which the pipe passes.
BMG's full range of Garlock seals and sealing systems include metallic and Gylon gaskets, oil seals, bearing isolators, expansion joints and butterfly valves. Components extend from a standard sealing ring, available from BMG's stock and ready to install, to customised designs, which are fabricated to specific requirements.
Garlock sealing products, with a user-friendly design and advanced materials, ensure dependable sealing in all sectors. These industries include chemical and petrochemical, pulp and paper, power generation, electronics, food and pharmaceuticals, as well as steel mills, mining and OEMs. All Garlock seals and sealing systems undergo stringent field and in-house testing to ensure safe and reliable use, as well as extended service life in all industries.
For more information contact Marc Gravett, BMG, +27 11 620 1575, marcg@bmgworld.net, www.bmgworld.net
Credit(s)
Further reading:
Bearings for the automotive industry
Fourth Quarter 2019 , Shaft power components
Bearings International (BI) attaches great importance to the automotive industry as a growth area. General Manager, Shenton Botes says that on-highway and certain light duty off-highway automotive applications 
...
Read more...
---
Root cause analysis of bearing damage in wind turbines
Fourth Quarter 2019 , Shaft power components
The causes have long remained unknown, but now, new findings are being made available by bearing specialist NSK, the results of which have led to the development of a new bearing material that offers 
...
Read more...
---
A special partnership
Fourth Quarter 2019, Bearing Man Group T/A BMG , News & events
The joy of teamwork is clearly evident in the partnership between engineering specialists, BMG and entrepreneurs, Agri Arts & Construction (AAC). "Everyone likes a good news story. Through this match, 
...
Read more...
---
A chain reaction of quality and reliability
Fourth Quarter 2019, Powermite - Div. of Hudaco Trading , Shaft power components
Powermite has been a leading supplier of EKD Kolibri energy chain to the southern African market for more than three decades. The company shares a combined knowledge of over 50 years in drag chain applications 
...
Read more...
---
BMG's Food & Beverage Expo
Fourth Quarter 2019, Bearing Man Group T/A BMG , News & events
BMG's Food & Beverage Expo, which was held recently at the BMG World distribution and engineering facility, has been voted a great success. "Highlights of the event included presentations from guest speaker, 
...
Read more...
---
Belting products for food processing
Fourth Quarter 2019, Bearing Man Group T/A BMG , Shaft power components
BMG supplies and supports a com-prehensive range of belting products suitable for the food processing, bottling and packaging sectors. New to its range of belting certified for safe food handling is the 
...
Read more...
---
Split elastic couplings for low speed, high torque applications
Fourth Quarter 2019 , Shaft power components
The Ringfeder-Henfel-Henflex HDFB split elastic couplings, available from Bearings International (BI), are ideal for the most demanding applications and aggressive environments in mining, ports and steel 
...
Read more...
---
Air-operated diaphragm pumps
Third Quarter 2019, Bearing Man Group T/A BMG , Pneumatic systems & components
BMG has been appointed by Ingersoll Rand as distributors of the ARO Pro series diaphragm pumps. ARO air-operated diaphragm pumps have been designed to pump virtually any type of liquid with ease – ranging 
...
Read more...
---
Multi-mount cast iron electric motor range
Third Quarter 2019 , Shaft power components
In an industry first, Bearings International (BI) is introducing a multi-mount cast iron Bauer electric motor range onto the market that can accommodate the terminal box on the top, left-hand or right-hand 
...
Read more...
---
Drives for sewage treatment applications
Third Quarter 2019, Bearing Man Group T/A BMG , Electrical switching & drive systems & components
BMG supplies a range of drives designed specially for optimum efficiency in sewage treatment applications. "Nord drives, which consist of Unicase helical shaft mount geared motors, have special features 
...
Read more...
---