printer friendly version
Trends in asset management and maintenance
1st Quarter 2015 Editor's Choice Other technologies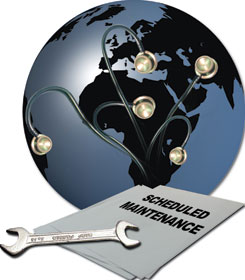 The next big thing?
The recessionary state of manufacturing around the world has created a renewed interest in sweating assets. Automation system vendors are scrambling to compete with offerings, promising improvements in the operational effectiveness and efficiency of manufacturing and process plants and utilities.
It's not just about optimising a few setpoints on critical processes; much more effort is being put into what Emerson refers to as 'pervasive monitoring' – the integration of continuous process and machine monitoring into traditional control systems for predictive maintenance – aimed at preventing costly unscheduled process stoppages.
At the same time, as technical skills become scarcer and technology becomes more complex, more and more utilities and manufacturers are looking at either complete build-maintain-operate scenarios or are outsourcing their factory management and maintenance. Vendors are rising to the challenge of these opportunities.
Vendors are acquiring specialist companies with expertise in predictive maintenance and operational optimisation, rolling out or enhancing software tools for end-users and building cloud-based monitoring centres that remotely monitor client processes 24/7/365, alerting them to incipient problems before they negatively impact profitable operation. And this is paying off hugely for vendors and clients alike.
What's on offer?
A quick glance at a sample of very recent vendor announcements of acquisitions, contract awards and product releases reflects these trends.
ABB
In addition to the asset management capabilities of ABB's System 800xA, there are extensive condition monitoring capabilities which include the condition monitoring of instrumentation and valves, electrical systems, vibration monitoring, PID loop performance, heat exchanger performance, IT equipment and generic assets. Condition monitoring for specialised assets is made possible through ABB's ability to con­figure unique user-derived condition monitoring algorithms.
ABB's company, Ventyx, is teaming with Chicago-based InStep Software, a leading provider of asset predictive monitoring software to bring advanced industrial equipment diagnostics to Ventyx's Asset Performance Management solution for the power, mining and oil and gas industries. Combining InStep's asset predictive monitoring software with Ventyx's Asset Performance Management solution creates a comprehensive platform to reduce unscheduled downtime, prevent equipment failures, lower maintenance costs, increase asset utilisation, extend equipment life and identify under-performing assets.
Schneider Electric
Schneider Electric has also entered into an agreement to acquire InStep Software. (Ed's note: Perhaps putting the kibosh on some of ABB's plans.)
InStep provides two primary real-time performance management and predictive analytics software solutions. Its eDNA historian software collects, stores, analyses, displays and reports on real-time operational and machinery sensor data. Its PRiSM predictive analytics software monitors the real-time health and performance of critical assets by using advanced pattern recognition and diagnostic techniques to identify subtle deviations in operating behaviour that are often the early warning signs of imminent failures.
SKF
The SKF Wireless Machine Condition Sensor provides dynamic vibration and temperature data for condition monitoring and machinery diagnostic applications.
It uses the WirelessHART communication protocol and provides dynamic vibration and temperature data for condition monitoring and machinery diagnostic applications. It combines both sensor and router nodes into one compact and battery-operated unit the size of a typical industrial accelerometer. Once data is collected, the WirelessHART gateway communicates with the Wireless Sensor Device Manager software supplied by SKF. Device Manager then auto­matically exports the data into SKF @ptitude Analyst, a comprehensive diagnostic and analytic software package, where a plant engineer can analyse the data and determine a course of action.
Siemens
Siemens has been awarded 10 year wind service agreements covering more than 400 onshore wind turbines in North America. The company has also been awarded its largest rail contract to date in the United Kingdom, worth an estimated €1.8 billion. One of the key factors to which Siemens attributes this contract award is its predictive maintenance system, which allows the UK fleet to operate at an availability of well above 95%.
In conjunction with SKF's @ptitude Analyst software, the on-line protection system, Multilog IMx-M provides a complete integrated system for fault detection, failure prevention and advanced condition-based maintenance to improve machine reliability, availability and performance. The SKF Multilog IMx-M primary function is to protect critical and semi-critical rotating plant assets from catastrophic failure and thereby reduce the risks of injury to people, equipment damage and accidental release of hazardous substances to the environment. This is achieved by monitoring key parameters like vibration, rotating to stationary parts clearances and temperatures then proceeding to alarm and /or initiate machinery shutdown when predefined threshold levels are reached.
Emerson
Emerson Process Management has been awarded a US$2,7m contract by Statoil to supply an integrated condition and performance monitoring system for the Gina Krog oil and gas platform in the Norwegian North Sea. Its newly-released CSI 9360 vibration/position transmitter offers protection to compressor, pump and fan assets. The transmitter detects emerging sleeve bearing issues by capturing vibration or position data and translating it into a 4-20 mA signal for monitoring. This advanced warning allows customers to shut down these assets before significant equipment damage occurs or production is impacted.
Endress+Hauser
Endress+Hauser has a full suite of asset management and maintenance tools available that seamlessly integrate to offer full lifecycle management of control system assets from initial engineering, through procurement, installation and commissioning to operation and end of life management.
GE Intelligent Platforms
GE Intelligent Platforms helps customers achieve optimum equipment health through its Industrial Performance and Reliability Centre (IPRC) so that they can achieve zero unplanned downtime in their businesses. Experienced reliability engineers continuously monitor thousands of assets around the world, seven days per week, in industries such as oil and gas, power generation, mining and aviation. Each month the centre catches more than 200 predictive equipment failures – early signs of failure modes – that the customer decides to fix as a result of the advisory. In 2013, the IPRC caught almost 2200 early failures, a 99,7% accuracy rate for catchable events.
Part of the IPRC solution is GE's industry-leading Proficy SmartSignal software that detects variances for each particular piece of equipment to provide early warning of impending problems, with diagnoses of major equipment and process failures, and prioritisations based on severity. GE has also introduced a new tool, the Monitoring & Analysis Snapshot, which visually shows assets monitored and the value of data analytics coming from the IPRC. It presents a true picture of the industrial Internet in the real world as it relates to advanced predictive analytics.
GE's Equipment Insight solution enables OEMs to securely collect data from connected machines, analyse that data, and get actionable information to people to deliver better service levels and optimise equipment performance. The Equipment Insight solution performs trend analysis on a single machine or an entire fleet. It then delivers role-specific alarms and trends to either the end-user or OEM personnel via mobile device or a web browser.
The solution transforms raw data into actionable information, maximising operational efficiency, productivity and profitability. Alarms and overall equipment effectiveness and Key Performance Indicator data are viewed in a single, accessible screen on a mobile device; and a customised risk index provides advanced analytics and predictive detection, allowing OEMs to contact customers before their process goes down.
Honeywell Process Solutions
Honeywell Process Solutions released improved versions of its two key asset management offerings and announced an initiative to help plant operators to implement reliability-centred and predictive maintenance programs more effectively.
Honeywell has refreshed its Asset Manager and Field Advisor technologies – two key solutions designed to help proactively manage the health and performance of assets – and also announced it is collaborating with global consulting, training and services firm GPAllied, in an initiative that will help plants more effectively implement reliability-centred and predictive maintenance programs.
Asset Manager is Honeywell Process Solutions' (HPS) real-time condition-based monitoring (CBM) technology. Honeywell's newest version of its Field Advisor tool, which helps mobile workers prioritise and execute field tasks, has been refreshed to provide efficient automation for rounds and inspections.
Honeywell's collaboration with GPAllied allows the company to expand its range of services to include maintenance and reliability management, craft skills and operator care training, and change management consulting. This approach helps maximise the effectiveness of reliability-centred and predictive maintenance programs.
Invensys
Wonderware's MES Software/Performance module helps improve asset utilisation by real-time equipment downtime monitoring in order to provide Key Performance Indicators (KPIs) like Overall Equipment Effectiveness (OEE) for use in tracking and analysing the effectiveness of assets used in the production process. Critical equipment downtime and efficiency information is communicated in real time to operators and decision-makers who can take immediate actions to improve plant performance and productivity.
Yokogawa
Yokogawa Electric Corporation's Plant Resource Manager (PRM) R3.12 is a software package that is capable of centrally managing large amounts of data from plant monitoring and control devices and manufacturing equipment, thereby allowing their status to be monitored and diagnosed online. With this new release Yokogawa aims to expand its share of the maintenance market.
Conclusion
Manufacturers in the process industry are constantly working to improve maintenance efficiency by using device management systems that can centrally manage large amounts of data from plant monitoring and control devices and manufacturing equipment in order to monitor their status and identify maintenance needs. There is a sea change happening and if it does not affect you yet, it will soon, because the very shape of the industry is being transformed through out-sourcing and through continuous condition monitoring with new control infrastructure at its core.
Web exclusive: Read the full story at www.instrumentation.co.za/8201a
Credit(s)
Further reading:
Ultra-compact robot-based cake production with PC control
Beckhoff Automation Editor's Choice
"Baking Baumkuchen requires advanced skills and experience from the confectioner," says Mr Matsumoto, managing director of Juchheim's central plant. "However, if the oven's parameters can be captured 
...
Read more...
---
The advantages of robotics and simulation for your business
Editor's Choice Robotics & Mechatronics
The more complex your business is, the more room there is for innovation. At the same time, innovation cannot come at the cost of efficiency, quality and output levels. According to Von Fintel, this is 
...
Read more...
---
Ball screws with nut cooling
Editor's Choice Shaft power components
The machine tool industry uses ball screws to convert the rotary motion of an electric motor into linear motion. Very often, the positioning accuracy, as well as the travel speed and acceleration, have 
...
Read more...
---
From the editor's desk: Making sense of the metaverse
Technews Publishing News & events
It wasn't so long ago that nobody had heard of IIoT. Then the hype began and now it's an integral part of the manufacturing environment. Recently I've been hearing more and more about the metaverse 
...
Read more...
---
Concept to solution the short way
Axiom Hydraulics Editor's Choice Hydraulic systems & components
QuickDesign streamlines your custom design process, delivering complete designs in as little as ten minutes.
Read more...
---
Wireless communication and control of electro-pneumatic manifolds and IO
Editor's Choice
SMC analysed the control of manifolds-in-motion, where the physical removal of communications cables is desirable. Applications include manifolds mounted on robot gripper assemblies or rotating tables. 
...
Read more...
---
Pneumatics and digital transformation: overcome what's holding you back
Emerson Automation Solutions Editor's Choice Pneumatic systems & components
While IIoT offers the promise of a revolutionary impact on manufacturing, implementation of the technology has its challenges. What holds us back from a broader embrace of digital transformation, especially in pneumatics? And how do we move past the challenges to embrace the opportunity for real improvement in productivity and efficiency?
Read more...
---
The world's smallest electric subsea valve actuator
Editor's Choice
The actuator minimises energy consumption and is geared toward delicate ecosystems and installation and operating costs are reduced. When the SVA R2 is used in subsea factories at a depth of up to 4000 metres, 
...
Read more...
---
Reduced costs for packaging process
SICK Automation Southern Africa Editor's Choice Other technologies
To address Tetra Pak's requirements, SICK recommended the utilisation of its sHub sensors with EDS/EDM35 feedback system. This motor feedback system incorporates an acceleration sensor and enables comprehensive 
...
Read more...
---
Festo Process Automation solutions for all production levels
Festo South Africa Editor's Choice Electrical switching & drive systems & components
The first leg of the campaign creates an analogy between the human heart and its Process Automation solutions. The heart is at the centre of the vascular system, which is a network of blood vessels 
...
Read more...
---