printer friendly version
The digital deluge
3rd Quarter 2018
News & events
Welcome to our bumper issue of Motion Control. A big welcome also to new SAFPA president, Dustin Pereira. In the President's letter we have an interview with him to see what his plans are for SAFPA. We also cover an exciting new initiative, the Hydraulics & Pneumatics Export Cluster (HAPEC), which will assist fluid power companies to grow their businesses through exporting.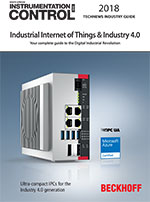 IIoT is entering the mainstream – the digital deluge – and Motion Control has started running an IIoT feature in recognition of this. Our sister magazine SA Instrumentation & Control has recently issued the annual Technews Industry Guide: Industrial Internet of Things & Industry 4.0, which for those interested in IIoT is well worth a read. It is available online at http://www.instrumentation.co.za/.
All the buzzwords and jargon around IIoT can be confusing, and one of them is the concept of digital disruption. This is a process whereby a smaller company with fewer resources is able to successfully challenge established incumbent businesses. Digital disruptors are organisations that have taken advantage of their digital capabilities to create and drive fundamental shifts. At a recent Wonderware conference I attended, ABInBev's demand manager, Grant Wolff, said that only 12% of the Fortune 500 companies of 1995 are still in business today. The average age has come down to 20 years. Disruptive technology is blamed for killing corporate America, but in fact it's the lack of embracing new technology. Most companies don't know how to implement innovation, they throw buzzwords at the problem and innovate for its own sake.
Some digital disruptors are well known – Facebook, Google, Netflix, Uber, Airbnb and Amazon. But there are also plenty of examples here at home – companies like Siyavula (online maths and science textbooks), HeroTel (low cost access to WiFi), DroneSnap (aerial imaging and delivery by drone that is 70% cheaper than helicopters), BrightBlack (rooftop solar energy that bypasses Eskom for industrial and commercial markets), WiGroup (on-demand mobile ordering), Snapscan (pay with your phone not your card) and Rain-Fin (a smart online borrowing and lending network), to name but a few. They are changing the face of services in South Africa.
Discovery has sold 90% of all Apple watches through its highly disruptive health insurance services and since inception, Uber has created 4000 work opportunities in this country – mainly for people from sectors losing jobs.
By 2020 there will be 500 million people in sub-Saharan Africa with connected smartphones. There are more innovations that affect real life coming out of Africa than America. One example is how data from mobile phones is being used to track the movement of people to understand how malaria is spread. In Rwanda the Safe Moto is like an Uber for small motorcycles.
An example that makes use of fluid power is Elon Musk's planned new pneumatic tube transportation system, the Hyperloop. This is a magnetic levitation train running in a low pressure tube that has the potential to transport freight between major US cities at a speed of 1100 kmph. Not quite as recently, almost the entire population of mechanical shovel manufacturers was wiped out by a disruptive technology that it had ignored – hydraulics. Of 30 established companies, only four survived the entrance into the industry of disruptive newcomers such as Caterpillar, O&K, Demag and Hitachi. 
Further efficiencies are becoming reality in the courier space. It won't be long before autonomous trucks are driving to centralised nodes before releasing swarms of drones to complete last-mile delivery. Each vehicle can deliver dozens of parcels simultaneously rather than driving from house to house.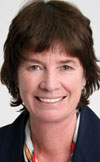 So how does a company become a digital disruptor? Despite the intimidation factor, the entry barrier to explore new digital technologies for their disruptive potential is quite low. "Often it's the combination of new or existing technologies and a different business model, focus in a given industry, or impact on society that creates the disruptive experience," says BMI vice president, David Yockelson. For example, General Motors has begun to reimagine itself not as an automaker but as a personal mobility company. Often the disruptor is a company whose products, services and technology deployed in one sector offer a completely different and better way of solving problems in another.
This is all very exciting but CEOs are actually finding that the biggest challenge they face is not technology, but rather creating a culture that can embrace technological change. In posts to CEO magazine's CEO blog, the consensus was that "culture is the number one impediment – culture moves in a linear way, technology moves exponentially."
Kim Roberts
Editor
Credit(s)
Further reading:
From the editor's desk: Would you like an NFT?
Technews Publishing News & events
One of my favourite light-hearted books is called Fifty Flippen Brilliant South Africans and Elon Musk stands out as one of the giants. He is one of the most iconic inventors and entrepreneurs of our 
...
Read more...
---
Fuchs Lubricants sees major growth in Africa
News & events
Moving to a centralised new head office in Isando, Johannesburg and launching a new unified product brand image in mid-November is all part of a long-term strategy for sustained growth and expansion at 
...
Read more...
---
Hytec Rustenburg establishes permanent site in Marikana
News & events
Hytec Rustenburg has established its first 24/7 satellite mine site at a prominent mine in the North West province. This enables Hytec SA to provide a tailored maintenance programme and stock a selection 
...
Read more...
---
Danfoss acquires Eaton's hydraulics business
Danfoss News & events
Danfoss has officially finalised its $3,3 billion acquisition of Eaton's hydraulics business. The move will see the Danfoss Group grow in size by a third and establish itself as a global leader in mobile 
...
Read more...
---
Festo Didactic helps customers unpack their full learning potential
Festo News & events
Technological changes are continually transforming tasks in companies today. Investment in technologies and machines alone is not enough to ensure success. Festo recognises that skilled employees are 
...
Read more...
---
Engineering Solutions Group achieves Level 2 B-BEEE status
News & events
Invicta Holdings' Engineering Solutions Group (ESG) − distributors of engineering consumables, automotive components, technical services and related solutions − has achieved recognition as a Level 2 contributor 
...
Read more...
---
BMG opens new branch in Maun
News & events
BMG has extended its service in Botswana, with the opening of a new branch in Maun. "BMG now has two dedicated branches in Botswana – one in Gaborone, which was established in 1998 to service and supply 
...
Read more...
---
Fuchs Lubricants achieves top certification
News & events
Fuchs Lubricants South Africa has achieved IATF 16949:2016 certification, which aims at providing improved quality products to automotive customers worldwide. IATF 16949, specified by The International 
...
Read more...
---
Festo's life science webinar on gas handling opens up new horizons
Festo News & events
How piezo technology more efficiently regulates flow rate and pressure.
Read more...
---
Parker Hannifin announces new two-day online oil and gas event
Parker Hannifin - Sales Company South Africa News & events
Parker Hannifin has announced that it will hold an online trade show dedicated to the oil and gas industry, on 6 and 7 October.
Read more...
---