printer friendly version
Festo's human-robot collaboration with artificial intelligence
2nd Quarter 2018 Editor's Choice Robotics & Mechatronics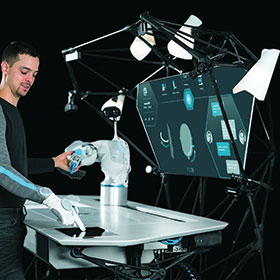 BionicWorkplace
Alongside serial production, there is a trend in industry towards the customisation of products. A key role when it comes to production in batch size one, besides the digital networking of entire installations, is also played by systems capable of learning using artificial intelligence and robots that work hand in hand with humans. In the BionicWorkplace, all these requirements are combined in a future oriented working environment.
BionicCobot: robot arm with human movement patterns
A central part of the working environment is the BionicCobot. This pneumatic lightweight robot is based on the human arm in terms of its anatomical construction and – like its biological model – solves many tasks with the help of its flexible and sensitive movements. Due to its flexibility and intuitive operability, the BionicCobot can interact directly and safely with people. In doing so, it supports workers doing monotonous jobs and takes over tasks that are dangerous for humans.
Intuitive operating concepts for safe interaction
In the BionicWorkplace, the bionic robot arm works together with numerous assistance systems and peripheral devices, which are networked and communicate with each other. At the same time, artificial intelligence and machine learning methods turn the BionicWorkplace into a learning and anticipative system that continuously optimises itself. The whole workplace is ergonomically designed and can be adapted to people individually down to the lighting. At the centre of the worker's field of vision is a large projection screen. It supplies the worker with all the relevant information and reacts dynamically with its contents to the relevant requirements. All around the projection screen, various sensors and camera systems are fitted, which constantly record the positions of the worker, components and tools. In this way, a human can directly interact with the BionicCobot and control it using movement, touch or speech.
Recording the worker's position using wearables
The system recognises the worker and their movements by their special work clothing. These so-called wearables consist of a long sleeved top, which is equipped with inertia sensors, and a work glove with integrated infrared markers. With the help of the recorded sensor data, the BionicCobot is able to hand over objects to its human colleague with pinpoint accuracy and move out of their way if necessary – an essential requirement for direct collaboration between humans and robots.
Machine learning optimises work flow
The intelligent software simultaneously processes all the camera images, positional data and inputs from the various peripheral devices. It uses all this information to derive the optimal program sequence. The system then divides the tasks expediently to the robot and other tools in order to give the human the best support whilst working.
With every action solved, the system learns something new. This creates a semantic map that grows continuously. Along the network paths, the stored algorithms constantly draw dynamic conclusions. As a result, a controlled, programmed and set sequence gradually turns into a much freer method of working.
Remote manipulation via virtual-reality goggles
Another element of the intuitive operating concept is remote manipulation. For this purpose, a 3D stereo camera with a viewing angle of 180 degrees records the whole working space. At the same time, the worker, who is spatially separated, wears virtual-reality goggles besides the textile wearables. The worker can use these to access the images from the camera in real time and follow them. In this way the robot can be controlled in case of spatial separation or from a safe distance.
Learned knowledge building blocks applicable worldwide
By means of intelligent workplaces capable of learning, such as the BionicWorkplace, and the use of multifunctional tools, collaboration between humans and machines will be even more intuitive, simple and efficient in future. Knowledge building blocks and new skills, once learned, can be limitlessly shared and made available on a global scale. It would therefore be possible in future to set up workplaces as a worldwide network with local adaptations, in each case adjusted to the local individual tasks and customer requirements.
For more information contact Kershia Beharie, Festo, +27 (0)11 971 5509, kershia.beharie@festo.com, www.festo.co.za
Credit(s)
Further reading:
Moving into 2020 with Festo digitalised products
First Quarter 2020, Festo , Robotics & Mechatronics
Industry 4.0 is rapidly automating the modern working world and helping the machine and system building sector reach new heights.
Read more...
---
Addressing evolving hydraulics challenges
Fourth Quarter 2019 , Editor's Choice, Hydraulic systems & components
Using materials science and design technologies, Gates' engineers come up with innovative hydraulic hose solutions for ever-changing needs and challenges.
Read more...
---
Control for additive manufacturing
Fourth Quarter 2019, Beckhoff Automation , Editor's Choice, Electrical switching & drive systems & components
Colossus plans to manufacture large functional or decorative objects such as outdoor furniture and ornaments with a new 3D printer that processes recycled plastics, and this creates further special 
...
Read more...
---
On the way towards fully electrified mining machines
Fourth Quarter 2019, Parker Hannifin - Sales Company South Africa , Editor's Choice, Electrical switching & drive systems & components
The more time humans spend working in mining conditions, and near mining vehicles, the more likely they are to be injured, contract illnesses or die in accidents. According to the UN's International 
...
Read more...
---
The Bloodhound
Fourth Quarter 2019, Bloodhound Technologies , Editor's Choice, News & events
The Bloodhound project is back on track. The British team developing a car capable of reaching 1600 kmph is in South Africa for several weeks of high-speed testing on the dry desert track at Hakskeenpan 
...
Read more...
---
BionicOpter
Fourth Quarter 2019, Festo , News & events
Each year Guinness World Records presents thousands of exciting records from all over the world. Festo's BionicOpter will be included in the 2020 edition. The 'Robots' chapter presents the most amazing 
...
Read more...
---
Robot with air-water actuators has fluid motion
Fourth Quarter 2019 , Editor's Choice, Robotics & Mechatronics
Hydraulics and pneumatics are widely used for power transmission: hydraulics for moving heavy loads with highly controlled motion, and pneumatics for lighter loads and rapid, repetitive motions. Many 
...
Read more...
---
Future-proof chair lift system
Fourth Quarter 2019, Siemens Digital Industries , Editor's Choice, Electrical switching & drive systems & components
At Snow Space, a winter sports resort near Salzburg, Bergbahnen Wagrain operates the Sonntagskogelbahn 2, a chair lift for taking skiing enthusiasts to the piste. New innovative drive technology guarantees 
...
Read more...
---
Rescue from the sky
Fourth Quarter 2019, Siemens Digital Industries , Editor's Choice, Other technologies
Zipline International designs and builds autonomous flying drones that transport medical supplies in hard to reach regions. The company uses design solutions from Siemens PLM Software. This enables the 
...
Read more...
---
Does edge computing have the edge?
Third Quarter 2019, Omron Electronics , Editor's Choice, Other technologies
Implementing artificial intelligence in industrial manufacturing.
Read more...
---