printer friendly version
Motors that let you know when it's time for a service
Third Quarter 2019 Editor's Choice Electrical switching & drive systems & components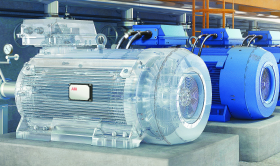 A new smart sensing solution from ABB can reduce downtimes of low voltage motors by up to 70% and extend their lifetime by up to 30%.
Until now, the monitoring and preventive maintenance of low voltage motors has been time consuming and expensive. New technology from ABB transforms simple motors into intelligent machines that tell you when they need servicing. Smart sensors attached directly to the motor supply information regarding operating and condition parameters via wireless transmission.
The innovative sensor technology offers plant operators not only huge potential savings on maintenance and repair, but will henceforth also make it easy to utilise the Internet of Things, Services and People (IoTSP) for millions of motors. The IoTSP is ABB's concept for enabling its customers to take advantage of the opportunities of digitalisation. With the new solution, small and mid-sized companies can also benefit from the advantages offered by the IoTSP.
The smart sensor provides information on operating and condition parameters such as vibration, temperature or over-load and calculates power consumption. The data are analysed by a specially developed software program and provided to the plant operator in the form of graphics for maintenance planning, thereby enabling downtime reductions of up to 70%. At the same time, the lifetime of the motors can be extended by up to 30 percent and energy consumption reduced by as much as 10%, so that the investment in this innovative form of condition monitoring pays for itself in less than a year.
"This innovative solution makes condition monitoring the new standard for low voltage motors," says Pekka Tiitinen, president of ABB's Discrete Automation and Motion division. "Optimised maintenance schedules help reduce maintenance costs greatly. Unscheduled outages are reduced considerably or even eliminated completely. Increased availability significantly boosts our customers' productivity."
This innovative solution is not restricted to new motors made by ABB. The sensors can be installed at the factory or retrofitted on already operating low voltage motors within minutes. "The sensors will also be available in the Middle East and can be used on any low voltage motor, in any industry, from food and beverage to steel and chemical plants," adds Gus Abboud, lead division manager, Discrete Automation and Motion, Middle East and Africa.
Cybersecurity is guaranteed at all times with the new sensor technology from ABB. The sensor is not electrically connected to the motor, so unauthorised parties cannot access the motor via this route. The smart sensors wirelessly transmit the data via encryption protocols to a secure server where they are analysed using special algorithms. The cloud-based server implementation fulfils all of ABB's strict specifications for cybersecurity. The data are stored in the cloud in encrypted form. The Internet-based customer portal also uses a role-based access protocol to make the data securely accessible.
For more information contact Thinus Jacobs, ABB, +27 11 504 4000, thinus.jacobs@za.abb.com, www.abb.com
Credit(s)
Further reading:
Addressing evolving hydraulics challenges
Fourth Quarter 2019 , Editor's Choice, Hydraulic systems & components
Using materials science and design technologies, Gates' engineers come up with innovative hydraulic hose solutions for ever-changing needs and challenges.
Read more...
---
Control for additive manufacturing
Fourth Quarter 2019, Beckhoff Automation , Editor's Choice, Electrical switching & drive systems & components
Colossus plans to manufacture large functional or decorative objects such as outdoor furniture and ornaments with a new 3D printer that processes recycled plastics, and this creates further special 
...
Read more...
---
Varispeed VSDs now available from Bearings International
Fourth Quarter 2019 , Electrical switching & drive systems & components
Being part of the broader Hudaco Group allows BI to leverage synergies across a broad range of companies, meaning it can offer a complete product basket at its extensive branch network countrywide. One 
...
Read more...
---
On the way towards fully electrified mining machines
Fourth Quarter 2019, Parker Hannifin - Sales Company South Africa , Editor's Choice, Electrical switching & drive systems & components
The more time humans spend working in mining conditions, and near mining vehicles, the more likely they are to be injured, contract illnesses or die in accidents. According to the UN's International 
...
Read more...
---
The Bloodhound
Fourth Quarter 2019, Bloodhound Technologies , Editor's Choice, News & events
The Bloodhound project is back on track. The British team developing a car capable of reaching 1600 kmph is in South Africa for several weeks of high-speed testing on the dry desert track at Hakskeenpan 
...
Read more...
---
Robot with air-water actuators has fluid motion
Fourth Quarter 2019 , Editor's Choice, Robotics & Mechatronics
Hydraulics and pneumatics are widely used for power transmission: hydraulics for moving heavy loads with highly controlled motion, and pneumatics for lighter loads and rapid, repetitive motions. Many 
...
Read more...
---
Future-proof chair lift system
Fourth Quarter 2019, Siemens Digital Industries , Editor's Choice, Electrical switching & drive systems & components
At Snow Space, a winter sports resort near Salzburg, Bergbahnen Wagrain operates the Sonntagskogelbahn 2, a chair lift for taking skiing enthusiasts to the piste. New innovative drive technology guarantees 
...
Read more...
---
Rescue from the sky
Fourth Quarter 2019, Siemens Digital Industries , Editor's Choice, Other technologies
Zipline International designs and builds autonomous flying drones that transport medical supplies in hard to reach regions. The company uses design solutions from Siemens PLM Software. This enables the 
...
Read more...
---
Does edge computing have the edge?
Third Quarter 2019, Omron Electronics , Editor's Choice, Other technologies
Implementing artificial intelligence in industrial manufacturing.
Read more...
---
Underwater robot with a unique fin
Third Quarter 2019, Festo , Editor's Choice, Robotics & Mechatronics
Swimming like the natural model
The longitudinal fins of the polyclad and the cuttlefish extend from the head to the tail along their backs, their undersides or the two sides of their torsos. To 
...
Read more...
---