printer friendly version
Bearings have savings for steelworks
1 February 2020 Shaft power components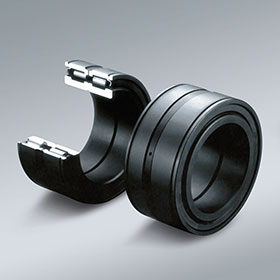 NSK's expertise in solving issues for the steel industry worldwide is helping achieve savings of €372 555 per annum on a continuous annealing line, thanks to the elimination of unplanned downtime resulting from failed bearings. On average, the steel strip annealing line was enduring unplanned downtime of 17 hours per year, which for a process intended to be continuous proved extremely costly. Adding up the costs of production stoppages, the need to hire heavy lifting gear and the requirement for additional maintenance personnel meant each lost hour was costed at €21 5915.
To help eliminate the annual average downtime cost of €372 5555, the global steelmaker called upon the services of NSK. Applying the company's AIP Added Value Programme, expert engineers performed analysis on the failed bearings and identified that both the bearing type and the sealing arrangement were inadequate for the application. Due to both contamination and lubrication issues, the ball bearings showed significant fatigue.
With the high load and low speed of the application in mind, it was recommended that the steel plant switch to NSK's multi-row sealed cylindrical roller bearings (crane sheave bearings). As the name implies, this bearing type is often employed in crane sheaves found in quarries, ports and construction sites. However, the high load capacity and advanced sealing of crane sheave bearings means they are also ideal for use in the demanding conditions that prevail in steelmaking environments.
On the steel strip annealing line, NSK's machine design support prompted a revision to the housing so it could better accommodate the crane sheave bearing unit. Importantly for the steelmaker, NSK's full complement cylindrical roller bearings offer an advanced system of contact seals that minimises grease leakage and increases resistance to the entry of water and other foreign substances. In addition, the ability to provide reliable life in arduous environments is enhanced by machined holes that feature on the inner and outer rings of the bearings to allow the replenishment of lithium grease in situ. Relubrication holes facilitate easy maintenance and grease replenishment, while the provision of a phosphate surface treatment to improve corrosion resistance is a further benefit.
An initial trial of the bearings was undertaken on the annealing line to determine the effectiveness of NSK's solution. Here, bearing condition analysis was performed mid-trial, revealing no signs of wear, while a post-trial review showed no significant bearing damage. In fact, the bearings were still in full operational condition after more than three years of service, completely eliminating the previous annual costs of €372 5555.
For more information contact Geraldene Govender, NSK South Africa, +27 11 458 3600, nsk-sa@nsk.com, www.nsk.com
Further reading:
BI is a critical supplier to sugar mill
Third Quarter 2020 , Shaft power components
From the growing of sugar cane on the agricultural side to sugar refineries on the production side, Bearings International (BI) plays a key role in this important economic sector. Typical solutions provided 
...
Read more...
---
High quality, price-competitive bearings
Third Quarter 2020 , Shaft power components
Various market segments have responded positively to the launch of products from Craft Bearings by Bearings International (BI). "The first stock consignment was not affected by the Covid-19 crisis. All 
...
Read more...
---
How to avoid bearing failures with proper lubrication
Third Quarter 2020 , Shaft power components
Bearings are a fundamental component of mechanical equipment and centre on the idea of reducing rolling friction to allow parts to move without being destroyed. Reducing friction can contribute to higher 
...
Read more...
---
Cummins ReCon parts a cost-effective alternative
Third Quarter 2020 , Shaft power components
Cummins ReCon parts are not just repaired or rebuilt, but are remanufactured to meet or exceed your engine's original specifications for performance, reliability and durability. These parts also include 
...
Read more...
---
The smart connection
Second Quarter 2020, Powermite - Div. of Hudaco Trading , Shaft power components
Powermite's Molex GWConnect heavy duty connector portfolio includes industrial connectors (including multipole), inserts, aluminium enclosures and more than 6000 complementary products. All components 
...
Read more...
---
Upgraded grid couplings
Second Quarter 2020, Bearing Man Group T/A BMG , Shaft power components
BMG has extended its range of power transmission components to include its recently upgraded Fenagrid Premium grid couplings. These taper grid steel flexible couplings accommodate angular, parallel and 
...
Read more...
---
No weak links in this energy chain
Second Quarter 2020, Powermite - Div. of Hudaco Trading , Shaft power components
EKD energy chain from Powermite ensures seamless operation of cranes, milling and boring machines as well as other mobile equipment through the reliable and cost-effective protection of cable, hose and 
...
Read more...
---
Brakes for nuclear plant's spent fuel crane
Second Quarter 2020 , Editor's Choice, Shaft power components
The removal and disposal of spent fuel rods from a nuclear reactor is an extremely precise and controlled process. Used fuel rods are placed at the bottom of a spent fuel pond to begin a process of cooling 
...
Read more...
---
Rolling roads with advanced bearing technology
Second Quarter 2020, SKF South Africa , Shaft power components
Bearings, although buried deep within the vehicle, are on the front line in contributing to drivetrain efficiencies and delivering reliability for automotive manufacturers. SKF application engineering 
...
Read more...
---
Condition monitoring for critical times
First Quarter 2020, Bearing Man Group T/A BMG , Shaft power components
BMG, which provides engineering support to essential service providers during the COVID-19 crisis, encourages operating companies not to neglect condition monitoring at this critical time. "It is very 
...
Read more...
---