printer friendly version
Training rigs for Coca-Cola bottler
First Quarter 2020
News & events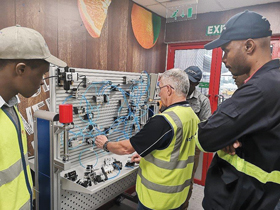 The first on-site Bosch Rexroth pneumatic training rigs have been installed in Africa. The rigs were supplied to Nairobi Bottlers, the base for Coca-Cola Beverages Africa Kenya, by Bosch Rexroth Kenya, in collaboration with Bosch Rexroth South Africa's training department.
The pneumatic rigs were manufactured and supplied by Bosch Rexroth Germany and assembled at the local Bosch Rexroth plant in Nairobi prior to installation and commissioning at Nairobi Bottlers in August 2019.
The training rigs are now a permanent installation at Nairobi Bottlers and are used to conduct pneumatic training for Coca-Cola Beverages Africa Kenya employees. The first such training was a three-module training course for Coca-Cola East Africa's technical personnel covering the Theory of Pneumatics; Pneumatic Components; and 'Designing On/Off Manual Pneumatic Systems to Achieve Given Functions'.
"The training proved highly valuable in improving the trainees' understanding of how pneumatic components work and how to integrate them to make a functional system," explains Thomas Mbugua, sales manager or Bosch Rexroth Kenya. All successful candidates were issued with the Bosch Rexroth Certification for Pneumatic Training.
Bosch Rexroth Kenya is currently in the process of registering this pneumatic course with the Engineer's Board of Kenya, which will accord successful trainees with nationally recognised CPD points.
For more information contact Willem Gijzelaar, Bosch Rexroth South Africa, +27 11 979 4630, info@hytec.co.za, www.boschrexroth.africa
Further reading:
SEW-Eurodrive's new head office and factory
Fourth Quarter 2020, SEW-Eurodrive , News & events
SEW-Eurodrive has commenced construction of a new R200 million head office and factory in Everton, Johannesburg in order to accommodate the company's growth. The 25 000 sqm building is being constructed 
...
Read more...
---
Thirty years of linear motion technology
Fourth Quarter 2020, Tectra Automation , News & events
This year, factory automation specialist Bosch Rexroth celebrates 30 years of linear motion technology and innovation. Constantly updating its range of innovative linear axes, the company has a product 
...
Read more...
---
ABB and BI extend partnership to high-efficiency IE3 motors
Fourth Quarter 2020 , News & events
Low-voltage IE3 motors from ABB Africa will now be distributed by Bearings International (BI). This is an extension of the existing partnership between the two companies, with BI already a distributor 
...
Read more...
---
Festo helps young South Africans realise their dreams
Fourth Quarter 2020, Festo South Africa , News & events
Festo has been a leading worldwide supplier of automation technology and a performance leader in industrial training and education programmes for almost half a century. The company is more than just an 
...
Read more...
---
Hydraulics training course with CPD points
Third Quarter 2020 , News & events
The Bosch Rexroth South Africa Group training department has received its first CESA-validated CPD points for its three day hydraulics training course. Already merSETA accredited, the course has now been 
...
Read more...
---
Siemens joins forces with the National Ventilator Project
Third Quarter 2020, Siemens Digital Industries , News & events
Siemens has been a long-standing partner of the CSIR in South Africa and has co-operated in various fields of research, including manufacturing and mining. The CSIR, in collaboration with a number of 
...
Read more...
---
HAW has the stockholding to meet customer demand
Third Quarter 2020 , News & events
Hydraulic and Automation Warehouse has taken measures to assist with seamless production for its customers' operations with its new large stockholding of products. The company increased its stockholding 
...
Read more...
---
Hytec opens branch in Lephalale
Third Quarter 2020 , News & events
Hytec South Africa, a member of the Bosch Rexroth South Africa Group, officially opened its new branch in Lephalale, Limpopo in January 2020. The branch will provide a fast turnaround service, supply 
...
Read more...
---
FIRST Lego League goes from strength to strength
Third Quarter 2020 , News & events
FIRST (for inspiration and recognition of science and technology) is an international organisation that aims to generate an interest in mathematics, science and technology through the use of robotics 
...
Read more...
---
Energy efficient mining for a better tomorrow
Third Quarter 2020, Danfoss , News & events
Never has there been more of a need for the mining industry to adopt energy efficient measures as part of a successful transition towards a low carbon future. The mining sector needs to rethink its traditional 
...
Read more...
---