printer friendly version
Lubrication Engineers partners with Umuzi Engineers
First Quarter 2020
News & events
Lubrication Engineers (LE) has partnered with Umuzi Engineers to tap the potential in new markets. Colin Ford, managing director at LE South Africa, says that Umuzi Engineers will operate as an independent contractor to LE South Africa, supplying its quality lubricants to clients in eSwatini and South Africa. "We realised synergies existed and started to explore the potential of a relationship," he adds. "The lubrication industry was unfamiliar to me, but I realised the potential it offers and the value of the products and services Lubrication Engineers provides. I saw an opportunity to build a partnership."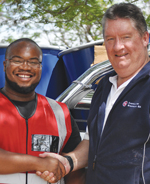 Menzi Ntshingila, director, Umuzi Engineers (left) and Colin Ford, MD, LE.
Menzi Ntshingila, director at Umuzi Engineers, explains that the company is a solutions-based company that aims to help businesses reduce operating costs over the long term. Better lubrication solutions is one way of doing this, and so that's where we're focusing first, and then Umuzi Engineers will look to expand into robotics and natural gas at a later stage," he says. Umuzi Engineers is based in eSwatini, but also services clients in South Africa. The two companies believe that the relationship will help them to enter new markets and geographies, providing LE's premium, best-in-class lubricants and lubrication systems.
"LE South Africa has been pivotal in introducing Umuzi Engineers to a new opportunity in the lubrication space, and in providing insights into the workings of the industry and support on their products and solutions," says Ntshingila. "I believe 2020 will start to yield the results of our efforts."
For more information contact Callum Ford, Lubrication Engineers, +27 11 464 1735, callum@lubricationengineers.co.za, www.lubricationengineers.co.za
Further reading:
BI leverages synergies across Hudaco Group
First Quarter 2020 , News & events
Being part of the broader Hudaco Group allows Bearings International (BI) to leverage synergies across a broad range of companies, meaning it can offer a complete product basket at its extensive branch 
...
Read more...
---
IIoT, Industrie 4.0 or 4IR?
First Quarter 2020, Technews Publishing , News & events
We always overestimate the change that will occur in the next two years and underestimate the change that will occur in the next ten: Bill Gates
Read more...
---
Nidec extends warranty on Commander drives
First Quarter 2020, Nidec Industrial Automation Southern Africa , News & events
Control Techniques has launched a free, five-year warranty for its Commander range of general-purpose drives. Anyone who purchases a drive from the Commander range will now be able to register to extend 
...
Read more...
---
Stone-Stamcor boosts Cape Town operation
First Quarter 2020, Stone Stamcor , News & events
In order to enhance its service to its Western and Eastern Cape customers, Stone-Stamcor has embarked on a business improvement project for its Cape Town branch. The new location of the branch will make 
...
Read more...
---
Local finishing for switchgear
First Quarter 2020, Schneider Electric South Africa , News & events
Schneider Electric South Africa has announced that its PIX Easy Air Insulated Switchgear, previously 100% manufactured internationally, will now have a 68% local finishing process, reducing the customer 
...
Read more...
---
Training rigs for Coca-Cola bottler
First Quarter 2020 , News & events
The first on-site Bosch Rexroth pneumatic training rigs have been installed in Africa. The rigs were supplied to Nairobi Bottlers, the base for Coca-Cola Beverages Africa Kenya, by Bosch Rexroth Kenya, 
...
Read more...
---
Sasol award for Actom Turbo Machines
First Quarter 2020 , News & events
Petrochemical giant Sasol has recognised Actom Turbo Machines with one of its top 2019 awards for exceptional service in repair, refurbishment and ongoing maintenance. Actom Turbo Machines is the only 
...
Read more...
---
Hytec Hydraulics Botswana opens service centre
First Quarter 2020 , News & events
Hytec Hydraulics Botswana recently officially opened its service centre in Gaborone. Tillmann Olsen, CEO for Bosch Rexroth South Africa, said the company is the largest manufacturer and supplier of hydraulic, 
...
Read more...
---
Consolidation of tooling companies
First Quarter 2020 , News & events
INDUSTRI Tools & Equipment has recently been launched as part of the Engineering Solutions Group (ESG) of Invicta Holdings. Through the consolidation of six independent tooling companies – Man-Dirk, Tool 
...
Read more...
---
Appointments
First Quarter 2020 , News & events
Read more...
---