printer friendly version
Hytec Hydraulics Botswana opens service centre
First Quarter 2020
News & events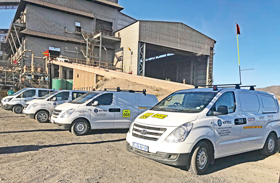 Hytec Hydraulics Botswana recently officially opened its service centre in Gaborone. Tillmann Olsen, CEO for Bosch Rexroth South Africa, said the company is the largest manufacturer and supplier of hydraulic, pneumatic and automation components and systems in sub-Saharan Africa and the new workshop symbolises its ambition to set the highest standards in all areas of business. He added that Hytec Botswana will be supported by the Rexroth HUBB in Johannesburg where there is a concentration of highly skilled employees. "The HUBB's training facilities will enhance the knowledge of employees across the continent," he continued.
Charles Siwawa, CEO of the Botswana Chambers of Mines (BCM), said that he was looking forward to sharing product knowledge and expertise. "Development and deployment of the right skills within industry will play a crucial role in the efficient execution of the BCM's mandate," he said. Gerald Handke, Bosch Rexroth vice president of service at Mobile Hydraulics Germany, described how Africa's attractiveness as a mining and minerals market is playing an increasingly important role for Bosch Rexroth. "Africa plays a key role in our global growth strategy," he said. "Our head office in Germany will be supporting the Botswana branch with training, technical support, auditing and certification."
Whether it's a hydraulic cylinder for a mining truck or a conveyor on a diamond mine, Hytec Hydraulics Botswana is committed as a partner in the economic, financial and social development of the nation's mining and exploration industries.
For more information contact Abrie van der Merwe, Bosch Rexroth Botswana, +26 7 318 6910, abrie.vandermerwe@hytec.co.bw, www.hytecgroup.co.za
Further reading:
BI leverages synergies across Hudaco Group
First Quarter 2020 , News & events
Being part of the broader Hudaco Group allows Bearings International (BI) to leverage synergies across a broad range of companies, meaning it can offer a complete product basket at its extensive branch 
...
Read more...
---
IIoT, Industrie 4.0 or 4IR?
First Quarter 2020, Technews Publishing , News & events
We always overestimate the change that will occur in the next two years and underestimate the change that will occur in the next ten: Bill Gates
Read more...
---
Nidec extends warranty on Commander drives
First Quarter 2020, Nidec Industrial Automation Southern Africa , News & events
Control Techniques has launched a free, five-year warranty for its Commander range of general-purpose drives. Anyone who purchases a drive from the Commander range will now be able to register to extend 
...
Read more...
---
Stone-Stamcor boosts Cape Town operation
First Quarter 2020, Stone Stamcor , News & events
In order to enhance its service to its Western and Eastern Cape customers, Stone-Stamcor has embarked on a business improvement project for its Cape Town branch. The new location of the branch will make 
...
Read more...
---
Local finishing for switchgear
First Quarter 2020, Schneider Electric South Africa , News & events
Schneider Electric South Africa has announced that its PIX Easy Air Insulated Switchgear, previously 100% manufactured internationally, will now have a 68% local finishing process, reducing the customer 
...
Read more...
---
Training rigs for Coca-Cola bottler
First Quarter 2020 , News & events
The first on-site Bosch Rexroth pneumatic training rigs have been installed in Africa. The rigs were supplied to Nairobi Bottlers, the base for Coca-Cola Beverages Africa Kenya, by Bosch Rexroth Kenya, 
...
Read more...
---
Lubrication Engineers partners with Umuzi Engineers
First Quarter 2020 , News & events
Lubrication Engineers (LE) has partnered with Umuzi Engineers to tap the potential in new markets. Colin Ford, managing director at LE South Africa, says that Umuzi Engineers will operate as an independent 
...
Read more...
---
Sasol award for Actom Turbo Machines
First Quarter 2020 , News & events
Petrochemical giant Sasol has recognised Actom Turbo Machines with one of its top 2019 awards for exceptional service in repair, refurbishment and ongoing maintenance. Actom Turbo Machines is the only 
...
Read more...
---
Consolidation of tooling companies
First Quarter 2020 , News & events
INDUSTRI Tools & Equipment has recently been launched as part of the Engineering Solutions Group (ESG) of Invicta Holdings. Through the consolidation of six independent tooling companies – Man-Dirk, Tool 
...
Read more...
---
Appointments
First Quarter 2020 , News & events
Read more...
---