printer friendly version
Varispeed VSDs now available from Bearings International
Fourth Quarter 2019
Electrical switching & drive systems & components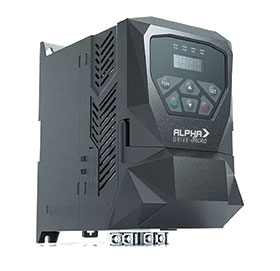 From bearings to variable speed drives (VSDs), motors, gearboxes, sprockets and chains, Bearings International (BI) is able to offer total solutions for a diverse range of customers, applications, and industries.
Being part of the broader Hudaco Group allows BI to leverage synergies across a broad range of companies, meaning it can offer a complete product basket at its extensive branch network countrywide. One of these areas is electronic motor control solutions from Hudaco Group company Varispeed, which has just launched the VDrivePlus and AlphaDrive-Micro VSDs.
"For BI, it is all about the breadth of our product offering, which extends far beyond our customers' core focus. This is because we look at customer requirements holistically. It is also a great way to introduce our customer base to the larger Hudaco Group," says offer marketing manager, Victor Strobel. "While the customer bases are different, there are definite synergies that we can tap into. It is all about positioning ourselves as a total solutions provider that is a single point of contact for all of our customer needs, as well as making them aware of everything else we are able to offer them. This is where BI's focus on customer service and support is critical, as it is able to back-up all of the products it supplies with the necessary technical expertise and experience."
The AlphaDrive-Micro VSD from Varispeed is a compact frequency inverter ranging from 0,2 to 5,5 kW, and available in 240 V and 400 V. Together with the VDrivePlus, these VSDs offer the best performance-to-cost ratio on the market, without compromising on quality and reliability. "Due to the current economic environment, the market is very price-sensitive. Therefore, any energy efficiencies or cost savings we are able to offer are hugely beneficial," Strobel notes.
Certified in accordance with the latest European standards and regulations, the Alpha Drive Micro and Micro Plus are ideally suited to most applications in the South African market, including mining, food and beverage, manufacturing, and agriculture.
The compact design of the AlphaDrive-Micro VSD means it is easy to integrate into an electrical panel, as it mounts directly onto a DIN rail. A built-in software menu caters for optimised parameters for basic functions and applications such as fans, belts, conveyors, and pumps. Applications range from mining plants to water reticulation, HVAC, food and beverage, canning and bottling plants, and injection moulding plants.
The AlphaDrive-Micro VSD is based on the MODBUS protocol for open networking, with an EMC filter as standard. An innovative feature of both of the drives is a parameter copy stick that allows for an automatic backup of parameter settings in the event of load shedding. It also means that the same set of parameters can be transferred to many drives and even multiple sites. The VDrivePlus from Varispeed is a much larger drive, ranging from 0,4 to 400 kW, available in 240 V and 400 V. This more advanced VSD features advanced motor control based on DSP technology, together with smart auto-tuning. Additional features include flexible inverter control, dual high resolution analogue inputs, and free mappable I/O channels.
A universal function set is available for a range of industrial and residential applications, including integrated PID/pump controller routines. Smart PC tools allow for quick inverter control, parametrisation, and troubleshooting. Here the size and range of the VSD makes it ideal for harsh operating environments from mining to industrial and even agricultural.
Strobel adds that BI staff have received training on the new VSD products, while further information can be gleaned from the BI website. Looking at future scope for synergy, he points out that the VSDs can be easily supplemented with the Bauer electric motor range from BI.
These aluminium three-phase 380 V motors are ideal for industrial applications such as fans, compressors, pumps, sanding machines, and pedestal drilling machines, among others. The main benefit is that the motors are far lighter than their cast-iron equivalents due to the aluminium casing and end shield. The multi-mount design has the added benefit of being able to change the feet on-site. This gives customers the option of having the terminal box on the top or on the left- or right-hand side, depending on the specific requirements. In addition, Bauer motors can be fitted with an external brake of either an AC or DC type.
For more information contact Bearings International, +27 11 899 0000, info@bearings.co.za, www.bearings.co.za
Further reading:
Integrated drive technology for optimised machine design
Second Quarter 2020, Beckhoff Automation , Editor's Choice, Electrical switching & drive systems & components
In this way, the power electronics are relocated to the machine, reducing space requirements in control cabinets to just a single coupling module. In addition, decentralised distribution modules and the 
...
Read more...
---
More intelligent drive systems
Second Quarter 2020, Siemens Digital Industries , Electrical switching & drive systems & components
Siemens has developed a concept study that demonstrates the integration of a Sinamics drive system to the Siemens Industrial Edge platform. In future, it will be possible to perform high frequency data 
...
Read more...
---
Meeting the needs of the mining industry
Second Quarter 2020, Varispeed (Div. of Hudaco Trading) , Electrical switching & drive systems & components
Both above and below ground, Varispeed keeps the interests of its customers top of mind, all the time. The company was recently approached by a platinum mine to assist with a robust application. Three 
...
Read more...
---
ZEST Weg to offer geared motors
Second Quarter 2020, Zest WEG Group Africa , Electrical switching & drive systems & components
A new range of WEG geared motors will soon be available to customers in South Africa and the rest of the continent from Zest WEG. The WEG WG20 range is a natural extension of the company's offering in 
...
Read more...
---
Decentralised electric drives from Festo
Second Quarter 2020, Festo , Electrical switching & drive systems & components
The Festo Simplified Motion electric drive series combines the simplicity of pneumatics with the advantages of electric automation to ensure that your machines are faster and better connected. It includes 
...
Read more...
---
Electrohydrostatic pump unit
Second Quarter 2020, MOOG , Electrical switching & drive systems & components
MOOG has launched a new generation electrohydrostatic pump Unit (EPU) that helps machine builders and end-users derive the combined benefits of both hydraulic and electric actuation. The EPU is at the 
...
Read more...
---
Gearmotors for electrified monorail system
Second Quarter 2020, SEW-Eurodrive , Editor's Choice, Electrical switching & drive systems & components
A leading systems integrator for the automotive industry has adapted a Maxolution electrified monorail system (EMS) and 23 HK Series gear units for overhead trolley systems from SEW-Eurodrive for a major 
...
Read more...
---
Electromechanical motion products for today's machines
Second Quarter 2020, Parker Hannifin - Sales Company South Africa , Electrical switching & drive systems & components
Stroke capacity
Among the fundamental questions to ask is: Does the actuator offer various stroke lengths as standard? A product using a ball or leadscrew drive is commonly restricted to stroke lengths 
...
Read more...
---
Save energy costs with VFDs
Second Quarter 2020, ElectroMechanica , Electrical switching & drive systems & components
Customers can realise significant savings on their total energy costs by replacing older motor starters with energy-efficient Delta variable frequency drives (VFDs), distributed locally by ElectroMechanica 
...
Read more...
---
SEW-Eurodrive sets the benchmark for Industry 4.0
Second Quarter 2020, SEW-Eurodrive , Electrical switching & drive systems & components
With the advent of Industry 4.0 set to change the face of industry and production, SEW-Eurodrive has a range of solutions for its concept of the Lean Sm@rt Factory. This is based on the paradigm shift 
...
Read more...
---