printer friendly version
A new Mechatronics Academy for Industry 4.0
First Quarter 2020
News & events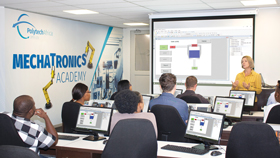 Mechatronics is a combination of mechanics and electronics, comprising a multi-disciplinary engineering field that is a key player in Industry 4.0. It encompasses cyber-physical systems, IIoT, cloud computing and cognitive computing. In order to ensure that local industry has the necessary skillsets to embrace Industry 4.0, ElectroMechanica (EM) has collaborated with Polytech Africa to establish the first Mechatronics Academy to be accredited by merSETA.
The Mechatronics Academy will focus on the NQF Level 2 learnership. This is based on essential aspects of precision mechanical engineering, electronics and computer design systems used to control and automate mechanical products. Here EM plays a vital role, as its specialised products include the Delta industrial automation range. Upon completion of the qualification, certificate holders will be able to gain entry to highly skilled sectors such as mechanical and electrical engineering, pneumatics and hydraulics, robotics, PLCs, CNC, industrial IT, the automotive sector, and precision welding.
"Educational institutions cannot be islands on their own, and require the cooperation of both the government and the private sector," says Polytech Africa director, Astrid Straussner. "This is where EM's active involvement is so crucial, as it is important that students are exposed to the latest products and developments, especially given the fact that Industry 4.0 and IIoT are a reality in South Africa." She adds that the Mechatronics Academy will play a vital role in addressing the skills shortage in the automation industry. "While we have a good skills base in South Africa, the main problem is the pipeline of younger people entering the field. We need to enhance the existing skills and develop new ones. This is important to ensure that we are able to cope with the skills requirements of Industry 4.0 throughout the continent."
The main driver for EM in launching the Mechatronics Academy is to consolidate its training offering into accredited, standardised courses that can be offered out of Polytech Africa. "This will ensure the best quality of training possible for our customers, so they are comfortable working with our automation equipment. In turn, it will allow our staff to focus on their core responsibilities," concludes EM Director, Andrew Nobbs.
For more information contact Karen Zotter, ElectroMechanica, +27 11 249 5000, karenz@em.co.za, www.em.co.za
Credit(s)
Further reading:
In memoriam: Vivienne Caroline Dorrington - 19 June 1958 – 21 April 2020
First Quarter 2020, Technews Publishing , News & events
It is with great sadness that we announce the death of our CEO, Vivienne Dorrington, after a long and brave battle with cancer. Like her father, Ray Beaumont, who founded Technews Publishing in 1985, 
...
Read more...
---
BI leverages synergies across Hudaco Group
First Quarter 2020 , News & events
Being part of the broader Hudaco Group allows Bearings International (BI) to leverage synergies across a broad range of companies, meaning it can offer a complete product basket at its extensive branch 
...
Read more...
---
IIoT, Industrie 4.0 or 4IR?
First Quarter 2020, Technews Publishing , News & events
We always overestimate the change that will occur in the next two years and underestimate the change that will occur in the next ten: Bill Gates
Read more...
---
Nidec extends warranty on Commander drives
First Quarter 2020, Nidec Industrial Automation Southern Africa , News & events
Control Techniques has launched a free, five-year warranty for its Commander range of general-purpose drives. Anyone who purchases a drive from the Commander range will now be able to register to extend 
...
Read more...
---
Stone-Stamcor boosts Cape Town operation
First Quarter 2020, Stone Stamcor , News & events
In order to enhance its service to its Western and Eastern Cape customers, Stone-Stamcor has embarked on a business improvement project for its Cape Town branch. The new location of the branch will make 
...
Read more...
---
Local finishing for switchgear
First Quarter 2020, Schneider Electric South Africa , News & events
Schneider Electric South Africa has announced that its PIX Easy Air Insulated Switchgear, previously 100% manufactured internationally, will now have a 68% local finishing process, reducing the customer 
...
Read more...
---
Training rigs for Coca-Cola bottler
First Quarter 2020 , News & events
The first on-site Bosch Rexroth pneumatic training rigs have been installed in Africa. The rigs were supplied to Nairobi Bottlers, the base for Coca-Cola Beverages Africa Kenya, by Bosch Rexroth Kenya, 
...
Read more...
---
Lubrication Engineers partners with Umuzi Engineers
First Quarter 2020 , News & events
Lubrication Engineers (LE) has partnered with Umuzi Engineers to tap the potential in new markets. Colin Ford, managing director at LE South Africa, says that Umuzi Engineers will operate as an independent 
...
Read more...
---
Sasol award for Actom Turbo Machines
First Quarter 2020 , News & events
Petrochemical giant Sasol has recognised Actom Turbo Machines with one of its top 2019 awards for exceptional service in repair, refurbishment and ongoing maintenance. Actom Turbo Machines is the only 
...
Read more...
---
Hytec Hydraulics Botswana opens service centre
First Quarter 2020 , News & events
Hytec Hydraulics Botswana recently officially opened its service centre in Gaborone. Tillmann Olsen, CEO for Bosch Rexroth South Africa, said the company is the largest manufacturer and supplier of hydraulic, 
...
Read more...
---