printer friendly version
Maximised precision and speed
First Quarter 2020
Electrical switching & drive systems & components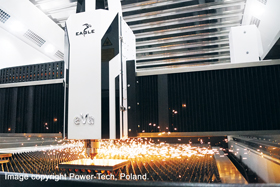 Due to the outstanding quality characteristics of its beam, the fibre laser has become the technology of choice in the fine cutting of metal sheets. It delivers highly precise cuts with very narrow kerfs and operates with outstanding contouring speed. In order to deliver these features, Polish manufacturer Power-Tech employs fibre lasers in its laser cutting machines and relies on powerful automation technology from Beckhoff for machine control.
Eagle laser cutters can cut virtually any shape out of metal sheets. They use fibre lasers as a light source, which ensure burr-free edges on sheets of varying thicknesses as well as precise and narrow kerfs. Power-Tech makes three variants of laser cutting machines. All cutters feature easy operation, high reliability and compact dimensions. Equipped with special high performance Eagle laser heads, they cut through sheets with thicknesses of up to 60 mm. Customers can select the laser power that best fits their needs – the higher the power, the faster the cutting speed.
Speeds of up to 150 metres per minute
"With the Inspire 1530 developed in 2018, we have introduced a laser cutter with a top performance of 15 kW that makes dynamic cutting processes with a speed of 150 m/min possible," says Power-Tech managing director, Janusz Marcin Ejma. "We work constantly on making our lasers more powerful, because these improvements have such a decisive impact on a cutter's productivity. A machine with 15 kW cuts out four times as many shapes per hour as a machine with 4 kW, which reduces the manufacturing costs per work piece dramatically." To achieve the necessary machine parameters in terms of motion speed and accuracy, Power-Tech employs powerful control and data communication systems.
PC- and EtherCAT-based control as integrated control platform
Power-Tech has worked with Beckhoff since 2010. "After a careful analysis of the market we picked Beckhoff as our control system supplier," says Marcin Masternak, who is in charge of CNC/PLC systems at Power-Tech. "The deciding factor was EtherCAT. The high-speed fieldbus system, which Beckhoff introduced in 2003, has become a global standard because of its performance. Many suppliers of other components used in our machines also use EtherCAT, which gives us great flexibility in component selection." Furthermore,
Power-Tech uses a Beckhoff Industrial PC and TwinCAT automation software as the standard control platform in all its machines. "The openness and modularity of the PC-based control system allow us to expand each machine's functionalities with great flexibility, for example by integrating the CNC interpolation. We can also integrate our own solutions, such as the visualisation system, which is based on our own proprietary solution," explains Masternak.
The Inspire 1530 laser cutter uses a C6930 industrial cabinet PC equipped with an Intel Core i7 processor as its control platform. To control the axes via three AX5000 EtherCAT servo drives (single- and dual-channel), the X-, Y- and Z-axes are linked via CNC interpolation (the X-axis is implemented as part of the gantry system). Various machine modules such as the laser beam source, cutting head and vacuum suction system are integrated via analog and digital EtherCAT I/O modules with IP20 and IP67 ratings. Process and machine parameters are processed in real time, with data exchange taking only microseconds.
The integrated safety solution was also implemented with Beckhoff components. "With EtherCAT we are able to meet the high requirements regarding the high-speed exchange of large data volumes during laser cutting at speeds of up to 150 m/min. We were able to achieve a single-axis positioning speed of 4 m/s and a speed of 5.6 m/s for all axes simultaneously. Our fastest machines feature an acceleration rate of 6 g, which is top of the line in the laser cutting industry," adds Masternak.
Trouble-free loading and unloading system integration
The laser cutters are optionally equipped with semi-automatic or fully automatic loading and unloading systems. The Crane Master, a fully automatic and fully integrated system, picks up the sheets via a loading frame and places them on the cutter's pallet changer while the cut parts are removed with a comb conveyor. The loading and unloading system is connected to the cutter's controller via the EK1100 EtherCAT Coupler, which simplifies data communication.
For more information contact Michelle Murphy, Beckhoff Automation, +27 11 795 2898, michellem@beckhoff.com, www.beckhoff.co.za
Credit(s)
Further reading:
Powerful pump set tested
First Quarter 2020 , Electrical switching & drive systems & components
With 1350 Kw of raw power produced by a massive V16 diesel motor, the SABS in conjunction with KSB Pumps and Valves has tested one of the most impressive pump sets to be assembled on South African soil 
...
Read more...
---
Magnetic levitation technology for the Far East
First Quarter 2020 , Electrical switching & drive systems & components
German construction engineering specialist, Max Bögl, is commissioning a local public transport system based on magnetic levitation in Chengdu, China. Beginning at Max Bögl's main factory in Sengenthal, 
...
Read more...
---
SEW-Eurodrive's pick-and-place solution for brick and block plant
First Quarter 2020, SEW-Eurodrive , Electrical switching & drive systems & components
When a local Original Equipment Manufacturer (OEM) of concrete brick, block, and paving machinery had the unique opportunity to build a greenfield plant for a longstanding customer in the East London area, it turned to SEW-Eurodrive for its easily configurable HandlingKinematics pick-and-place solution.
Read more...
---
Production boost for glass manufacturers
First Quarter 2020 , Electrical switching & drive systems & components
A pair of 5 MW standby power systems from Cummins are providing extra protection at two glass manufacturing facilities in Lahore, Pakistan that are growing their businesses, allowing production lines 
...
Read more...
---
New app supports predictive services for drive systems
First Quarter 2020, Siemens Digital Industries , Electrical switching & drive systems & components
With Predictive Services for Drive Systems, Siemens makes maintenance more efficient for Sinamics drive systems and/or Simotics motors in the low voltage range. With its new service portfolio including 
...
Read more...
---
Motor efficiency high on global agenda
First Quarter 2020, Zest WEG Group Africa , Electrical switching & drive systems & components
With electric motors consuming almost 70% of industry's energy, companies are always looking for better motor efficiencies. For many years, motor efficiency has been well defined; however, when driven 
...
Read more...
---
Modernised irrigation control system
First Quarter 2020, Varispeed (Div. of Hudaco Trading) , Electrical switching & drive systems & components
As a preferred supplier to the agricultural industry due to proven reliability and performance, Varispeed designs, manufactures and distributes constant pressure solutions. With a good knowledge of the 
...
Read more...
---
Cam clutches for bulk handling
First Quarter 2020, Bearing Man Group T/A BMG , Electrical switching & drive systems & components
New to BMG's extensive range of Tsubaki cam clutches is the BS-F series, designed for high speed inclined and long overland belt conveyors and bucket elevators used in the mining and bulk handling sectors. 
...
Read more...
---
New automated drive analyser
First Quarter 2020, Comtest , Electrical switching & drive systems & components
Fluke's MDA-500 Series is designed to help users easily test and troubleshoot typical problems on three-phase and single-phase inverter type motor-drive systems. The on-screen information, and step-by-step 
...
Read more...
---
840 soccer pitches of glass
First Quarter 2020, Siemens Digital Industries , Electrical switching & drive systems & components
Horn Glass manufactures glass melting machines and equipment. The technology supplier has recently concluded the biggest project in the company's history with the completion of the largest glassworks 
...
Read more...
---