printer friendly version
Factory harmony
First Quarter 2020 Editor's Choice Robotics & Mechatronics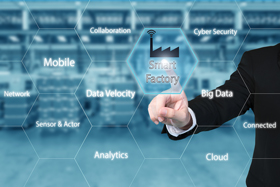 Exports are a key indicator of the economic performance of any industrialised country. With an export volume of USD 1.44 trillion, Germany ranked third behind the USA (USD 1.54 trillion) and China (USD 2.26 trillion) in a global comparison in 2017.
To ensure that the German economy does not lose out in the long term, new concepts are needed to optimise the efficiency of industrial production. In view of the progress made in automation and artificial intelligence, a well-established and improved interaction between man and machine could help to ensure high economic standards and productivity. A promising model for the new harmony on the factory floor is based on intelligent, integrated and interactive design of tomorrow's manufacturing processes.
Many still believe that man and robots can only work against each other or, if need be, side by side; moreover, there is still a fear that machines will replace human workers. However, the coexistence of human workers and automated machine solutions and robots has become commonplace in more and more companies.
But that's not all: digitalisation provides companies in the manufacturing industry with an enormous inventory of technological options for implementing the factory of the future. Smart networking using artificial intelligence offers the opportunity to convert manufacturing data into strategic information. It also enables the smooth integration of high precision robotics technologies that work at high speed, supplemented by methodically safe and simple interaction between man and machine.
New era of intelligent, integrated and interactive production
Increase efficiency, reduce costs, strengthen competitiveness – what is necessary to secure your market position in competitive global markets can be implemented with innovative solutions for flexible and efficient production. An impressive example of the potential of a technology that can revolutionise the factory floor of the future, while promoting harmony between human and machine, is a new collaborative robot that emerged from the partnership between Omron and Techman.
It offers an innovative solution for the simple automation of applications that have traditionally been carried out by humans and where automation has so far been very difficult. The robot can be seamlessly integrated into an autonomous mobile robot and also enables the automation of complex tasks using a 3D camera.
One example of a futuristic solution is bin picking. The robot quickly and precisely sorts different articles and deposits them where they are needed. The 3D camera locates the items and sends their coordinates to the robot, while the software, supported by AI algorithms, performs the advanced calculations required for optimised goods picking, for example for customised orders. Meanwhile, a mobile robot is responsible for the subsequent transportation of the goods. In this respect, the efficient combination of different production processes forms the basis for particularly flexible and reliable production and material handling. It also gives a foretaste of what will be possible in the future with factory harmony, where integrated, mobile and collaborative robots work in harmony with humans, to ensure flexible manufacturing and customisation.
Systematically avoiding malfunctions and breakdowns
Operational excellence is an important basis for investment security, especially in view of the current changes in the industrial production organisation. Changing consumer behaviours are forcing manufacturers to flexibly produce smaller quantities in a larger number of variants, saving as much time as possible. The factory of the future must therefore become more flexible and be able to convert production more quickly and produce smaller runs. The ultimate goal is to be able to deliver personalised products from an agile and networked production line. In an automation model that meets this requirement, all devices, machines and solutions should operate in an integrated manner.
Effective quality control is essential in all production and packaging lines. Those who can identify defective products before they leave the factory, or even before they are produced, benefit from considerable time and cost savings and avoid costly product recalls, loss of productions and possible damage to brand reputation.
Equally important is the quality control of packaging for products such as food or medicines. An illegible barcode or a wrong expiration date can lead to the need to dispose of faultless products. In addition, there is a trend towards stricter legislation, which gives top priority to unambiguous labelling for all types of products. For example, the EU has introduced new regulations in 2019, requiring production lines to meet even higher quality control standards.
As a result of the increasing degree of automation in production lines, the need for automated processes in quality control has also been amplified. Among other things, it pays off if the machines are able to collect data in order to optimise predictive maintenance. The more data is collected and processed, the more intelligent the machine can be to help extend production line life, reduce downtime and increase productivity. For example, Omron's Sysmac AI controller includes a predictive maintenance library based on AI and collects, analyses and uses data on Edge devices to extend their life, detect anomalies and prevent failures. No internet connection is required. Users are no longer dependent on cloud computing and can leverage the AI potential for their business advantage.
Image processing supports error detection
An increasingly important factor in quality control on production lines is smart image processing, technically implemented either as a completely new solution or by partially retrofitting an existing system. Very compact image processing systems monitor production in real time and react immediately to any error. The data transmitted by an image processing system is processed on site and made available centrally via the cloud for detailed analyses so that suitable measures can be taken.
In order for an inspection system to make intelligent decisions, data must be captured by a sensor, such as a camera, for image processing. These cameras can be set up to monitor various aspects of a product, such as detecting defects or checking labels for printing errors or missing information. The data is then analysed with high computing power to compare the process with the actual and target results. When problems are detected, the system responds according to programmed rules. Sometimes it can automatically correct the errors, but even then, the operator is always informed to ensure correct processes and in case additional action is required.
Since this system is fully networked, it provides a better link between the machines on a production line, resulting in both more precise quality control and greater efficiency. When an error is detected, the system can often automatically compensate for it and production is not affected. Intelligent automation solutions of the latest generation work fast, offer high computing power, are easy to operate and thus ensure transparent quality control in the factory of tomorrow.
Flexibility is the engine for customer satisfaction and business success
Since customer and business requirements are constantly changing, the factory floor must also be more flexible in the future. Flexibility in the organisation and arrangement of production resources is one of the key success factors for efficient production. This includes on one hand the mobility of the robots used and on the other hand their adaptability to concrete requirements in practical use. This is another advantage of an effective quality control and process management system.
By combining image processing, motion, control, functional safety and robotics in a single management system, production lines can be more easily adapted to short production runs and changing market requirements. The line layout can be quickly redesigned and the recognition pattern for quality control can be easily updated in the software. This ensures that different product variants or even different products are produced and packaged flawlessly. In addition, such a system brings the benefits of future-proof orientation, because it can be easily adapted to new regulations. As a result, manufacturers do not have to worry about changing their production lines but can simply initiate a firmware update for the existing solution if necessary.
The networking of humans and machines is more than just a trend towards the efficient organisation of processes and the distribution of tasks in manufacturing plants. The tangible benefits of tomorrow's high performance factory are already showing how the systematic harmonisation of human and machine based capabilities is revolutionising production with the help of artificial intelligence and robotics and is breaking new ground for the production methods of the future.
Credit(s)
Further reading:
Land Cruiser wet brakes for mining
First Quarter 2021, Axiom Hydraulics , Editor's Choice, Hydraulic systems & components
Unfortunately, the vehicle's OEM brakes are not built for mining; they compromise safety while suffering frequent and expensive maintenance. Simply put, the brakes were never designed for use in the highly 
...
Read more...
---
Streamlined food deliveries
First Quarter 2021, Omron Electronics , Robotics & Mechatronics
It's part of a larger experiment called the Six City Strategy 'New solutions in city logistics' project, which is looking at possible options for last mile deliveries in Finnish cities. It's looking for 
...
Read more...
---
Addressing the new normal in food manufacturing
Fourth Quarter 2020, Omron Electronics , Other technologies
Food and beverage companies can now set the course for the time after Covid-19 using automation to boost competitiveness and productivity. Manufacturers should focus their resources on four market driven perspectives: workforce, product quality, flexibility and sustainability.
Read more...
---
PC-based control technology for next-generation telescope
First Quarter 2021, Beckhoff Automation , Editor's Choice, Electrical switching & drive systems & components
Key factors were the advantages of EtherCAT for site-wide real-time communication connecting all telescope functions. Various embedded PCs and AM8000 servomotors were also tested and specified, among 
...
Read more...
---
Surfing back to Earth
First Quarter 2021, Horne Technologies , Editor's Choice, Electrical switching & drive systems & components
How did life actually form on Earth? Even today this question still has not been definitively answered. There are, however, signs that asteroids or comets played an important role. In the search for additional 
...
Read more...
---
Treading in the footsteps of the space pioneers
First Quarter 2021, Siemens Digital Industries , Editor's Choice, Electrical switching & drive systems & components
The adventure park Euro Space Centre in Transinne in Belgium is home to a number of different simulators, including the original NASA multi-axis chair dating back to the 1960s which was used to familiarise 
...
Read more...
---
Miniature DC motors drive tattoo machine design forwards
First Quarter 2021 , Editor's Choice, Electrical switching & drive systems & components
All of this places stringent requirements on the motor – the prime mover in the tattoo machine and perhaps the most critical element of the machine design – as Vishal Sapale, assistant manager – design 
...
Read more...
---
The future of automation
First Quarter 2021, SEW-EURODRIVE , Editor's Choice, Electrical switching & drive systems & components
MOVI-C comprises four components: MOVISUITE engineering software, MOVI-C Controller control technology, MOVIDRIVE inverter technology, and MOVIGEAR, MOVIMOT decentralised drive technology comprising the 
...
Read more...
---
IoT communication without batteries
First Quarter 2021 , Editor's Choice, Other technologies
When we talk about IoT, we often gloss over the fact that all these interconnected things need batteries and electronics to carry out the job of collecting and processing data while they're communicating 
...
Read more...
---
Selecting a mobile robot for heavy loads
First Quarter 2021, Omron Electronics , Robotics & Mechatronics
Five questions to ask when selecting autonomous material transport technology for industrial applications.
Read more...
---