printer friendly version
Bearings result in huge savings
First Quarter 2020
Shaft power components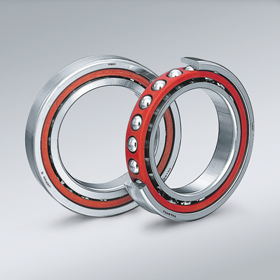 After experiencing ongoing problems with the bearings on a vital milling machine at a steel plant, the management team turned to NSK for a solution. This decision proved to be extremely beneficial, with the steel mill now enjoying annual savings of €35 600.
The steel mill produces rails for lift equipment that require the machining of two flat areas at the ends, which assist the fitting of the rails during assembly. While the time required to mill these rough surfaces is short, the stiffness of the machine's spindle is critical due to the length of the rails. However, using the milling machine's original bearings, the steel plant noticed that spindle stiffness reduced after just three months, making it necessary to change the spindle assembly, including motors.
Faced with a recurring and expensive situation, NSK was asked to find a solution. Expert NSK engineers visited the plant and analysed the spindle design as part of its AIP Added Value Programme. Calculations were made based on the use of tooling expected to deliver high cutting capacity and withstand high loads. Engineers also inspected the failed bearings and checked the wear bands of the raceways.
Following their analysis, NSK's engineers recommended that the spindle be redesigned with a four row bearing set, instead of three, thus increasing the radial load capacity and radial stiffness. The contact angle was also changed from 15° to 25° to increase the bending stiffness of the shaft. NSK's high precision angular contact ball bearings (ACBB) were selected from its range of standard products.
The NSK high precision ACBB series is manufactured to conform to ISO standards. A choice of three contact angles, two cage designs and two types of ball material is available to suit application requirements.
After the steel mill had implemented the change, the bearings continued working in the milling machine for more than a year, with no failures experienced in the motor or transmission. Indeed, a full report was produced by NSK to verify the improved characteristics, detailing the enhanced bending stiffness of the shaft and extended operating life from three months to over a year.
When comparing the costs from before and after the adoption of NSK bearings, the savings are clear to see. Today, the steel mill no longer has to endure four production stops a year, while the costs for the replacement spindle assemblies and motors have also been eliminated. Taking these factors into account, it has been calculated that the plant is saving €35,600 per annum.
For more information contact Geraldene Govender, NSK South Africa, +27 11 458 3600, nsk-sa@nsk.com, www.nsk.com
Further reading:
BI is a critical supplier to sugar mill
Third Quarter 2020 , Shaft power components
From the growing of sugar cane on the agricultural side to sugar refineries on the production side, Bearings International (BI) plays a key role in this important economic sector. Typical solutions provided 
...
Read more...
---
High quality, price-competitive bearings
Third Quarter 2020 , Shaft power components
Various market segments have responded positively to the launch of products from Craft Bearings by Bearings International (BI). "The first stock consignment was not affected by the Covid-19 crisis. All 
...
Read more...
---
How to avoid bearing failures with proper lubrication
Third Quarter 2020 , Shaft power components
Bearings are a fundamental component of mechanical equipment and centre on the idea of reducing rolling friction to allow parts to move without being destroyed. Reducing friction can contribute to higher 
...
Read more...
---
Cummins ReCon parts a cost-effective alternative
Third Quarter 2020 , Shaft power components
Cummins ReCon parts are not just repaired or rebuilt, but are remanufactured to meet or exceed your engine's original specifications for performance, reliability and durability. These parts also include 
...
Read more...
---
The smart connection
Second Quarter 2020, Powermite - Div. of Hudaco Trading , Shaft power components
Powermite's Molex GWConnect heavy duty connector portfolio includes industrial connectors (including multipole), inserts, aluminium enclosures and more than 6000 complementary products. All components 
...
Read more...
---
Upgraded grid couplings
Second Quarter 2020, Bearing Man Group T/A BMG , Shaft power components
BMG has extended its range of power transmission components to include its recently upgraded Fenagrid Premium grid couplings. These taper grid steel flexible couplings accommodate angular, parallel and 
...
Read more...
---
No weak links in this energy chain
Second Quarter 2020, Powermite - Div. of Hudaco Trading , Shaft power components
EKD energy chain from Powermite ensures seamless operation of cranes, milling and boring machines as well as other mobile equipment through the reliable and cost-effective protection of cable, hose and 
...
Read more...
---
Brakes for nuclear plant's spent fuel crane
Second Quarter 2020 , Editor's Choice, Shaft power components
The removal and disposal of spent fuel rods from a nuclear reactor is an extremely precise and controlled process. Used fuel rods are placed at the bottom of a spent fuel pond to begin a process of cooling 
...
Read more...
---
Rolling roads with advanced bearing technology
Second Quarter 2020, SKF South Africa , Shaft power components
Bearings, although buried deep within the vehicle, are on the front line in contributing to drivetrain efficiencies and delivering reliability for automotive manufacturers. SKF application engineering 
...
Read more...
---
Condition monitoring for critical times
First Quarter 2020, Bearing Man Group T/A BMG , Shaft power components
BMG, which provides engineering support to essential service providers during the COVID-19 crisis, encourages operating companies not to neglect condition monitoring at this critical time. "It is very 
...
Read more...
---