printer friendly version
maxon flexes muscles
September 2010 Robotics & Mechatronics
The maxon EU Eccerobot will eventually not just look like a human, but also move and act like one. The artificial muscles are set in motion by precise DC drives from maxon motor.
Simulating humans
Humanoid robots have been the focus of public interest for years. Examples of such robots are Honda's Asimo or the Korean Institute of Technology's Einstein robot, Albert HUBO. They are normally designed as industrial robots in that their hands, arms and legs are stiff metallic limbs that are turned and bent by electromotors, many of which are made by maxon motor.
Today's two-legged robots function well, although simulating the human gait is particularly challenging. The human body constantly resets its centre of gravity in parallel with other changes in its support points and in line with many other factors. The more fluid a robot's movements are supposed to be, the more precise the positions of the individual limbs have to be calculated and carried out. This involves an enormous amount of data and the smallest error can make a robot fall over.
A new approach
The EU Eccerobot research project has adopted a completely new approach by building anthropomorphic robots with bones, muscles and tendons. In a recent interview, project leader Owen Holland stated: "We are looking to build a robot that not only looks like a human being, but also copies the inner structure and mechanisms of the human movement apparatus. Eccerobot is designed to react individually to various situations and respond to its environment".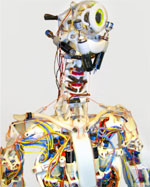 Eccerobot is a skeleton supporting muscle attachments. The bones are made of polycaprolacton (PCL), also known as polymorph. This softens at 60°C and can be moulded as required. Polymorph then hardens when cooled which means that it can easily withstand tensile forces. But in doing so, it also retains a certain degree of elasticity.
There are 80 actuators housed in the entire robot, one for each muscle. They comprise a maxon motor with gearbox and encoder, a spindle, a piece of kite line and a rubber band. The body movements actually work.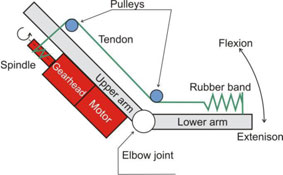 Movement principle of the Eccerobot's arm
Tthe Eccerobot's arm comprises two polymorph bones to which the artificial muscles are attached. The kite line attaches the spindle on the gearbox to the rubber band which is fixed on the other side on the bone. To flex the muscle, the DC motor uses the gearing to turn the spindle on which the kiteline unfurls. By doing so, it slowly raises the lower arm using the elastic rubber band.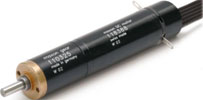 maxon RE motors are popular drives in robotic applications
Helping understand humans
The Eccerobot project is largely about basic research, as robots help us understand how human intelligence works. Researchers have found that intelligence not only comes from the brain but is also distributed throughout the whole body.
"When we raise an arm, the rest of the body also changes posture completely", says Rolf Pfeifer, director of the Artificial Intelligence Laboratory at the University of Zurich. "The movements of the robot's body parts are therefore related to each other. If the relevant sensomotor data are combined with those of the optical system, that is the camera, this produces correlations that can be recognised. This way the robot can gradually learn about its own dynamics and develop knowledge about its own body", continues Pfeifer.
Eccerobot will initially remain just a torso. At the moment the control electronics are still housed in an external casing, but they will be distributed throughout the whole skeleton at a later date. Over the long term however, scientists would like to build a humanoid robot that can walk on two legs and interact with its environment, just like a human. The legs have already been designed.
For more information contact Hans Burri, DNH Tradeserve, +27 (0) 11 468 2722, hans.burri@dnhtrade.co.za, www.dnhtrade.co.za
Credit(s)
Further reading:
maxon is flying to the sun
First Quarter 2020, DNH Tradeserve , Editor's Choice
The European Space Agency (ESA) wants to study the sun up close. Next month the agency will be launching the Solar Orbiter space probe. Scientists hope that the mission will provide them with new insights 
...
Read more...
---
Thousands of robots swarm together
Second Quarter 2020 , Editor's Choice, Robotics & Mechatronics
Harvard engineers have created a robotic system consisting of a swarm of 1024 small robots called Kilobots that can collaborate and organise themselves into complex shapes.
Read more...
---
Robots in the time of COVID-19
Second Quarter 2020, Yaskawa Southern Africa , Robotics & Mechatronics
COVID-19 has swept through the lives of people across the globe, disrupted all industries and brought the world's economy to a grinding halt. As the world moves towards a different tomorrow, future-orientated 
...
Read more...
---
Eighteen synchronous NC axes
Second Quarter 2020, Beckhoff Automation , Editor's Choice, Robotics & Mechatronics
Swedish equipment manufacturer, Ecmec, has developed a high-tech machine for a supplier to the automobile industry that can complete several process steps simultaneously without having to remount the 
...
Read more...
---
Robots in South Africa
Second Quarter 2020, Yaskawa Southern Africa , Editor's Choice, Robotics & Mechatronics
Manufacturers In South Africa experience significant challenges and there are many obstacles that prevent industries from pushing forward into a new era of automation and robotic solutions. Due to the 
...
Read more...
---
Automation with robotics
Second Quarter 2020, Omron Electronics , Robotics & Mechatronics
BOLÇİ Bolu Chocolate produces over 200 tons of chocolate items each month. The company needed to meet its promise of delivering chocolate products that are 'untouched by human hand'. Omron and Innovas 
...
Read more...
---
Tailor-made mobile robotics revolutionise the automotive industry
Second Quarter 2020, Omron Electronics , Robotics & Mechatronics
Continuous optimisation of production and logistics processes
Depending on the BMW plant, up to 1600 vehicles are produced each day. With such production volumes, continuous optimisation and efficiency 
...
Read more...
---
AGVs for automated production
First Quarter 2020, SICK Automation Southern Africa , Robotics & Mechatronics
Automated and flexible production processes are the answer to increasing quantities, smaller batch sizes, and high production speeds. Automated guided vehicle (AGVs) systems and their smaller relatives, 
...
Read more...
---
Moving into 2020 with Festo digitalised products
First Quarter 2020, Festo , Robotics & Mechatronics
Industry 4.0 is rapidly automating the modern working world and helping the machine and system building sector reach new heights.
Read more...
---
Factory harmony
First Quarter 2020, Omron Electronics , Editor's Choice, Robotics & Mechatronics
A promising model for the new harmony on the factory floor is based on intelligent, integrated and interactive design of tomorrow's manufacturing processes.
Read more...
---