Tectra's lathe upgrade
4th Quarter 2011, Electrical switching & drive systems & components

Tectra Automation recently upgraded its mechanical lathe, resulting in substantially ­increased machining capabilities at the company's mechanical workshop.
Used for turning pneumatic cylinder components, ball screw ends and other general turning functions, it was upgraded to include a Bosch Rexroth MTX Micro CNC control system, servo motors and an automatic lubrication system for roller rail guides and ball screw drives.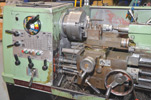 The lathe before the upgrade
"We had to overhaul and upgrade the lathe since over many years of continuous use it had begun to lose accuracy," says Georg Venter, Electric Drive and Control divisional manager, Tectra Automation. "Now we can produce top quality machined products such as high accuracy ball screw ends at a quicker pace than is possible with a mechanical lathe. This has resulted in improved quality and reduced machining costs."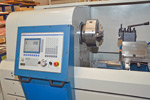 The lathe after the upgrade
Featuring full CNC capability and IndraMotion MTX control platforms, Bosch Rexroth components incorporated into the lathe save on the time and costs associated with building a new machine or an upgrade. The IndraMotion MTX micro incorporates a PLC (IEC 61131-3) and all controller and drive hardware with a wide range of software functions for turning and milling machines in a very compact unit. The upgraded lathe also features CAD-CAM capabilities.
Other changes include the replacement of old Acme thread screws on the X-and Z-axes with high precision preloaded ball screws from Bosch Rexroth. The ball screw assemblies are supplied complete with the thrust and support bearings assemblies configured to mount the IndraMotion servo motors, without the need for creating special adapters.
The gearbox regulating the chuck speed has also been locked in a fixed ratio, and the spindle motor has been replaced with a Bosch Rexroth variable speed 10 kW spindle motor. Worn slideways were replaced with Bosch Rexroth high accuracy roller rail guides with a high pre-load, guaranteeing minimal vibration and maximum stiffness.
The upgrade began with lathe engineering company, Efamatic, stripping it down to its main block by removing mechanical and electrical components. The company's lathe experts then measured and digitally sketched the lathe, using 3D software to ensure that the new components would fit. To ensure safety requirements were met the lathe was also fitted with safety covers, including a linear system to position the control panel.
Tectra Automation supplied, installed and integrated all Bosch Rexroth electrical components and trained three operators to program the machine for standard operation. The MTX Micro system can be locally supported as Tectra's facilities are accredited by Bosch Rexroth to service and repair the full range of electrical components.
"The upgrade of our lathe demonstrates Tectra Automation's capability for cost effectively retrofitting old machining centre control systems with the latest tech­nology in CNC control. In addition, continuous overseas training of our staff demonstrates that we are committed to constantly improving on these capabilities," concludes Venter.
For more information contact Georg Venter, Tectra Automation, +27 (0)11 971 9400, georg.venter@tectra.co.za, www.tectra.co.za