printer friendly version
Extreme motors
1 May 2012 Electrical switching & drive systems & components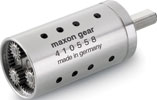 Deep drilling technology allows previously unreachable oil reserves to be opened up, with drilling depths of 5000 metres and drill lengths of up to 11 000 metres.
However, the requirements on the materials used are very high. The temperatures and pressures at these depths, combined with the strong vibrations that occur during the drilling procedure, present unique challenges to the use of electronic drives. Robust materials that remain 100% reliable at temperatures of up to 200°C are required. maxon motor's EC22 HD heavy duty motor fulfils all requirements for these extreme conditions.
The electronically commutated motor, which has been designed for the exceptionally high requirements of deep drilling, can withstand harsh conditions in which other motors would fail. The turbine in the drilling tool is driven by mud flow. Through the use of a magnetic coupling, motors become generators and supply the electrical energy for various drive functions, so no batteries are needed. With the aid of the EC22 HD, the position of the drill head can be measured and aligned dynamically during the drilling process by means of accelerometers and inclination sensors. maxon's MWD technology converts the data to pulses that are sent to the drill platform. This system is driven by electromagnets or HD motors. Diverse deep drilling tools also use hydraulic valves or flaps that are operated by electromechanical drives.
Many applications, especially in the field of deep drilling, require a robust gearhead that accurately fulfils the requirements. Most underground applications require very high torques, sometimes for only very short durations (valve control, moving flaps). A special property of the gearhead is the integrated drill holes that are necessary for an unhindered oil flow, because the gearhead, just like the motor, can be operated in oil. The different versions of the EC 22 are optimised either for operation in air or in oil.
The motors are constructed without adhesives and do not have a mechanical commutation system. This enables them to withstand extreme temperatures and also ensures constant performance under ultrahigh vacuum conditions. The power rating depends on the surrounding medium and amounts to 80 W in air and, due to the much larger heat dissipation, 240 W in oil. The motors have been designed for ambient temperatures of more than 200°C and atmospheric pressures of up to 1700 bar. If the motors are cooled with oil, they can even withstand temperatures up to 240°C. Other requirements on the motors, which have a diameter of 22 mm, are resistance against vibrations of up to 25 Grms, as well as against impacts of up to 100 times the gravitational acceleration of the earth. In comparison, Formula 1 race cars reach 2 G and fighter jets up to 13 G. A human can withstand about 10 G.
In addition to its very high resistance to the extreme ambient conditions at great depths, the maxon HD motors also have a very high efficiency, with up to 88% being reached in air and more than 70% in oil.
For more information contact Hans Burri, DNH Tradeserve, +27 (0)11 468 2722, hans.burri@dnhtrade.co.za, www.dnhtrade.co.za
Credit(s)
Further reading:
maxon is flying to the sun
First Quarter 2020, DNH Tradeserve , Editor's Choice
The European Space Agency (ESA) wants to study the sun up close. Next month the agency will be launching the Solar Orbiter space probe. Scientists hope that the mission will provide them with new insights 
...
Read more...
---
Integrated drive technology for optimised machine design
Second Quarter 2020, Beckhoff Automation , Editor's Choice, Electrical switching & drive systems & components
In this way, the power electronics are relocated to the machine, reducing space requirements in control cabinets to just a single coupling module. In addition, decentralised distribution modules and the 
...
Read more...
---
More intelligent drive systems
Second Quarter 2020, Siemens Digital Industries , Electrical switching & drive systems & components
Siemens has developed a concept study that demonstrates the integration of a Sinamics drive system to the Siemens Industrial Edge platform. In future, it will be possible to perform high frequency data 
...
Read more...
---
Meeting the needs of the mining industry
Second Quarter 2020, Varispeed (Div. of Hudaco Trading) , Electrical switching & drive systems & components
Both above and below ground, Varispeed keeps the interests of its customers top of mind, all the time. The company was recently approached by a platinum mine to assist with a robust application. Three 
...
Read more...
---
ZEST Weg to offer geared motors
Second Quarter 2020, Zest WEG Group Africa , Electrical switching & drive systems & components
A new range of WEG geared motors will soon be available to customers in South Africa and the rest of the continent from Zest WEG. The WEG WG20 range is a natural extension of the company's offering in 
...
Read more...
---
Decentralised electric drives from Festo
Second Quarter 2020, Festo , Electrical switching & drive systems & components
The Festo Simplified Motion electric drive series combines the simplicity of pneumatics with the advantages of electric automation to ensure that your machines are faster and better connected. It includes 
...
Read more...
---
Electrohydrostatic pump unit
Second Quarter 2020, MOOG , Electrical switching & drive systems & components
MOOG has launched a new generation electrohydrostatic pump Unit (EPU) that helps machine builders and end-users derive the combined benefits of both hydraulic and electric actuation. The EPU is at the 
...
Read more...
---
Gearmotors for electrified monorail system
Second Quarter 2020, SEW-Eurodrive , Editor's Choice, Electrical switching & drive systems & components
A leading systems integrator for the automotive industry has adapted a Maxolution electrified monorail system (EMS) and 23 HK Series gear units for overhead trolley systems from SEW-Eurodrive for a major 
...
Read more...
---
Electromechanical motion products for today's machines
Second Quarter 2020, Parker Hannifin - Sales Company South Africa , Electrical switching & drive systems & components
Stroke capacity
Among the fundamental questions to ask is: Does the actuator offer various stroke lengths as standard? A product using a ball or leadscrew drive is commonly restricted to stroke lengths 
...
Read more...
---
Save energy costs with VFDs
Second Quarter 2020, ElectroMechanica , Electrical switching & drive systems & components
Customers can realise significant savings on their total energy costs by replacing older motor starters with energy-efficient Delta variable frequency drives (VFDs), distributed locally by ElectroMechanica 
...
Read more...
---