printer friendly version
Upgraded grid couplings
Second Quarter 2020
Shaft power components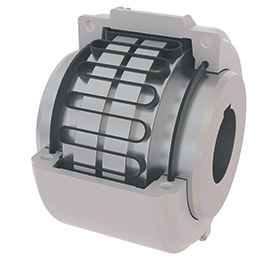 BMG has extended its range of power transmission components to include its recently upgraded Fenagrid Premium grid couplings. These taper grid steel flexible couplings accommodate angular, parallel and axial misalignment between driving and driven machines. They also absorb considerable torque overloads, achieving smoother running, with consequent reduction of wear and tear on machinery.
The hubs are manufactured from a high strength hardened alloy steel, to withstand extremely high torque loads. Another important feature is that all couplings are dimensionally compatible with other leading power transmission brands. This means couplings can be interchanged quickly, with a minimum loss of production time.
They have a trapezoidal cross-section and are tempered to spring hardness and through a shot-peening operation, the surface molecules are compressed by high-velocity steel micro-beads. The compression of molecules results in increased strength and flexibility, which means higher torque ratings and a longer L10 lifetime.
Fenagrid Premium grids have been designed to float, rock and pivot within the hub teeth. This provides generous capacity for misalignment, without producing detrimental axial loads on bearings that occur when couplings are misaligned.
These grids are also able to deflect torsionally when subjected to normal shock or vibratory loads. The taper grid system is a shock absorber for rotary motion, relying on the predictable resilience of the grid for torsional flexibility.
Due to their spring hardness and flexibility, the grids absorb impact by spreading the energy over time. They also dampen vibration and reduce peak or shock loads experienced by the entire mechanical system.
Credit(s)
Further reading:
Air operated diaphragm pumps
Bearing Man Group T/A BMG Electrical switching & drive systems & components
BMG's range of Ingersoll Rand ARO fluid management equipment comprises FDA-compliant air operated diaphragm pumps that provide solutions for the food and beverage sector, as well as in pharmaceutical 
...
Read more...
---
Bearing solution for demanding applications
Shaft power components
The latest bearing solution for arduous and demanding industries has been launched by Bearings International (BI). The new Rexnord RN series of metric bearings offers cutting edge design with unmatched 
...
Read more...
---
Power transmission components
Bearing Man Group T/A BMG Shaft power components
BMG's comprehensive range of Tsubaki encompasses pin gear drive units that replace conventional gear rack systems. Tsubaki standard series (steel) and the S series (stainless steel) pin gear drive units 
...
Read more...
---
Spherical roller bearings for continuous casting
Shaft power components
The bearings used in continuous casting machines have to endure arduous operating conditions that include high temperatures, heavy loads, ultra-low speeds, water/water vapour and scale. As a result, bearing 
...
Read more...
---
New B2C online shopping platform for engineering consumables
Bearing Man Group T/A BMG News & events
BMG's online shopping platform now encompasses a newly launched E-commerce service, designed especially for consumers, to boost their buying experience of engineering consumables.
Read more...
---
Energy from the power of the moon
SKF South Africa Editor's Choice Shaft power components
It is intended to help reduce climate-damaging CO
2
emissions, slow down global warming and thus build a more sustainable future for generations to come. With the help of modern technology from SKF, 
...
Read more...
---
Spindle screw pumps
Bearing Man Group T/A BMG Shaft power components
BMG supplies and supports the full range of SEIM spindle screw pumps, flow meters and in-line relief valves. "These robust pumps and related products – which are manufactured to stringent quality specifications 
...
Read more...
---
Complete solutions for the mining value chain
Shaft power components
Bearings International (BI) has products for the entire mining value chain, from the beginning of mining operations to their end of life. This encompasses all types of mining operations, from opencast 
...
Read more...
---
Common gear problems to look out for
Shaft power components
Like any mechanical element, gears are subject to wear and if this is not addressed, even failure. Callum Ford, national marketing manager at Lubrication Engineers (LE) South Africa, says that during 
...
Read more...
---
Components for submerged chain conveyors
Bearing Man Group T/A BMG Shaft power components
BMG's extensive power transmission range encompasses HEKO conveyor components, including round link chains which have been designed for dependable use in many harsh environments. "High wear-resistant 
...
Read more...
---