printer friendly version
Thousands of robots swarm together
Second Quarter 2020 Editor's Choice Robotics & Mechatronics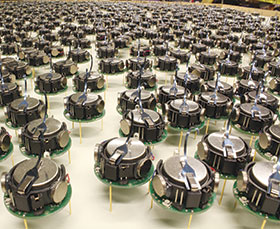 Each low-cost, three-legged robot moves around with the help of two motors that vibrate at different frequencies, causing it to move across a surface on its rigid legs.
It communicates with its neighbours, measuring their proximity through infrared transmitters and receivers. After being programmed to form a set shape such as the letter K or a starfish, each one in turn navigates its way to a final position using primitive behaviours – following the edge of a group, tracking a distance from the origin or maintaining a sense of relative location. If a traffic jam forms, nearby robots sense it and cooperate to fix the problem.
"Each robot is identical and is controlled by exactly the same program," explains Dr Michael Rubenstein from the Harvard University School of Engineering and Applied Sciences. "The only thing they have to go on to make decisions is what their neighbours are doing." The robots are much simpler than many conventional robots, for example individuals may have trouble moving in a straight line; but at full scale the smart algorithm controlling them overcomes individual limitations and the robots can complete a human-specified task – like assembling into a particular shape.
Infrared control
Although the Kilobots can communicate with their neighbours, they have no sense of a broader environment. Four robots mark out the origin of a coordinate system while the remaining robots receive a 2D image of the shape. The initial set of instructions is beamed to the robots via infrared, after which they work autonomously, requiring no further human intervention. Starting with a random selection, if they are in a position to move they motor slowly around, flashing their infrared lights to broadcast information to other Kilobots nearby. They then assemble into the specified shape.
Inspiration from nature
The self-organising behaviour was inspired by the cooperative activities of insects like army ants. The Harvard team aims to provide a physical model for advancing the understanding of collective behaviour, creating artificial swarms with the capabilities of natural ones. The Kilobot demonstrates how simple machines performing simple behaviours can create complexity in a group and that robots can be programmed to perform useful functions by coordinating interactions among many individuals. "The beauty of biological systems is that they are elegantly simple yet in large numbers accomplish the seemingly impossible. At some level you no longer even see the individuals, you just see the collective as an entity in itself," says research leader Radhika Nagpal, professor of computer science at the Harvard School of Engineering and Applied Sciences.
Practical testing of advanced algorithms
Although there is a large amount of research on algorithms and control methods for groups of decentralised, cooperating robots, they are generally validated by simulation only. The Kilobot goes well beyond the state-of-the-art in robotics by allowing the practical testing of advanced algorithms on a large scale through the use of cheap materials and simple programming. "Performing complex behaviours with as little hardware as possible to keep costs down encompasses the spirit of Kilobots," says Rubenstein.
An important milestone
The technology is being heralded as an important milestone in the development of collective artificial intelligence. "Increasingly we're going to see large numbers of robots working together to solve problems," adds Nagpal. The researchers believe that robot swarms might one day tunnel through rubble to find survivors, remove contaminants from the environment, assist dwindling bee populations in pollinating crops and self-assemble to form support structures in collapsed buildings. Success in getting so many robots to self-organise could be a significant milestone in the development of nanotechnology and a collective artificial intelligence, according to the researchers. The next stage is to refine the intelligence and develop smaller robots capable of the same tasks, eventually aiming for the nano scale.
For more information visit http://tinyurl.com/k96uqb4
Further reading:
A very smart material
Second Quarter 2021 , Editor's Choice, Electrical switching & drive systems & components
Shape memory materials (SMMs) are strong, lightweight materials that have the ability to recover their original shape after being deformed if a stimulus is applied. They can be programmed to remember 
...
Read more...
---
The benefits of collaborative robots
Second Quarter 2021, SMC Corporation South Africa , Editor's Choice, Robotics & Mechatronics
While robotics led the way for the rapid growth of automation, cobots are the democratisation of robotics technology. They eliminate the cost and complex programming that robots usually require while providing much greater flexibility.
Read more...
---
Fast, safe transport on the factory floor
Second Quarter 2021, Omron Electronics , Editor's Choice
The Philips site in Klagenfurt produces over 23 million linear cutting elements for hair and beard trimmers each year. These beard trimmers use lift-and-trim technology: the beard hair is first lifted 
...
Read more...
---
SKF bearings help Mars Rover collect rock
Second Quarter 2021, SKF South Africa , Editor's Choice, Shaft power components
Enabling the Mars Rover's core operations in the harsh environment on Mars are Kaydon RealiSlim thin-section ball bearings, designed and manufactured by SKF at the company's global thin-section bearing 
...
Read more...
---
Hacking for a difference
Second Quarter 2021, RS Components SA , Editor's Choice, News & events
The annual Geekulcha Hackathon recently saw more than 100 coders, developers and programmers challenge each other in an online contest.The event has become a highlight in the African developer world. 
...
Read more...
---
Energy efficiency in the chemical industry
Second Quarter 2021, Danfoss , Editor's Choice
Danfoss has widespread experience and expertise in refrigeration and in controlling the speed of AC motors in all main chemicals sectors: petrochemicals, basic inorganics, polymers, specialty and 
...
Read more...
---
Mars helicopter makes history
Second Quarter 2021, DNH Tradeserve , Editor's Choice
This is the first time in the history of powered, unmanned spaceflight that a device has flown in a controlled manner on another planet – with the help of DC motors from maxon motor. The helicopter flew 
...
Read more...
---
Land Cruiser wet brakes for mining
First Quarter 2021, Axiom Hydraulics , Editor's Choice, Hydraulic systems & components
Unfortunately, the vehicle's OEM brakes are not built for mining; they compromise safety while suffering frequent and expensive maintenance. Simply put, the brakes were never designed for use in the highly 
...
Read more...
---
PC-based control technology for next-generation telescope
First Quarter 2021, Beckhoff Automation , Editor's Choice, Electrical switching & drive systems & components
Key factors were the advantages of EtherCAT for site-wide real-time communication connecting all telescope functions. Various embedded PCs and AM8000 servomotors were also tested and specified, among 
...
Read more...
---
Surfing back to Earth
First Quarter 2021, Horne Technologies , Editor's Choice, Electrical switching & drive systems & components
How did life actually form on Earth? Even today this question still has not been definitively answered. There are, however, signs that asteroids or comets played an important role. In the search for additional 
...
Read more...
---