printer friendly version
New features from Nexia
Second Quarter 2020
Smart Home Automation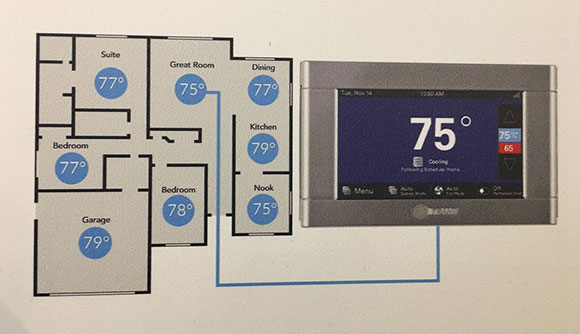 Smart home technology leader Nexia has announced breakthrough feature and product innovations – RoomIQ and Trane XL724. Nexia, the smart home system that gives those with active lifestyles a better way to do everyday tasks and spend more time enjoying life, showcased these innovations at the Z-Wave Experience House. RoomIQ, a feature for Trane and American Standard HVAC comfort systems, uses the Nexia-enabled thermostat and Nexia smart home triggers to customise the heating and cooling experience.
RoomIQ goes beyond scheduling and adapts the comfort control to occupied rooms. It customises comfort levels using cues from the Nexia system – motion detection, flip of light switches or any trigger the user chooses – to determine when a room is occupied and then ensures the comfort in those rooms takes priority over unoccupied rooms. RoomIQ will work simultaneously with Trane's new ZSENS930 wireless temperature sensor. Small enough to fit in the palm of a hand, this sensor reports the temperature and humidity data that lets RoomIQ determine what temperature set-point meets the needs at that moment. When used in conjunction with the RoomIQ feature, the HVAC system can average temperatures between selected rooms to help the system reach ideal comfort conditions. For example, during the day a home may be controlled based on comfort in the common areas downstairs, and at night control the comfort of the bedrooms upstairs. These low-cost wireless sensors are Z-Wave compatible and designed to be paired with Trane's existing line of thermostats and HVAC systems. Users can conveniently configure and control their ideal comfort conditions with their iOS or Android smartphone via the Nexia app.
The Trane XL724 is a programmable, touchscreen thermostat with Wi-Fi connectivity that can remotely control a home's temperature to help suit the user's lifestyle and reduce energy consumption. The thermostat can be easily controlled from a smartphone, tablet or computer and is fully compatible with Nexia Diagnostics for remote monitoring by licensed HVAC professionals. It also allows users basic control of their home's heating and cooling by creating up to four different schedules within a day and advanced control via the power of Nexia's geofencing feature.
For more information visit www.nexiahome.com
Further reading:
Protecting you and your home with IoT
25 November 2020 , Smart Home Automation, Smart Home Automation
IoT technology gives people the power to keep a watchful eye on what is important to them, whether they are 200 metres or 200 kilometres away.
Read more...
---