printer friendly version
Versatile energy saving drives
1 August 2020 Editor's Choice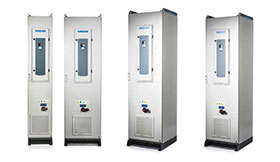 BMG's Vacon 100 AC drives have been designed to save energy, optimise process control and improve productivity in many sectors, including processing, mining and minerals, industrial HVAC, marine and water, as well as chemical, oil and gas industries. They are suitable for a wide range of variable torque and constant power/torque applications, such as pumps, fans, compressors and conveyors.
All drives are equipped with integrated Ethernet, which means there is no need for additional interface cards to communicate with process automation. Integrated Ethernet also provides access for commissioning and maintenance through the Vacon Live configuration tool and makes local or remote monitoring, configuring and troubleshooting possible.
The drives use electrolyte-free DC link technology that extends the life of the system. Because there is no need to replace electrolytic capacitors – which wear over time – interruptions and maintenance costs are minimised. They have integrated smart features and a wide range of constant power/torque applications. The user friendly system is easy to integrate into all major control systems and is quickly adaptable to different plant automation requirements and retrofit situations.
All Vacon 100 AC drives have a user-friendly keypad that allows for fast setup and installation, easy commissioning and trouble-free operation. Vacon Programming software tools enable OEMs to achieve a high level of machine performance.
Safety features include the Safe Torque Off (STO) facility that prevents the AC drive from generating torque on the motor shaft and prevents unintentional start-ups. Safe Stop 1(SS1) initiates motor deceleration and starts the STO function after an application-specific time delay. The optional integrated STO and SS1 safety options have several advantages over standard safety technology using electromechanical switchgears. For example, separate components and laborious wiring are no longer necessary and there is no compromise on safety.
An optional ATEX-certified integrated thermistor input has been designed for temperature control of motors used in areas where potentially explosive gas, vapour, mist or air-mixtures are present, or where there is combustible dust. If overheating is detected, the drive immediately stops feeding energy to the motor. As no external components are necessary, cabling is minimised, improving reliability, reducing space requirements and optimising costs.
Another notable feature is Vacon Save – a savings calculator for pump, fan and compressor applications, which is used to estimate costs and energy savings. An energy counter and real-time clock enable easy monitoring of energy savings and optimised control of the cooling fan. They also reduce the noise levels of the system.
Vacon 100 compact wall-mounted drives have all necessary components integrated in a single drive and are available in IP21/UL Type 1 or IP54/UL Type 12, available at 230 V, 500 V and 690 V. Integrated features include a DC choke, EMC filters and a brake chopper standard in frames MR4 to MR6. Benefits include reduced installation space, cost-efficiency and greater reliability in harsh environments.
Vacon 100 IP00 drive modules are designed for installation into any enclosure. These modules offer improved reliability by separating the main cooling air flow from the rest of the drive electronics. Other features include integrated components and a wide power range, using only four frames.
Compact Vacon 100 enclosed drives are available from 75 to 630 kW at 380–500 V and 75 to 800 kW at 525–690 V and can be installed in pumps or conveyors used in the most demanding conditions. The air cooling channel provides dependable thermal handling of the enclosure, also extending service life of the drive. Approved EMC solutions ensure reliable operation of the drive, without disturbing other electrical equipment.
Vacon 100 enclosed drives are configurable with power, control and enclosure options to meet the specific needs of every application. Output filter options, input disconnect and brake choppers are integrated into the cabinet solution, eliminating the need for additional equipment outside of the enclosure. Power options, such as output filters are integrated into the air-cooling solution and provide a thermally approved cabinet design.
Other notable features of enclosed drives include a system that is configured to exact requirements, a door-mounted control compartment separate from the main drive and a dedicated area for signal lights and control switches. For user convenience, all components are accessible from the front of the enclosure. Benefits include quick installation, faster commissioning and easy serviceability, as well as safe accessibility to controls.
Credit(s)
Further reading:
The top three reasons cylinders fail
Parker Hannifin - Sales Company South Africa Editor's Choice
Cylinder operation requires precise fluid pressure on both sides of the piston. If a seal breaks down and allows fluid to leak from one side of the piston to the other or out of the cylinder altogether, 
...
Read more...
---
Rugged, reliable electro-hydraulics
Axiom Hydraulics Editor's Choice
From simple switching valves to sophisticated closed-loop control, Sun's line of E-H products powers your most demanding applications.
Read more...
---
What you should know about air preparation
Editor's Choice
Compressed air quality has three potential problem areas to consider: particles, water and oil.   
• Dust and other airborne particles: The compressed air leaving the compressor room, which has already 
...
Read more...
---
Air operated diaphragm pumps
Bearing Man Group T/A BMG Electrical switching & drive systems & components
BMG's range of Ingersoll Rand ARO fluid management equipment comprises FDA-compliant air operated diaphragm pumps that provide solutions for the food and beverage sector, as well as in pharmaceutical 
...
Read more...
---
Superconductivity for aircraft
Editor's Choice Other technologies
In 1911, Dutch physicist Heike Kamerlingh Onnes found himself preoccupied with one question: what happens to the electrical conductivity of pure metals at very low temperatures? During an experiment, 
...
Read more...
---
Yaskawa steps into the future
Editor's Choice Robotics & Mechatronics
Crackett says that Yaskawa Southern Africa has installed more than 2500 Motoman robots. The company's main target market is automotive, having cut its teeth here when Terry Rosenberg first started up 
...
Read more...
---
Power transmission components
Bearing Man Group T/A BMG Shaft power components
BMG's comprehensive range of Tsubaki encompasses pin gear drive units that replace conventional gear rack systems. Tsubaki standard series (steel) and the S series (stainless steel) pin gear drive units 
...
Read more...
---
Cool move for rotor hubs
Editor's Choice Electrical switching & drive systems & components
At the company's new Mechatronic Competence centre, machine houses and rotor hubs are produced for the entire Enercon range of products. After painting, the large volume cast bodies of the rotor 
...
Read more...
---
How to embrace the benefits of smart pneumatics
Emerson Automation Solutions Editor's Choice Pneumatic systems & components
Understand how this challenge creates opportunities
It is important to consider how insights from data can help end-users react to real-time events or even predict the future. For example, the Emerson 
...
Read more...
---
PC-based control runs the stage machinery for Rigoletto
Beckhoff Automation Editor's Choice Electrical switching & drive systems & components
In the production, the court jester Rigoletto becomes a clown. Only the head, encircled by a wide collar, and the hands of the gigantic clown protrude from the lake. Eventually the clown becomes the victim 
...
Read more...
---