printer friendly version
Critical support for essential service providers
1 August 2020 Editor's Choice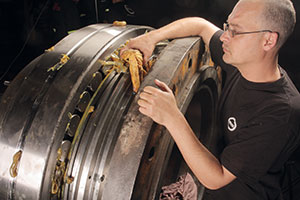 BMG has been authorised to provide engineering components and support services to businesses approved as essential service providers, during the country's COVID-19 lockdown period.
"As a customer-driven business, the BMG team remains committed to making sure industry is able to continue operating as efficiently and as safely as possible during this difficult time. We are pleased to have been given permission from the Companies and Intellectual Property Commission (CIPC) to provide crucial engineering components and support, ensuring continuous operation of services throughout the country," explains Darryn Wright, group marketing executive for Engineering Solutions Group (ESG), part of Invicta Holdings. "We are determined to keep the wheels of industry turning and to help the people of our country by providing critical engineering components.
The team is on hand to assist essential service customers in many sectors, including food and beverage plants, water and waste water treatment facilities, coal mines and petrochemical plants. It also works closely with service providers to power generation and pharmaceutical plants, as well as in agriculture, ports, rail and road facilities.
BMG's distribution centre in Droste Park, Johannesburg, is fully stocked to help and support customers around the country and into Africa for essential equipment and components. "Our brave and committed technical support and field service teams are also on hand to assist our essential service customers in any way we can," he concludes.
Further reading:
The top three reasons cylinders fail
Parker Hannifin - Sales Company South Africa Editor's Choice
Cylinder operation requires precise fluid pressure on both sides of the piston. If a seal breaks down and allows fluid to leak from one side of the piston to the other or out of the cylinder altogether, 
...
Read more...
---
Rugged, reliable electro-hydraulics
Axiom Hydraulics Editor's Choice
From simple switching valves to sophisticated closed-loop control, Sun's line of E-H products powers your most demanding applications.
Read more...
---
What you should know about air preparation
Editor's Choice
Compressed air quality has three potential problem areas to consider: particles, water and oil.   
• Dust and other airborne particles: The compressed air leaving the compressor room, which has already 
...
Read more...
---
Superconductivity for aircraft
Editor's Choice Other technologies
In 1911, Dutch physicist Heike Kamerlingh Onnes found himself preoccupied with one question: what happens to the electrical conductivity of pure metals at very low temperatures? During an experiment, 
...
Read more...
---
Yaskawa steps into the future
Editor's Choice Robotics & Mechatronics
Crackett says that Yaskawa Southern Africa has installed more than 2500 Motoman robots. The company's main target market is automotive, having cut its teeth here when Terry Rosenberg first started up 
...
Read more...
---
Cool move for rotor hubs
Editor's Choice Electrical switching & drive systems & components
At the company's new Mechatronic Competence centre, machine houses and rotor hubs are produced for the entire Enercon range of products. After painting, the large volume cast bodies of the rotor 
...
Read more...
---
How to embrace the benefits of smart pneumatics
Emerson Automation Solutions Editor's Choice Pneumatic systems & components
Understand how this challenge creates opportunities
It is important to consider how insights from data can help end-users react to real-time events or even predict the future. For example, the Emerson 
...
Read more...
---
PC-based control runs the stage machinery for Rigoletto
Beckhoff Automation Editor's Choice Electrical switching & drive systems & components
In the production, the court jester Rigoletto becomes a clown. Only the head, encircled by a wide collar, and the hands of the gigantic clown protrude from the lake. Eventually the clown becomes the victim 
...
Read more...
---
Robotics and the potential for the lights-out factory
Omron Electronics Editor's Choice Other technologies
However the 100% automated, fully lights-out factory is not a realistic goal for a large proportion of manufacturing businesses currently operating. A key reason is that manufacturing needs people. Human 
...
Read more...
---
Energy from the power of the moon
SKF South Africa Editor's Choice Shaft power components
It is intended to help reduce climate-damaging CO
2
emissions, slow down global warming and thus build a more sustainable future for generations to come. With the help of modern technology from SKF, 
...
Read more...
---