printer friendly version
Lubricant and feed gear pumps
Fourth Quarter 2020
Electrical switching & drive systems & components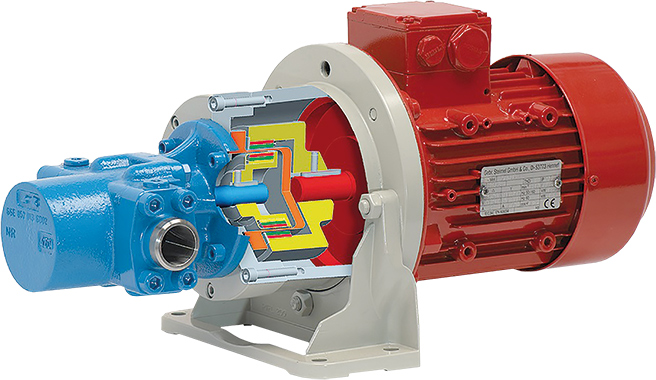 BMG's range of Steimel lubricant and feed gear pumps – the SF series – are used mainly on oil lube systems in mines, steel works, power stations and general industry.
"SF heavy duty pumps, which offer pulsation-free pumping delivery, are designed to pump any grade of lube oil, including high viscosity oils. These pumps are particularly suitable for transporting media with minimal lubricity, which is chemically compatible and does not contain solids," says national product manager, Joe Pinheiro. "SF gear pumps are used as circulation pumps in oil lube systems, kidney systems and for transferring of oils.
"This range, which has gained popularity throughout Africa, is available in Zambia from BMG's Kitwe and Lusaka branches. The BMG team works closely with clients to provide a technical advisory and support service for the oil lube systems on mills operating in Zambia, that were designed, built and supplied by BMG (originally by OMSA, which was acquired by BMG about seven years ago).
"These compact pumps are easy to disassemble and assemble. The standard design is supplied with a clockwise rotation, which is easily altered to anti-clockwise, by rotating the end cover plate by 180˚. The direction of delivery flow will change at the same time. An optional feature is an adjustable pressure relief valve built into the housing, for short term protection against pressure spikes.
Optimum integration, with minimal tolerances of the pinions and gear wheels results in quiet, smooth running. The use of gear wheels with 12 teeth reduces delivery flow pulsation and minimises noise during operation. Shaft journals are mounted in composite bearing bushes which ensures continuous duty and extended service life. All pumps sizes can be equipped with an anti-friction bearing at the driving end, to accommodate radial and axial forces.
Standard pumps have a maximum rotational speed of 1800 rpm for a maximum viscosity up to 380 cst and a differential pressure up to 25 bar. The maximum permissible rotational speed depends on the viscosity or lubricity of the medium.
The higher the oil viscosity, the lower the speed. These pumps can handle media with a viscosity range from 5 to 50 000 cst and can withstand a temperature range between -40 and 250˚C.
Also in the Steimel range are SF ATEX gear pumps, which provide a high degree of safety in potentially explosive environments.
Type SF M feed pumps, with a magnetic coupling, are hermetically sealed and can operate safely in applications at elevated temperatures and withstand media that this difficult to seal.
BMG also supplies the Steimel feed pump T series on request. These rotary gear pumps, which are designed to transport almost all media, can be used to maximum rotational speeds of 1500 rpm, at pressures up to 16 bar.
Steimel Model B lubricant and feed pumps are designed to efficiently handle highly fluid media, like waste oils, greases, hardening and hydraulic oils, resins, lubricating greases and oils, as well as turbine and thermal oils. These pumps have a permissible excess pressure up to 50 bar, a viscosity range up to 5000 cP and a displacement from 2 to 75 cm3/rotation.
BMG offers a technical advisory service to ensure selection of the most suitable pump size for every specific application. The company supports this range with a spares facility and 24 hour maintenance service through more than 100 BMG branches and a wide distribution network in South Africa and across borders into Zambia, DRC, Swaziland, Botswana, Mozambique, Namibia and Tanzania.
Credit(s)
Further reading:
Air operated diaphragm pumps
Bearing Man Group T/A BMG Electrical switching & drive systems & components
BMG's range of Ingersoll Rand ARO fluid management equipment comprises FDA-compliant air operated diaphragm pumps that provide solutions for the food and beverage sector, as well as in pharmaceutical 
...
Read more...
---
Conditioning monitoring with intelligent drives
Danfoss Electrical switching & drive systems & components
Industry 4.0 refers to the combination of physical assets and advanced digital technologies that communicate, analyse and act upon information. This in turn enables organisations and consumers to be flexible 
...
Read more...
---
Passenger trains with traction motors
Electrical switching & drive systems & components
It is important that commuter trains waste as little time as possible when leaving platforms, not only to save passengers time when travelling from station to station, but also to allow for trains to 
...
Read more...
---
Africa is ripe for investment
Electrical switching & drive systems & components
The South African Department of Trade and Industry recently met with SEW-EURODRIVE to discuss its R200 million investment into the country at the organisation's new headquarters in Aeroton, Johannesburg. 
...
Read more...
---
Quick and easy simulation of drives
Siemens Digital Industries Electrical switching & drive systems & components
The new Sinamics DriveSim Basic software solution from Siemens allows drive constellations and their behaviour in machines and plants to be simulated, adapted and optimised. With the new solution, Siemens 
...
Read more...
---
Total drive solutions
Electrical switching & drive systems & components
Hudaco Power Transmissions, formerly Bauer Geared Motors South Africa, delivers total drive solutions to customers across the southern African region. The company has southern Africa distributor agreements 
...
Read more...
---
Faster and more flexible digital printing
Beckhoff Automation Electrical switching & drive systems & components
In just a few years Danish machine builder, Refine Finishing, has created a secure position among the world's leading suppliers of machines that convert digitally printed labels. Equipped with PC-based 
...
Read more...
---
Power transmission components
Bearing Man Group T/A BMG Shaft power components
BMG's comprehensive range of Tsubaki encompasses pin gear drive units that replace conventional gear rack systems. Tsubaki standard series (steel) and the S series (stainless steel) pin gear drive units 
...
Read more...
---
Tailoring the motor to the application through coil selection
Electrical switching & drive systems & components
During the selection of a miniature DC motor, the design engineer will consider the dimensions needed to fit the desired space as well as the working point (the torque and speed at which the motor is 
...
Read more...
---
Powerful and extremely miniaturised
Horne Technologies Electrical switching & drive systems & components
With the new MC3001 motion controllers, available as MC 3001 B (board-to-board connectors) or MC3001P (28-pin plug connector), Faulhaber rounds out the MC V3.0 generation of controllers at the lower end 
...
Read more...
---