printer friendly version
Extending wind turbine service life
Fourth Quarter 2020
Electrical switching & drive systems & components
Operating wind turbines successfully over the longer term is a significant challenge. During the next five years, more than one third of turbines in Germany, Denmark and Spain will reach the end of their intended service lives. Solutions capable of optimising wind turbines and prolonging their useful life – like the retrofit for pitch control systems, complete with rotor blade condition monitoring, co-developed by the companies fos4X and aerodyn – are an important way forward. End-of-life solutions are helping to extend wind turbine service life while significantly increasing overall energy yields. This can also boost the financial appeal of wind power projects as well as bring down energy generation costs.
One way to prolong service life beyond the design life is to reduce the load on the main components. For instance, a 10% reduction in damage-equivalent load at the rotor blade root results in a 50% longer service life. Comprehensive load monitoring allows wind farm operators to monitor the impact of discrete events on rotor blade service life. The same indicators can serve as metrics for understanding differences in behaviour between individual turbines on the same wind farm, enabling operators to identify wake effects (caused by wake currents in slipstreams) in turbines with higher levels of fatigue, as well as damage caused by fluctuations in the rotor blade's natural frequencies, and yaw and pitch errors due to uneven rotor loading.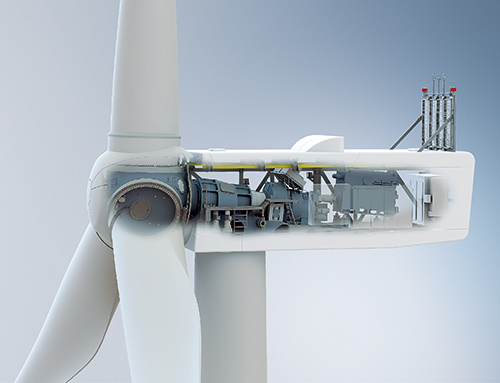 Image copyright fos4X, Germany.
The focus of these solutions is on rotor blade sensors and data analytics. The wind turbines are fitted with fos4X's field-proven sensor system, which is installed inside the rotor blades to protect it from environmental impacts. The sensors reliably deliver valuable data over the entire turbine service life. The solution is calibrated autonomously using algorithms developed by fos4X. Much like a digital twin, the fos4X system produces high quality real-time data needed in subsequent processing. This is used to adjust each rotor blade's angle of attack in a specially developed approach known as individual pitch control. fos4X can also detect yaw and pitch errors from the load data captured. Correcting these errors leads to a higher energy yield and reduced wear. The solution can also monitor the condition of blades to identify damage or ice build-up. It is the first in the world to monitor rotor blades comprehensively, while at the same time delivering important data for use in digital twins and predictive maintenance.
A variety of data must be captured to implement pitch control. This includes forces acting on the wind turbine. To accomplish this, fos4X installs sensors inside the turbine blades – a process that takes just a day to complete. The purpose-designed algorithm in the retrofit system allows each rotor blade to respond individually in real time to load fluctuations and to compensate for loads as they arise. This can substantially reduce the effective load borne, which reduces wear on the various turbine components.
For access to the wind turbine's control system, communication is critical. This is where Beckhoff comes in as a strategic partner – and the openness of PC-based control plays a central role. Wind generating facilities typically use a heterogeneous mix of components from different vendors, and integration with the equipment already deployed is key. As an open platform that supports all common fieldbus standards, including EtherCAT, CANopen, Profibus and Profinet, PC-based control enables simple and flexible integration with any solution. The combination of modular hardware with the high speed communication capabilities and flexible topology of EtherCAT makes the system perfectly adaptable to the requirements.
The solution from fos4X operates as an EtherCAT slave, so it is exceptionally simple to incorporate into a PC-based control system. However, it can integrate just as easily with any other controller, making it suitable both for retrofits to existing turbines and for installation in new turbine systems. If required, the system can also be expanded on a modular basis using Beckhoff EtherCAT terminals to capture strain, vibration and temperature information, for instance.
The controller developed by aerodyn is implemented as a TwinCAT TcCOM module, which means it will work on any embedded or control cabinet PC running TwinCAT 3 software. TwinCAT also makes connecting fos4X sensors simple. Plus, by adding TwinCAT 3 functions for OPC UA, IoT and database connectivity, integration with existing scada systems can be accomplished with little effort.
For more information contact Dane Potter, Beckhoff Automation, +27 79 493 2288, danep@beckhoff.com, www.beckhoff.co.za
Credit(s)
Further reading:
A very smart material
Second Quarter 2021 , Editor's Choice, Electrical switching & drive systems & components
Shape memory materials (SMMs) are strong, lightweight materials that have the ability to recover their original shape after being deformed if a stimulus is applied. They can be programmed to remember 
...
Read more...
---
Siemens controls for vaccine production
Second Quarter 2021, Siemens Digital Industries , Electrical switching & drive systems & components
The biotechnology company, BioNTech, converted an existing facility in Marburg, Germany for the production of the Covid-19 vaccine in a record time with assistance from Siemens. Through collaboration 
...
Read more...
---
Control automation excellence
Second Quarter 2021 , Electrical switching & drive systems & components
SEW-EURODRIVE's MOVI-C® is a unique automation control system that sets a new benchmark in control automation, embracing Industry 4.0 technology. Part of the company's innovative Generation C advanced 
...
Read more...
---
Taking soft-starters to the next level
Second Quarter 2021, Zest WEG Group Africa , Electrical switching & drive systems & components
The new WEG SSW900 soft-starters are the ideal choice for complete motor control and protection. These units allow quick and simple access to application information and configuration settings in any 
...
Read more...
---
Product-specific packaging with PC-based control
Second Quarter 2021, Beckhoff Automation , Electrical switching & drive systems & components
Kern in Konolfingen, Switzerland, is a family business founded more than 70 years ago and originally rose to success with enveloping machines. However, the market for enveloping machines is declining. 
...
Read more...
---
Total drive solution for iron ore project
Second Quarter 2021 , Electrical switching & drive systems & components
Bauer Geared Motors recently delivered a total drive solution including five large-sized 750 kW industrial gearboxes and two 185 kW units for the Tippler upgrade project at the Saldanha Iron Ore Export 
...
Read more...
---
Flameproof switchgear
Second Quarter 2021, Becker Mining South Africa , Electrical switching & drive systems & components
Becker Mining South Africa's Energy Distribution division manufactures customised switchgear, designed for the efficient distribution of electrical power, energy co-generation, rectification and traction.  
...
Read more...
---
Power transmission solutions in the mining sector
Second Quarter 2021, Bearing Man Group T/A BMG , Electrical switching & drive systems & components
BMG's range of Tsubaki back stop cam clutches, which is suitable for high or low speed applications, meets the requirements of current mining legislation and has many critical features not found in conventional 
...
Read more...
---
High efficiency motors and drives can combat climate change
Second Quarter 2021 , Electrical switching & drive systems & components
According to the International Energy Agency (IEA), industry accounts for 37% of global energy use and some 30% of global energy is consumed in buildings. While mostly hidden from public view, electric 
...
Read more...
---
New motors for servo drive system
Second Quarter 2021, Siemens Digital Industries , Electrical switching & drive systems & components
Siemens is adding new servo motors to its Sinamics S210 single cable servo drive system. Designed for use in the pharmaceutical and food industries, the Simotics S-1FS2 is a motor version with a stainless 
...
Read more...
---