printer friendly version
Never say no to a challenge
Fourth Quarter 2020
Electrical switching & drive systems & components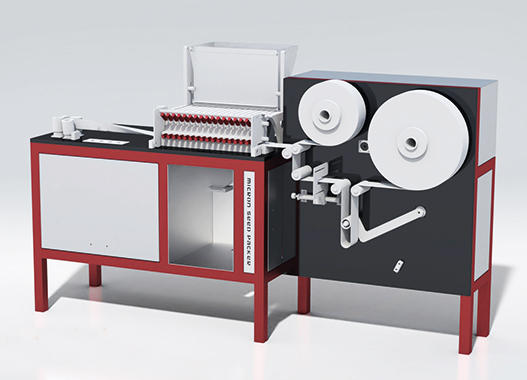 Packing seed in packets with precision and accuracy has many challenges. These include speed, accuracy and the variable size of the seed. Micron Milling reached out to Omron South Africa to assist with a new project. It required the latest automation technology and state-of-the-art control systems, pushing the limits to make it work. Supplying insufficient or over-seed packets was a quality problem that was eating into the profitability of the company. Badly cut seed packs would leak, and seeds drop out. Cosmetically the packs looked like a poor quality product - something that the company wanted to avoid.
The project was the first of its kind in the world. The machine had to be able to pack almost any width, height and seed count in small packets of various sizes, and close the packet into a neat, flat envelope containing the seeds ready for distribution and planting. Counting the seeds accurately before dispensing them in the packs at high speed was one of the major challenges. This was overcome by using Omron's fibre heads and amplifiers.
To add to the challenge, the Micron Seed Packer needed to pack 350 000 seed packs per day to meet demand − 15 packets per second. The only way to achieve this was to prepare the packets inline, fill them in a continuous film, and then cut the film at pre-printed markers. The seed packs had to be precisely cut at the exact mark required, even when the machine speed changed. This required pre-printed film that varied in colour and size. "We used Omron's motion technology to achieve the desired speed and accuracy for the cutting of the seed packs, using a rotary knife timed to make a perfect and accurate cut, " explained Omron product manager, Evert Janse van Vuuren.
Without the Sysmac Automation platform this project was not possible. To count the seed into 15 packets per second demanded the 1 ms communication speed of the Sysmac system. The 1 ms response of the super high-speed EtherCAT communication, coupled with the E3NW EtherCAT fibre communications unit, allowed Micron Milling to detect and count seed of smaller than 250 microns at 750 seeds per second, with 16 fibre amplifiers and 32 amplifier heads running simultaneously. The 1S servos, in turn, allowed it to have precise position tracking cutting with direct feedback from the accurate IO-Link E35S mark sensor.
The unique instantaneous switching from position to torque feedback mode on the 1S servo made cutting of the film possible. Different size packets have different size seeds, and it was necessary to change the packet width in real time from packet to packet. That meant tracking the marker in real time and in turn calculating the cutting position. The cutting position was updated every 2 ms to allow the machine to cut with a 2 mm accuracy.
Sysmac Automation Technology made the project work. With South Africa going into lockdown in March, Micron Milling only had four weeks to manufacture the machine. The pressure was on, and 2 am mornings in the workshop were commonplace. "The 1S simplistic servo calibration made everything super-fast − wiring the 1S servos, controllers and touchscreen, the automatic detection of the complete network and all drives and controllers on a single platform," said Etienne van Wyk, design engineer at Micron Milling.
EtherCAT had an advantage over other protocols as it was much simpler to use. A 1 ms response was required for the project, and EtherCAT made that possible. Fault finding was also much easier. The wide beam fibre sensors were mounted in a special mounting block system where the seeds passed through a 10  x 10 mm gap and fell through the fibre beam. The fibre amplifier measured the reduction in light received. Using a simple calculation, the size of the seed could be determined and counted.
"The accuracy and high speed counting of seeds on this scale is something I have never seen before. I do not believe this would have been possible three to four years ago. We can update cutting position every 2 ms, even if the sensor misses the mark. This is not possible with normal servo motors. Zero waste means no wasted product for the end user. The key criterion on which Micron Milling judged the success of this project was plain and simple: perfection. We achieved our goal," concluded van Wyk.
Credit(s)
Further reading:
Compact marine clutch
First Quarter 2021 , Electrical switching & drive systems & components
Stromag has launched the newly designed KMS CC. With the ability to accommodate larger shafts despite its reduced size and weight, it provides a distinct advantage for condensing and optimising the propulsion 
...
Read more...
---
Streamlined food deliveries
First Quarter 2021, Omron Electronics , Robotics & Mechatronics
It's part of a larger experiment called the Six City Strategy 'New solutions in city logistics' project, which is looking at possible options for last mile deliveries in Finnish cities. It's looking for 
...
Read more...
---
Automated cake cutting
First Quarter 2021, Tectra Automation , Electrical switching & drive systems & components
Tectra Automation has engineered a unique automated cake cutting system for Brenell Quality Desserts in Pietermaritzburg. The company was looking for an automated solution that would be more productive, 
...
Read more...
---
Higher range synchronous servo motors
Fourth Quarter 2020 , Electrical switching & drive systems & components
With twelve new variants of the synchronous servo motor MS2N, Bosch Rexroth is expanding the performance range of the engine series at the high end. With up to 692 Nm, the maximum torque is almost doubled. 
...
Read more...
---
Addressing the new normal in food manufacturing
Fourth Quarter 2020, Omron Electronics , Other technologies
Food and beverage companies can now set the course for the time after Covid-19 using automation to boost competitiveness and productivity. Manufacturers should focus their resources on four market driven perspectives: workforce, product quality, flexibility and sustainability.
Read more...
---
New generation compact vector control drive
Fourth Quarter 2020 , Electrical switching & drive systems & components
The Delta ME300 series from ElectroMechanica (EM) is a new generation compact vector control drive that has up to 60% volume reduction compared to previous Delta VFD-EL drives. This provides more installation 
...
Read more...
---
PC-based control technology for next-generation telescope
Fourth Quarter 2020, Beckhoff Automation , Electrical switching & drive systems & components
The Giant Magellan Telescope (GMT) is a project of superlatives. After a long planning and construction period, the next-generation telescope is expected to go live in 2029. With seven mirrors and a combined 
...
Read more...
---
Siemens industrialises additive manufacturing
Fourth Quarter 2020, Siemens Digital Industries , Electrical switching & drive systems & components
Under the motto 'Partnering for the next step to industrialise additive manufacturing', Siemens will present its Digital Enterprise Portfolio for the industrialisation of additive manufacturing at Formnext 
...
Read more...
---
New generation of motion controllers
First Quarter 2021, DNH Tradeserve , Electrical switching & drive systems & components
maxon motor is launching a new generation of motion controllers with its MiniMACS6-AMP-4/50/10. The controller is ideal for use in applications where PLC solutions may be too expensive or cannot meet 
...
Read more...
---
BI consolidates Tier 2 electrical products
First Quarter 2021 , Electrical switching & drive systems & components
Following the recent successful launch of the Alpha Drive Micro and the Alpha Drive Plus ranges of variable speed drives, Bearings International (BI) is excited to announce the rebranding of its Bauer 
...
Read more...
---