printer friendly version
Chain for improved wear life in demanding conditions
Fourth Quarter 2020
Shaft power components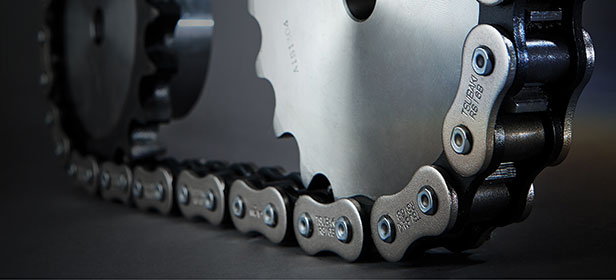 BMG's power transmission division has launched the new Tsubaki Titan chain series which offers significant improvements in wear-life in demanding applications, including abrasive and dusty conditions.
"Selecting the right chain for every job is critical, especially in harsh conditions where dust and abrasive particles infiltrate moving parts and significantly shorten the lifetime of standard chain. This damage results in high costs caused by downtime, production loss, replacement parts and labour," says Tsubaki product manager, Gavin Kirstein. "Tsubaki Titan chain, which offers previously unobtainable wear life in harsh conditions, combines key features of the existing premium Tsubaki GT4 Winner chain, with new specifications which have been designed to deliver extended wear performance."
Advanced design features for the Titan series not only extend service life of the chain, but also reduce maintenance costs and minimise downtime. Another advantage is the reduced frequency of swapping out old chain for new, which contributes to a significant reduction in the total cost of ownership.
An important feature of Tsubaki Titan chain is the use of seamless bushes that incorporate lube grooves. These bushes, which are precision made and perfectly cylindrical, ensure the smoothest possible operation to help minimise wear. Added to this, the specially designed lube grooves ensure oil is retained at the point of contact, where the chain needs it most. This limits the wear between pin and bush, significantly improving the wear life.
Tsubaki Titan pins have a special surface coating that provides an extra hard yet low-friction surface, further extending service life.
For this new series, the Tsubaki development team has specified corrosion resistant, nickel-plated outer link plates, which are used in combination with black oxide inner link plates to provide an additional layer of protection against corrosion.
Tsubaki has also incorporated its reliable ring coined technology, which overcomes the problem of typical standard slip-fit connecting links, which are usually much weaker than other links. The process of ring-coining the connecting links ensures that the chain can be specified up to its full load capacity.
Standard Tsubaki Titan Chain is available from BMG in sizes 12B to 32B. Additional sizes, multi-strand and attachment options are available on request.
Typical applications of this series include abrasive and dusty conditions, such as those found in timber mills, brickworks, mining and metal working, as well as in sugar and paper processing.
All Tsubaki chain products are manufactured with special materials, coatings and lubrication and undergo an immaculate production process to ensure dimensional accuracy, constant geometry, high surface quality and long service life.
BMG is the only company in the world – outside of the Tsubaki organisation – with the accreditation to provide a specialist assembly service for Tsubaki chain products. The company has a dedicated facility at BMG World in Johannesburg, where special attachment chains are assembled to exact requirements and delivered in less than one week.
Customers are able to specify a wide range of standard Tsubaki attachments on any suitable American (ANSI) or British (BS) chain product of up to 50 metres in length. There is no compromise in terms of component specifications and quality standards are guaranteed. BMG's assembly service means customers do not need to invest in expensive stockholdings of specialised attachment chains for a particular machine.
The complete range of Tsubaki power transmission components is available from BMG's national branch network, which offers a technical advisory and 24-hour backup service.
For more information contact Gavin Kirstein, BMG, +27 11 620 7547, gavink@bmgworld.net, www.bmgworld.net
Credit(s)
Further reading:
HydraForce electro-proportional valves
Second Quarter 2021, Bearing Man Group T/A BMG , Hydraulic systems & components
BMG supplies a wide range of HydraForce electro-proportional valves, which are suitable for use in many applications in agriculture, construction, materials handling, fluid conveyance, mining and quarrying. 
...
Read more...
---
The unforeseen costs of counterfeit bearings
Second Quarter 2021 , Shaft power components
Downtime, consequential damage, reduced lifespan, poor performance and safety are just some of the dangers of using counterfeit bearings, which are increasingly prevalent across South African industry, 
...
Read more...
---
Breathers and spin-on elements
Second Quarter 2021, Bearing Man Group T/A BMG , Hydraulic systems & components
BMG's fluid technology filtration solutions comprise a wide range of fluid power components and systems, which are supported by the team's broad technical capabilities to ensure fluids operate within 
...
Read more...
---
BMG contributes to YES programme
Second Quarter 2021, Bearing Man Group T/A BMG , News & events
BMG – part of the Engineering Solutions Group (ESG) of Invicta Holdings – is participating in South Africa's Youth Employment Service (YES) Programme, which is a joint initiative between the government 
...
Read more...
---
SKF bearings help Mars Rover collect rock
Second Quarter 2021, SKF South Africa , Editor's Choice, Shaft power components
Enabling the Mars Rover's core operations in the harsh environment on Mars are Kaydon RealiSlim thin-section ball bearings, designed and manufactured by SKF at the company's global thin-section bearing 
...
Read more...
---
Power transmission solutions in the mining sector
Second Quarter 2021, Bearing Man Group T/A BMG , Electrical switching & drive systems & components
BMG's range of Tsubaki back stop cam clutches, which is suitable for high or low speed applications, meets the requirements of current mining legislation and has many critical features not found in conventional 
...
Read more...
---
Swagefast lockbolt pins and collars
Second Quarter 2021, Bearing Man Group T/A BMG , Other technologies
BMG's locally manufactured Swagefast lockbolt pins and collars ensure increased productivity and reliability in heavy duty, high vibration applications, especially where structural integrity is critical 
...
Read more...
---
Lubrication-free roller chain
First Quarter 2021, Bearing Man Group T/A BMG , Shaft power components
BMG's extensive range of Tsubaki chain products encompasses the Lambda lubrication-free roller chain series, which has been designed for industries where clean working environments are required and where 
...
Read more...
---
Counting their chickens before they hatch
First Quarter 2021, SKF South Africa , Shaft power components
The introduction of food line (blue line) bearing units by SKF, in collaboration with its Authorised Distributor, Bearing Services (BSA) Polokwane, has reduced downtime and increased plant reliability 
...
Read more...
---
Torsionally flexible couplings
First Quarter 2021, Bearing Man Group T/A BMG , Shaft power components
BMG's new reinforced Fenner Triflex couplings, with forged steel flanges, provide an integrated solution for the safe and efficient transfer of torque, even in extreme conditions. "These durable couplings 
...
Read more...
---