printer friendly version
The benefits of collaborative robots
Second Quarter 2021 Editor's Choice Robotics & Mechatronics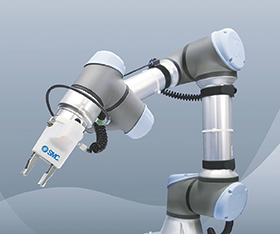 Once industry looks beyond the myths about cobots, it will begin to reap the benefits of what they really bring to the shop floor. For example, assisted by advances in edge computing, collaborative robots do not require the complex set-up of traditional industrial robots. These used to require at least a week of training, but some cobot manufacturers now make it possible to get up and running in as little as a half-hour.
The economic benefits they bring to manufacturing are also appealing when compared to robots, as they require a much lower initial investment and a highly reduced implementation cost. By some estimates, payback time for a typical cobot is between one and two years and can be as short as six months. These two benefits make cobots an attractive investment, but what sets them apart is the flexibility they provide.
Flexibility – the cobots´ answer to ever-changing market demands
Cobots adapt easily to multiple applications, unlike traditional robots that generally are designed to perform just one task. Their light weight and more compact dimensions, coupled with the easier reprogramming, translate into a high level of mobility so they can be placed easily where the production process demands. Cobots make it easy to automate, even for short production runs and to change lines frequently.
Their contribution to versatility is as varied as each process reality. For example, companies not working on a 24/7 workflow can set up cobots to load machines that run at night while the factory is closed. By morning, when it reopens, a production run has been completed. In other cases, cobots can assist workers when the task is demanding, dangerous, or just tedious, freeing time for the workers to perform more productive and creative duties.
The safety issue
Designed to work alongside their human counterparts, with proper risk assessment, cobots may not require confining cages or cumbersome safety guarding. Christoph Ryll, a cobot specialist who is collaborating with SMC to develop practical safety solutions, describes what would be the final purpose: working together, humans and cobots can achieve a higher efficiency than either could alone. However, safety is still an issue, and 95% of cobots are still today confined by cages and not truly collaborative.
End effectors – a matter of symbiosis
End effectors, primarily in the form of grippers, enable the business end of the cobot to handle and manipulate parts with a wide variety of shapes, sizes and materials. The flexibility of adapting a cobot to many different applications is a major benefit, as long as it is easy to change the gripper. For instance, a cobot used to drive screws on an assembly line has to be easily refitted with a different end effector when reconfigured for a pick-and-place application.
Machine builders or integrators should communicate closely with end users in order to ensure the success of the union. The gripping technology should be able to adjust perfectly to the specific needs of the task. As important as it is to select the right cobot, it's equally vital to choose the correct end tool, capable of being customised to meet the specific requirements of the task, such as location of pick, maximum allowable force, weight profile of the part, its composition and shape.
The best gripper depends on the task
SMC have developed solutions designed to work with all robots and cobots on the market.
Pneumatic grippers are well suited for general pick-and-place applications. Air-operated solutions provide high force, speed and operating frequency. If none of those parameters need to be controlled or precise, a pneumatic gripper is the best solution.
Vacuum grippers generally are in the form of suction pads. Suction holding is normally recommended for moving and transferring delicate or flimsy workpieces.
Electric grippers are best for control of the position, force or speed. They allow partial closing and opening, for example, which makes them ideal for handling delicate pieces such as printed circuit boards.
Magnetic grippers are for those applications where suction pads and grippers will not perform optimally due to uneven or porous surfaces.
SMC offers all the different gripping technologies and develops plug-and-play grippers and gripper systems for all cobot and robot suppliers. They are based on the concepts of energy efficiency and performance, with special focus on size and weight optimisation.
However, where the company can really make a difference is in its capacity to implement a 360º, such as electric solutions that assist cobot mobility combined with the technical support to customise automation solutions that adapt perfectly to production processes and ensure optimum flexibility.
Credit(s)
Further reading:
A very smart material
Second Quarter 2021 , Editor's Choice, Electrical switching & drive systems & components
Shape memory materials (SMMs) are strong, lightweight materials that have the ability to recover their original shape after being deformed if a stimulus is applied. They can be programmed to remember 
...
Read more...
---
Fast, safe transport on the factory floor
Second Quarter 2021, Omron Electronics , Editor's Choice
The Philips site in Klagenfurt produces over 23 million linear cutting elements for hair and beard trimmers each year. These beard trimmers use lift-and-trim technology: the beard hair is first lifted 
...
Read more...
---
SKF bearings help Mars Rover collect rock
Second Quarter 2021, SKF South Africa , Editor's Choice, Shaft power components
Enabling the Mars Rover's core operations in the harsh environment on Mars are Kaydon RealiSlim thin-section ball bearings, designed and manufactured by SKF at the company's global thin-section bearing 
...
Read more...
---
Hacking for a difference
Second Quarter 2021, RS Components SA , Editor's Choice, News & events
The annual Geekulcha Hackathon recently saw more than 100 coders, developers and programmers challenge each other in an online contest.The event has become a highlight in the African developer world. 
...
Read more...
---
Energy efficiency in the chemical industry
Second Quarter 2021, Danfoss , Editor's Choice
Danfoss has widespread experience and expertise in refrigeration and in controlling the speed of AC motors in all main chemicals sectors: petrochemicals, basic inorganics, polymers, specialty and 
...
Read more...
---
Mars helicopter makes history
Second Quarter 2021, DNH Tradeserve , Editor's Choice
This is the first time in the history of powered, unmanned spaceflight that a device has flown in a controlled manner on another planet – with the help of DC motors from maxon motor. The helicopter flew 
...
Read more...
---
Land Cruiser wet brakes for mining
First Quarter 2021, Axiom Hydraulics , Editor's Choice, Hydraulic systems & components
Unfortunately, the vehicle's OEM brakes are not built for mining; they compromise safety while suffering frequent and expensive maintenance. Simply put, the brakes were never designed for use in the highly 
...
Read more...
---
PC-based control technology for next-generation telescope
First Quarter 2021, Beckhoff Automation , Editor's Choice, Electrical switching & drive systems & components
Key factors were the advantages of EtherCAT for site-wide real-time communication connecting all telescope functions. Various embedded PCs and AM8000 servomotors were also tested and specified, among 
...
Read more...
---
Surfing back to Earth
First Quarter 2021, Horne Technologies , Editor's Choice, Electrical switching & drive systems & components
How did life actually form on Earth? Even today this question still has not been definitively answered. There are, however, signs that asteroids or comets played an important role. In the search for additional 
...
Read more...
---
Treading in the footsteps of the space pioneers
First Quarter 2021, Siemens Digital Industries , Editor's Choice, Electrical switching & drive systems & components
The adventure park Euro Space Centre in Transinne in Belgium is home to a number of different simulators, including the original NASA multi-axis chair dating back to the 1960s which was used to familiarise 
...
Read more...
---